In India, more than 85 per cent of mobile phone users have feature phones and thus whichever company captures the major chunk of this pie will be the undisputed king of the handset market in the country.
To attract entry level phone buyers, Nokia came up with the Nokia Asha series of phones in October 2011 and made it available in the market from January 2012.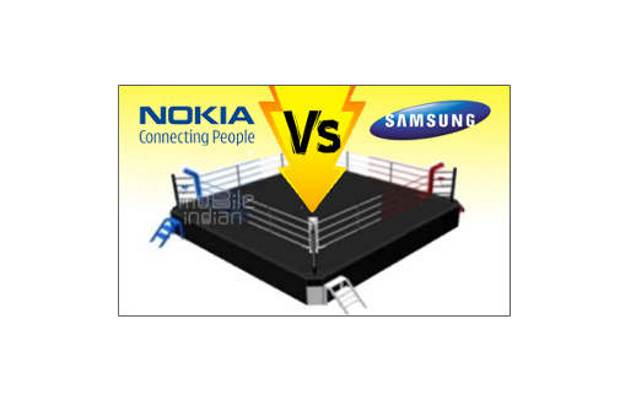 The company called the Asha series of phones 'smart feature phones,' and the devices had all the features needed to connect with the online world at an affordable price, plus some nice add-ons, which are normally expected on more expensive devices.
But yesterday, Samsung, the number one handset maker in the smartphone segment, launched its new series of feature phones, called Rex. Like Nokia, Samsung also calls its Rex series handsets 'smart feature phones' that combine intelligence and capability to deliver an accessible, next-generation mobile experience for all Indian users.
Let's try to decode how these mobile phone giants pitch against each other in the feature phone segment.
Philosophy
Both Nokia and Samsung seem to have almost the same philosophy for Asha and Rex series feature phones respectively. They want to present consumers an affordable intelligent phone that can help them stay connected, apart from keeping them entertained when they are on the go. So there is not much difference on this front.
Screen size
Nokia's Asha series of phones are available in different display sizes, varying from 1.8 to 3 inches. As compered to it the Samsung Rex series has a screen size varying from 2.8 to 3.5 inches. If we look at the current trend in the Indian handset market, bigger screens are fast gaining popularity and it looks like Samsung wanted to capitalize on this. So in this segment Samsung's Rex scores above Nokia's Asha.
Battery size
In this segment Nokia is better placed than Samsung, as its Asha feature phones have batteries ranging between 1020 to 3500 mAh. On the other hand, all the features phones of Samsung under the Rex series have 1000 mAh batteries.
In India, especially in rural India, the power situation is quite bad and if a phone gives a couple of more hours on a single recharge it will definitely have more appeal.
Input method
In terms of interface Nokia Asha series phones come under three categories – touch, Qwerty, and touch and type. In comparison to it, the Samsung Rex series of phones have only a touch user interface. So in this segment Nokia offers a variety to users and thus scores over Samsung Rex.
User interface
Samsung's Rex series will give you an Android like user interface feeling and the Asha series doesn't add a special element to its interface.
The Rex series gives an option to users to add up to eight home screens and customize them as per their interest. It also has a quick panel, which gives one touch access to connectivity controls like Bluetooth and WiFi as well as mail and message notifications.
Camera
Both Nokia Asha series and Samsung Rex series of feature phones have a single camera. Asha series has from VGA to 5 megapixel resolution camera without flash and in comparison to its Rex series has 1.3 megapixel to 3.2 megapixel cameras, again without flash.
We have tested the picture quality of snaps taken from both Asha and Rex phones, and we didn't find much difference among them except that the pictures of Nokia Asha 300 were quite good.
Dual SIM and 3G functionality
The feature phones under the Samsung Rex series have dual SIMs and none of them supports 3G. As compared to them the Nokia Asha series has a mix of dual SIM and 3G enabled feature phones.
In both, Rex and Asha series (which have dual SIM,) the phones have dual active SIMs, which means one can receive calls on both the SIMs even when one SIM is busy on a call. Apart from that both have a hot swap feature, using which the SIMs can be changed without restarting the device.
Here Nokia Asha series will garner more points simply because of the 3G connectivity feature.
WiFi
While both Samsung Rex 90 and Rex 80 have WiFi functionality; the other two Rex handsets do not have this feature. On the other hand, Nokia Asha 306, which is priced the same as Rex 60 has WiFi connectivity.
Processor
The Samsung Rex series of feature phones has a generic processor, which is not in the 1 GHz category but is powerful enough to run the phone smoothly, and that too without draining the battery.
On the other hand, the Nokia Asha series of phones has a mix of generic and 1 GHz processors. It would be safe to say that Nokia did some experimenting on the processor front and because of that it will get some brownie points.
Additional features
Both Asha and Rex series of phones have access to apps and music services from Nokia and Samsung stores respectively. Also, Nokia's Asha series of phones have access to maps, which is not there in the Rex series.
On the music front, the music service of Nokia is better evolved and has a better song collection in comparison to Samsung's music store. As of now, since we have not tested the quality of apps at the Samsung store we will reserve our views on this segment.
But the music and maps at Nokia get our thumbs up.
Price
The Nokia Asha series of feature phones is available in the price bracket of Rs 2,500 to Rs 6,500 and in comparison to it the Samsung Rex series will be available from the last week of February in the price range of Rs 4,280 to Rs 6,490.
Here, Nokia definitely has the upper hand because for most entry-level phone users price is a major deciding factor for making the buying decision.
Verdict
It is too soon to give the verdict because Samsung just yesterday announced its Rex series of feature phones, and we have not tested the devices. As soon as we do the review we will be in a better position to share our final comment. Until then, enjoy reading The Mobile Indian and dwell upon the differences we've pointed out here.