Samsung is usually criticised for its 'over-priced' phones. But recently it launched the Galaxy J5 in India with decent features at just Rs 11,999. However for just Rs 1,000 more (at Rs 12,999), you can get the Motorola Moto G 3rd Generation.
So which one should you buy?
Well, we have here compared the phones on the basis of their features to find out the answer.
Design
Okay, agreed, there's no contest in this segment. The Samsung Galaxy J5 has a boring design which looks like all other Samsung Galaxy devices. Remember the situation in the movie – Madagascar: Escape 2 Africa – where Alex (the lion) had to find out his friend Marty (Zebra) from a herd of Zebra. It is the same situation here; you just can't differentiate the Galaxy J5 from others.
On the other hand, the 3rd gen Moto G has a gorgeous design. It comes in funky colours (you can change the rear case to suit your style). It has a curved body and is water and dust resistant as well.
However, the battery is removable in Galaxy J5 while in Moto G 3rd Gen the battery cannot be removed. The Motorola smartphone is also thicker and heavier than the Samsung handset. To be specific, the Samsung Galaxy J5 measures 142 x 73 x 8.5 mm and weighs 149 grams while the Moto G measures 142.1 x 72.4 x 6.1 mm and weighs 155 grams.
Display
The Moto G 3rd Gen is armed with a 5 inch HD IPS display with Corning Gorilla Glass 3, while the Samsung Galaxy J5 has a 5 inch HD TFT display. The display of Samsung Galaxy J5 does not have any protection (Corning Gorilla Glass or Asahi Dragon Trail) but it is a Super AMOLED display thus we guess the overall display output to be much better in the J5. Also, our vote in this section goes in favour of J5 is because of wide availability of tempered glasses and screen protectors in the market for few bucks. So by spending about Rs 200 bucks you can make the display of Galaxy J5 as tough as that of Moto G 3rd Gen (infact much tougher) but there is no way to arm the screen of the Motorola handset with Super AMOLED tech.
Processor & Memory
Both the smartphones are armed with the Snapdragon 410 chipset that has a 1.2 GHz quad core processor. However, the Motorola handset has 2 GB RAM against 1.5 GB RAM of Galaxy J5.
Also, both the smartphones offer 8 GB of internal memory but in the Samsung Galaxy J5 you can use a micro SD of 128 GB capacity in the expandable storage slot while the Moto G 3rd Gen allows you to use only a 32 GB card in the designated slot.
With 1.5 GB RAM should be good enough to run any game available for Android devices or to do multitask but with extra 512 MB RAM, Moto G 3rd Gen has undoubtedly better muscles and is thus slightly more powerful. Just consider the storage option also. If you need higher storage than what Moto G 3rd Gen offers, we would suggest you to go for the Samsung phone.
Software
The Motorola Moto G 3 runs on Android Lollipop and has the stock UI while the Samsung Galaxy J5 runs Samsung's TouchWiz UI, which is a tried and tested OS with some amount of bloat ware, but excellent functionality.
So it is up to you to decide – you want the vanilla or the spicy flavour.
Battery
The Motorola Moto G 3 has a 2470 mAh battery, while the Samsung Galaxy J5 is armed with a 2600 mAh battery which, as per the company, can provide up to 14 hours of talk time or 340 hours of standby (network not known).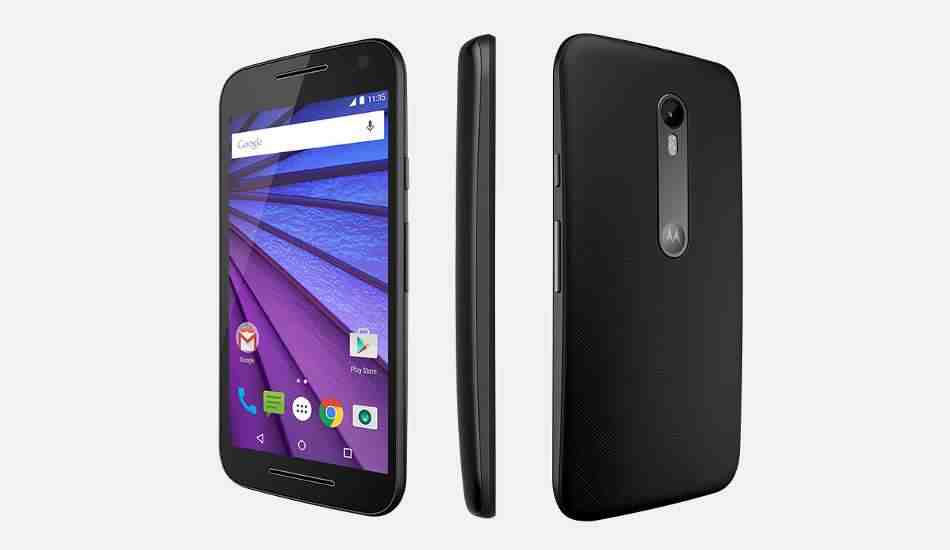 The difference is negligible and without testing in identical situation, it is hard to tell which one offers better back up. However, if we have to decide just on the basis of features, the Galaxy J5 would undoubtedly our pick in this section.
Camera
The Samsung Galaxy J5 is equipped with a 13 megapixel primary auto-focus camera with F1.9 aperture and 1/3.06-inch sensor and 5 megapixel selfie shooter.
The Motorola Moto G 3rd Gen too has a 13 megapixel camera with an aperture of F/2.0 and a 5 megapixel camera for video calls and selfies.
With a larger aperture (F1.0 > F2.0), the Samsung Galaxy J5 should have been able to capture better photographs in low light than the Moto G 3rd Generation. But we cannot say it for sure at this point of time. Besides, without testing these for real, we cannot vouch for their quality.
Connectivity
The Motorola Moto G 3 is a dual-SIM 4G phone with WiFi, WiFi Direct, WiFi Hotspot, Bluetooth 4.1.1, and GPS with A-GPS and GLONASS. The Samsung Galaxy J5 too is a dual-SIM 4G phone with WiFi, GPS (with A-GPS and GLONASS), and Bluetooth 4.1, but it also has NFC.
NFC isn't entirely useful in India as of now, so we can all this round a draw.
Conclusion
The Moto G 3rd Gen costs Rs 1,000 more than the Samsung Galaxy J5, but for the extra thousand, you end up getting a stronger display, a little more RAM, and the stock Android experience. At the same time, one can argue that for Rs 1,000 less, you will have much better storage, a slightly bigger battery, NFC and perhaps a better camera too with the Samsung Galaxy J5.