Samsung has recently launched its Galaxy Grand Duos smartphone, which is available in India for around Rs 21,500. At this price, there are almost no newly launched handsets. But there is Sony Xperia P, which is available for about Rs 21,000.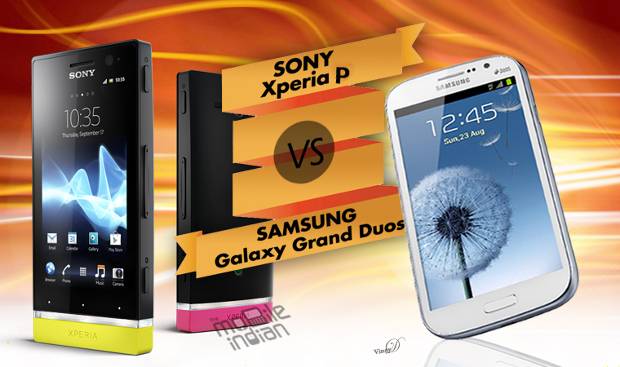 Samsung Galaxy Grand Duos is a new handset while Sony Xperia P has been around for quite sometime. So before you make up your mind to pick up the latest handset, read this comparison of the two phones.
Body
At 9.6 mm thickness the Samsung Galaxy Grand Duos is slimmer than Sony Xperia P, which measures 10.5 mm. Also, the Samsung smartphone is much bigger and wider (143.5 mm x 76.8 mm) as compared to the Sony Xperia P (122 mm x 59.5 mm).
Since Samsung Galaxy Grand Duos is bigger and wider, it is heavier than the Sony handset. To be specific, the Grand Duos weighs 161 grams while the Sony Xperia P is 120 grams in weight. The difference in dimension and weight is obvious as the Samsung Galaxy Grand comes with a 5 inch display while the Sony Xperia P has a 4 inch touchscreen. So, clearly, if you want a big smartphone and have no problem with a bit of bulk, then Samsung Galaxy Grand Duos should be your pick.
Display
However, bigger displays are not always necessarily better. For instance, Samsung Galaxy Grand Duos has a 5 inch display with 480 x 800 pixel resolution, which does not look good on paper since even smartphones priced at Rs 10,000 or less come with this display resolution.
On the other hand, Sony Xperia P has a smaller 4 inch display but has 960 x 540 pixel resolution. So the pixel density of Sony Xperia P is much more than that of Galaxy Grand Duos; this means that pictures will look sharper and better on the Sony handset.
According to Sony, the Xperia P has WhiteMagic technology that makes its display twice as bright and up to twice as power efficient than normal LCD screens. The display of Sony Xperia P is also scratch resistant while nothing of the sort is known about the Samsung Galaxy Grand Duos.
OS
The Samsung Galaxy Grand Duos comes with Android 4.1 aka Jelly Bean operating system, while Sony Xperia P comes with Android 2.3 Gingerbread operating system but is upgradable to Android ICS operating system.
Sony has also announced the Jelly Bean for Xperia P smartphone but the same will take time to be released for Xperia P devices in India, and could be released towards the mid of this year.
Processor and performance
The Galaxy Grand Duos comes with a 1.2 GHz dual core processor compared to the 1 GHz dual core Cortex-A9 processor of Sony Xperia P. Both have 1 GB RAM as well and the Xperia P has a Mali 400 graphics processing unit as well. Nothing much is known about the processor used in the Galaxy Grand Duos so we cannot comment on its performance right now.
However, we had reviewed the Sony Xperia P earlier, and we found it swift. "There is no lag or slowness whether it is running heavy graphics game or movies. Its TFT LCD display comes handy while playing games or movies. Applications close and open very fast, making it a breezy affair to switch between applications," I had said then.
Memory
You cannot ask for more than 8 GB of internal memory and a 64 GB expandable memory slot from a handset, and that's what the Grand Duos offers. On the other hand, Sony Xperia P has only 16 GB of internal memory without an expandable storage slot.
Camera
Both handsets come with an 8 megapixel rear camera, but in Sony Xperia P there is a 0.3 megapixel front camera and the Grand Duos has a decent 2 megapixel camera in the front. The Galaxy Grand Duos can capture videos at 30 frames per second at 1920 x 1080 pixel resolution, i.e full high definition videos. Both handsets can capture full high definition videos and have many camera features.
Battery
Here, too, the Samsung Galaxy Grand Duos proves to be much more advanced than the Sony Xperia P. The Samsung handset has a 2100 mAh battery, which is almost double the 1350 mAh battery of Sony Xperia P. As a result, the Samsung Galaxy Grand Duos's battery claims to provide ten hours of talktime over 3G networks as compared to five hours of talktime of the Sony Xperia P.
Connectivity
The Xperia P comes with WiFi, a micro USB port, WiFi, GPS with A-GPS support, Bluetooth, a 3.5 mm jack, DLNA, NFC and an HDMI port. The Samsung Galaxy Grand has all the above mentioned connectivity features except an HDMI port, NFC and DLNA features.
X factor
Since SAR value value is a noted factor these days, we thought it apt to mention the SAR figures of both these handsets. The Sony Xperia P has a SAR (Specific Absorption Ratio) of 0.78 w/kg while Samsung Galaxy Grand Duos has only 0.31 w/kg SAR, which means that the you will be exposed to less radiation while using the Grand Duos than if you use the Xperia P. Though the ill effects of mobile radiation are yet to be established you can be on the defensive if you wish.
Verdict
The comparison says it all; with a bigger screen, bigger battery, huge memory slot, better front camera, latest operating system, and a slightly better processor, the Samsung Galaxy Grand Duos wins the battle against Sony Xperia P without any doubt, and in style.
The Sony Xperia P, however, is not a bad smartphone at all. We reviewed it and found it to be good. Had Sony released the Android Jelly Bean for it, the Xperia P could have competed well with some of its other handsets but we have not yet concluded the fight of these two giants as we will soon bring a complete review of the Samsung Galaxy Grand Duos, soon after which we will close the chapter of this fight once and for all. So keep checking The Mobile Indian.