Purported images of BlackBerry 10 L-series smartphone, which is due for arrival early next year, has now been leaked online by a BlackBerry focused blog, known as N4BB. Research In Motion (RIM) had earlier declared that the BlackBerry 10 operating system based smartphones can be expected only by early 2013.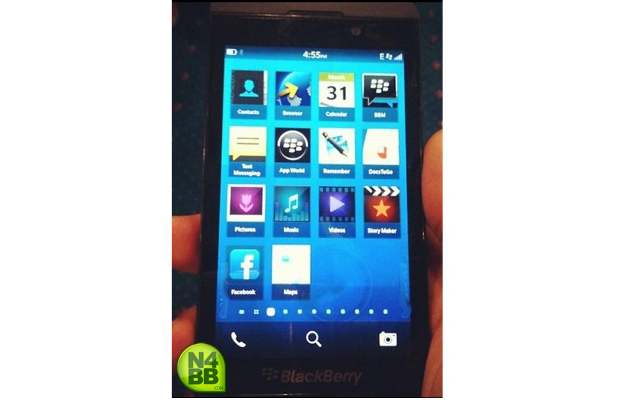 RIM's BlackBerry 10 Alpha Developer devices appear to be miniature PlayBook units. However, the number of mock-ups and concept designs do hint that BlackBerry 10 based L-series devices, namely London and Liverpool, will have no buttons on their touchscreens. The new BlackBerry 10 operating system will be marriage of the existing BlackBerry 7.x OS and the QNX real-time operating system. RIM is working implement radical changes in the operating system and also offering some of the crucial features like the real-time multi-tasking with it.
The leaked photo is of a BlackBerry 10 L-series smartphone that will have removable LS1 1800 mAh battery. The BlackBerry 10 L-series smartphones, London and Liverpool, will have a number of pre-loaded apps on the full touchscreen interface. Apart from the regular ones like Contacts, App World, Browser and BBM, the BlackBerry 10 devices will sport apps like DocsToGo, Remember and StoryMaker.
###PAGE###
The DocsToGo will offer support for the word-processing and playing around with spreadsheets on the move. The app sounds like a native To-Do reminders app since Apple had introduced Reminders app with iOS 5. The most interesting is the StoryMaker app which appears to be a photo-video editing suite. With that, we hope that the BlackBerry 10 L-series devices come with great image sensor with full HD video recording capabilities.
BlackBerry Italia has posted a video that shows the Insert SIM card and Battery charging demo.
Now we take this image and details about the apps with a grain of salt. RIM had informed that the every build of BlackBerry 10 OS on the BlackBerry 10 Alpha developer device is work-in progress. The finished product will be different and will be more polished.