Research In Motion is quietly planning an army of devices that will run on the BlackBerry 10 mobile operating system. Among them include one called Aristo. RapidBerry managed to grab a confidential RIM presentation slide with details of Aristo's specifications. The word Aristo means the best in Greek.
Codenamed as Aristo, this BlackBerry 10.x running device carries internal model number R081. As per the report, the Aristo would have a 4.65-inch touchscreen display comprising of OCTA Gloss OLED panel. This screen is to offer 24-bit colour depth and would support 1280×720 pixel resolution natively. This will be a capacitive all touch display.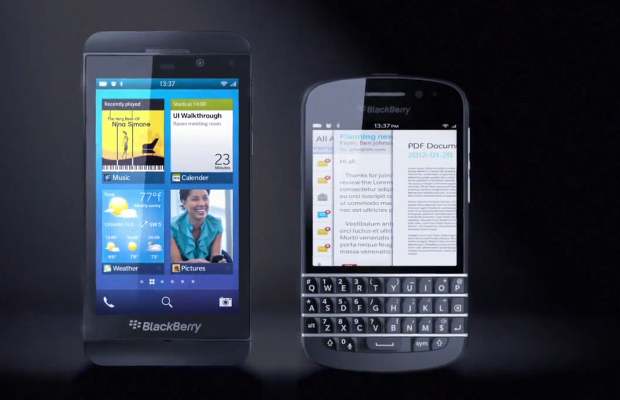 Under the 8.85mm slim chassis, this smartphone will pack a quad-core 1.5 GHz Qualcomm Snapdragon S4 Pro APQ8064 mobile processor. This mobile chipset couples LTE network supporting Qualcomm MDM9x15 modem chip as well for faster data connectivity. For faster and smoother performance, RIM will add 2 GB RAM in this smartphone.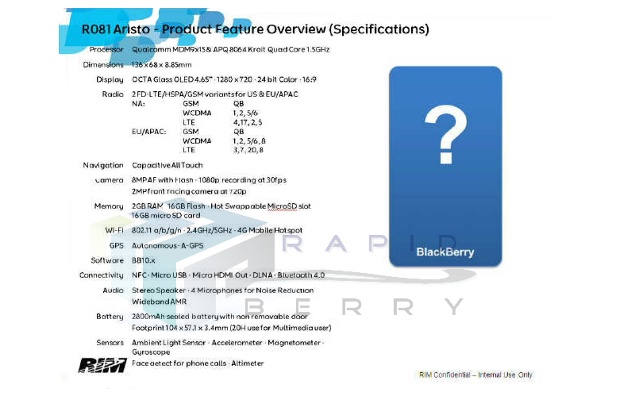 At the rear would rest the 8 megapixel autofocus camera with flash and it would be capable of recording 1080p HD videos. While there will be a 2 megapixel camera with 720p HD videos chat support and also for face detection. Interesting part is that RIM plans to add 4 microphones for better audio capture. Besides that, RIM will also add a dual-band (2.4 GHz and 5 GHz) WiFi module for faster wireless connectivity.
Other set of features include Autonomous GPS with A-GPS, Bluetooth 4.0, DLNA support, micro USB port, micro HDMI out, Gyroscope, Accelerometer, Magnetometer, Altimeter and also Near Field Communication chip.
Clearly, the RIM BlackBerry 10 Aristo does look like a beast device on the grounds of specifications. It still has to go through series of tests and benchmarks to prove its true prowess after being made available in the market.
RIM has formally announced that the BlackBerry 10.x based devices will be released in the first half of next year.