Finnish handset manufacturer, Nokia continues to dominant the Indian mobile phone market with a share of 28 %. Not only Nokia maintains its grip over the feature phone market, but it is also leading in the dual SIM segment in which it entered only in 2011, according to a latest Cybermedia research report.
Nokia entered the dual SIM segment in 2011 but was quick to garner 19 % market share, pointed out the survey.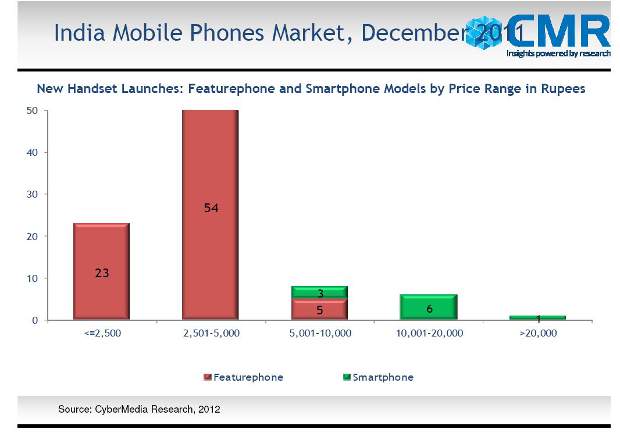 Overall, sales of smartphones and dual SIM handsets registered a rising trend with smartphone accounting for more than 6 % and multi SIM accounting for 54 % of market.
As per the report, total mobile handset shipment between January to November 2011 stood at 166 million, of which 6 % where smartphones.
In the month of November itself, 15.4 million units where shipped with 1.07 million being smartphone, which is nearly 10 %. This shows that appetite for smartphones is growing among Indian consumers, which is fueled by the entry level smartphones being now priced close to higher end feature phones.
In the overall India mobile handsets market, Nokia is followed by Samsung at second position with 12 % and Micromax at third position with 4 % market share.
Another important segment which continues its growth trajectory is the multi SIM market which accounted for 54 % of the total market. Nokia, which was a late entrant in the market with its first launch happening in 2011 itself, managed to capture 19 % of the market due to the good will that it commands and variety that it now offers with 7 handsets in the category. It was followed by Micromax with 7.1 % and Karbonn with 6.9 % market share.
Smartphone shipments touched 10 million units in first eleven months of calendar year 2011. November 2011 was only the third consecutive month when smartphone shipments in India crossed 1 million units. Moreover, the month witnessed the launch of as many as 23 smartphone models.
"A new trend that is becoming visible is the launch of dual SIM smartphones by vendors", stated Tarun Pathak, a telecom sector analyst associated with CyberMedia.
Total 3G phone shipments touched 15.5 million in the first eleven months of calender year 2011, with close to 224 models launched by 26 vendors. In November 2011, 3G phone shipments contributed 8.9 % of the total mobile device shipments in the country.