Nokia might announce the availability of Symbian Belle at the launch of its 603 smartphone at the October 26 Nokia World event in London.
Nokia World is an annual event at which the company announces its big launches. This year it will be held in London on October 26 and 27 and the company is also expected to unveil some Windows Phone handsets.
Nokia 603 is likely to run Symbian Belle. Reportedly, Symbian Belle update for phones running on Symbian Anna will also arrive on October 26, the first day of the Nokia World event. Even if Symbian Belle update doesn't really arrive at that time, the company is expected to make some definitive announcements about the update soon.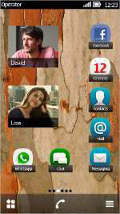 The salient features of Nokia 603 are a 5 megapixel full focus, which is not very different from an EDoF (extended depth of field) camera, but is said to be cheaper to make and works well for videos. The other features of Nokia 603 include a 1 GHz processor, a touchscreen with 360 x 640 pixel resolution, WiFi, Bluetooth and HSPA connectivity. The phone also comes with support for microSIM cards.
In Symbian Belle, home screen widgets can be resized and the overall feel of the operating system can be customised. The main menu can be scrolled as well. With Symbian Belle, users might also be able to flip between live images of open apps.