Motorola India Private Limited has introduced its first two dual-SIM handsets in India – EX128 and EX115.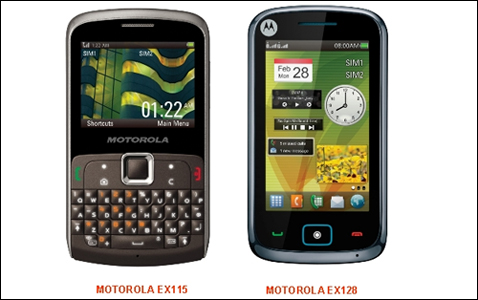 The Motorola EX115 is a dual-SIM QWERTY phone and the Motorola EX128 is a touchscreen dual-SIM phone with stylus. Both the models offer social connectivity, 3 MP camera, video camcorder, large colour display and an expandable memory of up to 32GB.
Faisal Siddiqui, country head of India, Motorola Mobility, said, "One of our key focus segments is the dual-SIM market, a rapidly evolving market in India. Experience and enjoy the Motorola EX 128, a smarter choice that can be used with ease, and the Motorola EX115, a social messaging device to stay in touch and in control."
Both the handsets are available at retails outlets in India. The Motorola EX128 is priced at Rs 6,990 and the Motorola EX115 is priced at Rs 5,990.