Micromax will launch its Q55 Bling IIFA Edition at the IIFA Awards (International Indian Film Academy Awards) to be held in Sri Lanka on June 5. The company unveiled the device at an IIFA event on Saturday.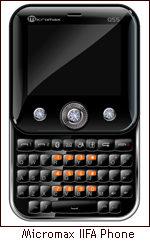 "The device comes embedded with Swarovski Elements and IIFA insignia on the back of the phone. The special edition device also comes loaded with IIFA content including video of the previous IIFA editions", Vikas Jain, business director, Micromax, told Telecom Yatra.
The phone will be available at Rs 5,500 after June 5. The price is equal to that of an original Bling Q55. The special edition, said Jain, will be available for a month.
Micromax has made a deal with Dialoge, Sri Lanka's largest mobile telecommunication service provider. As per the deal, mobile subscribers can buy Micromax Bling Q55 IIFA special edition along with a Dialoge SIM card.
Micromax already has a presence in Nepal and Srilanka and Jain informed us that the company plans to launch in Bangladesh on June 15 and in the UAE by the end on this month. By mid-July the company will also expand in Latin America.
In a similar move, Micromax had launched co branded handsets with music channel MTV. The Micromax handset came loaded with content from various MTV shows.