Oneplus has been following one smartphone launch per year strategy for the last couple of years. It seems the price tags of every new smartphone that the company launches is increased by around 12.6 percent whereas flagship smartphones from other leading brand show a jump of around 12.9 percent on an average.
The pricing of flagship smartphones of Apple, Samsung and Google in the premium/luxury category has increased at an average of 12.9 percent, over the last 10 years, with every new launch and on the other hand, OnePlus devices have shown an average increase of 12.6 per cent since 2014, as per a report by techARC.
The OnePlus 7 and OnePlus 7 Pro are scheduled to be launched on May 14 globally and in India as well. With two weeks yet to go for the launch event, we've come close to knowing everything about the two phones. However, there's more to a phone launch than what it packs in and a report shows how OnePlus has played it safe when it comes to pricing its new smartphones.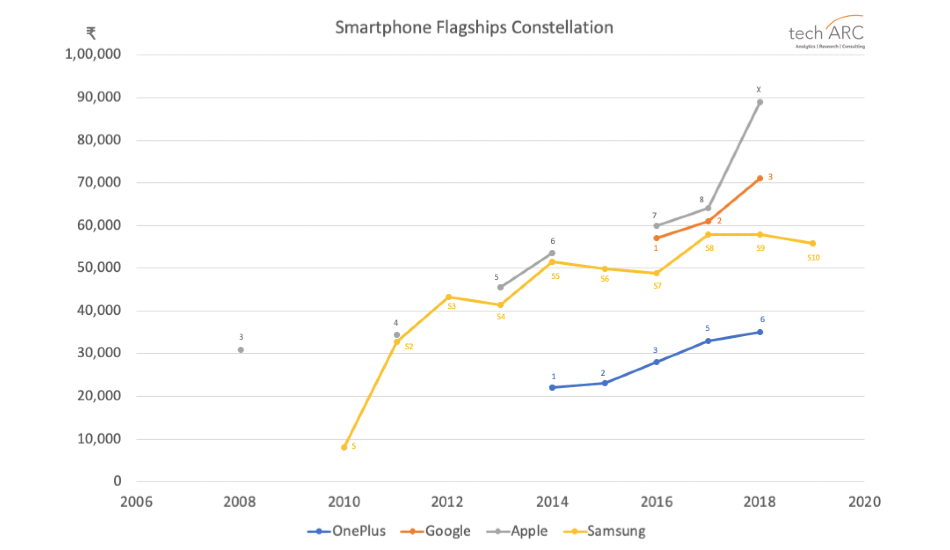 In contrast to this, Apple's iPhone X was priced 39 percent higher than its predecessor, its second-highest price increase after the launch of the iPhone 5. Samsung, on the other hand, has been an irregular entity as the launch prices of its Galaxy S8 and Galaxy S9 in India were the same, at Rs 57,900. The latest S10 device didn't mark a price increase but instead was sold for a reduced price of Rs 55,900, thus signalling no pricing pattern on Samsung's behalf.
Google, which is also a mainstream competitor only market a yearly increase of 11.7 percent on average, still 1.2 percent lesser than the industry average price rise of high-end phones.
Speaking about the upcoming launch, techARC Founder, Faisal Kawoosa said "OnePlus has adopted a consistent pricing strategy where it has been increasing the price with every new launch in a regular pattern. Other brands exhibit irregular pricing strategy as portrayed in the Smartphone Flagships Constellation Map".
Considering its average price increase, we can expect OnePlus to launch its upcoming OnePlus 7 phone for a launch price of between Rs 37,000 and Rs 39,500.
We now also have the full specs sheet of the devices that has revealed what to expect from the standard and Pro model of the next generation flagship killer.
| | | |
| --- | --- | --- |
| | OnePlus 7 | OnePlus 7 Pro |
| Processor | Snapdragon 855 | Snapdragon 855 |
| Display | 6.2-inch Full HD+ AMOLED, 60 Hz | 6.64-inch QHD+ AMOLED, 90 Hz |
| Memory | 6GB RAM | 10GB RAM |
| Camera | Rear: 48MP primary + telephoto; Front: notched camera | Rear: 48MP primary + telephoto + ultra-wide-angle; Front: pop-up selfie camera |
| Battery | 4,150mAh | 4,000mAh |
| OS | Android 9 Pie with Oxygen OS | Android 9 Pie with Oxygen OS |
| Dimensions | 157.7 x 74.8 x 8.1 mm | 162.6 x 76 x 8.8 mm |
| Fingerprint Scanner | Under display | Under display |
While we knew most of the specifications of the two phones, we now know which of these will differentiate one from the other. The biggest differentiating factor will come with the presence of the notch on the standard OnePlus 7 smartphone while the OnePlus 7 Pro will come with a pop-up selfie camera. The Pro will also feature a larger 6.64-inch AMOLED display with a Quad HD+ resolution at a refresh rate of 90 Hz while the standard OnePlus 7 device will equip a 6.2-inch AMOLED FHD+ display with 60 Hz refresh rate.
While both smartphones will be powered by a Qualcomm Snapdragon 855 processor, the standard and Pro variants will be backed up with a minimum of 6GB and 10GB RAM respectively. Both phones will feature an under-the-display fingerprint scanner. The OnePlus 7 and OnePlus 7 Pro will come with 4,150mAh and 4,000mAh battery units with the same 30W Warp Charge USB-C adapter.
In the camera department is where there are some major clarifications. The OnePlus 7 Pro, being the costlier affair, will equip a triple lens setup with a 48MP primary, a telephoto lens and an ultra-wide-angle camera, as we expected. What's surprising is that even the standard OnePlus 7 will feature the same two lens as the OnePlus 7 Pro which will be the 48MP primary camera and the telephoto camera, which was first believed to only feature a depth sensor.
Dimension-wise, the OnePlus 7 will measure at 157.7 x 74.8 x 8.1 mm while the OnePlus 7 Pro will be 162.6 x 76 x 8.8 mm in size.