Having been one of the leading Indian handset players in yesteryears, Karbonn mobiles is in the middle of a controversy that is it shutting down? Is it true?The whole thing started when Karbonn Mobile India Private Limited applied for closure of the company with the MCA. The current status at the MCA site reads, " Under Process of Striking off."
The news was first spotted by the folks at TeleAnalysis who reported that Karbonn is shutting down after years of inactivity in the mobile phone business. As visible on the screenshot provided, there's a section titled 'Company Status' which KarbonnMobile India Private Limited has marked as "under the process of striking off", meaning the company has applied for closure. The document also details Karbonn Mobiles' board of directors which includes Sudhir Kumar Hasija, Potluri Rajmohan Rao and Pardeep Jain.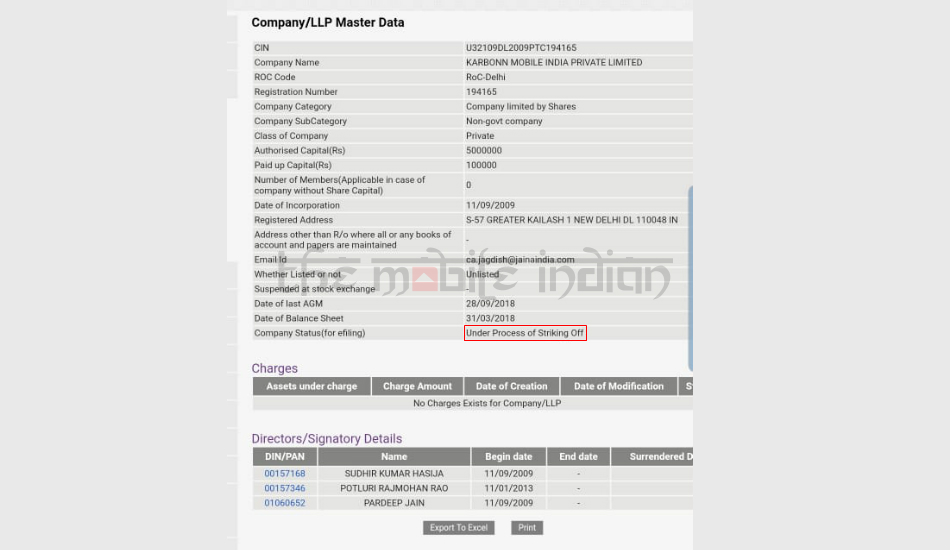 To confirm the development The Mobile Indian Spoke to Karbonn Mobiles. The spokesperson said, "Karbonn's operations have always been conducted as a partnership between Jaina Group & UTL (Bangalore) Group with the former focusing on North & West markets (except Gujarat) and the latter focusing on South & East markets (except Bihar & Jharkhand) for sales, distribution and customer service functions. This arrangement is in force without any changes."
The spokesperson further added, "Marketing & Product functions have been jointly managed and will also continue as it is. The closure of an entity is purely a corporate compliance move with no effect whatsoever in the way Karbonn operations were being conducted and will continue unabated in the future. Karbonn Mobiles has been operating successfully for over a decade in the entry-level smartphones segment in India and we will continue our efforts to bring the latest technology to the masses."
Another update that was shared with us was that the company is planning to lauch a new series of entry-level smartphones by July which will be priced around Rs 5,000. So as of now, it doesn't look like Karbonn is going to out of the market.