Android phones are rapidly gaining in popularity, to the point where around 3.5 lakhs of them are being activated everyday. That means that Android phones represent a significant and ever-growing portion of the overall market. Here are some very popular Android handsets which have seen a step drop in their price in recent months.
LG Optimus 2X P990
LG Optimus 2X P990 is world's first dual core smartphone with 1 GHz dual core Tegra 2 processor, Android 2.2 Froyo, full HD video play on 4.0 inch IPS screen, 8MP camera, LED Flash with full HD 1080p video recording capability, 1.3 MP front camera, HDMI, DLNA connectivity and A-GPS.
It has a smooth user interface and comes equipped with heavy multitasking features. You can play high graphic games with ease and watch full HD 1080p videos with no frame lag.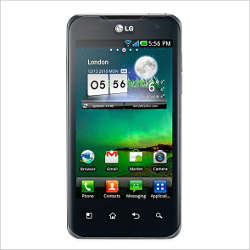 The seamless glass front, which houses a 4-inch WVGA display, is also home to four capacitive touch controls, a forward-facing camera and earpiece. The screen is respectable with good viewing angles, retains legibility under sunlight and is comparable to its contemporaries.
The price has dropped from close to Rs 30,000 to Rs 26,000. What's more, letsbuy.com is also giving a Jabra Bluetooth headset worth Rs 1,200 free. The phone comes with 6.4GB of internal memory, plus you can add up to addition 32GB with a Micro SD card.
Dell Venue
The Dell Venue is another phone in the list which saw is prices dropping to Rs 22,399 (on Flipkart.com) from Rs 30,000, which is its official price tag. Similar price is also available on letsbuy.com.
It has a 4.1 inch AMOLED capacitive touch screen with 16 million colour display. The Corning Gorilla Glass, which is scratch resistant, is curved to enhance the visuals besides giving it greater strength and safety.
The monolith textured back hides fingerprints, scratches and smudges until you can clean it, camouflaging daily wear and improving grip on the phone.
It has an 8MP camera with a dedicated key, auto focus and 4x zoom. It has very good AV capability and is powered by Android 2.2 OS, supported by the powerful 1GHz QSD8250 Snapdragon chipset.
The Snapdragon integrates GPS, 3G, usual USB support, and MicroSD memory support of upto 32 GB. Only thing that is missing in the phones is an HDMI slot. The 1400mAh battery powers the Dell Venue optimally to ensure that you do not have to find a charging point frequently while you travel.
Motorola Milestone
This one is probably the oldest phone in this list, in terms of its arrival in India. Motorola Milestone has Android 2.2 operating system and supports a range of multitasking options. It is also one of the thinnest Qwerty sliders around.
The phone features a hi-resolution 3.7 inch capacitive touch screen display which supports the pinch-to-zoom functionality and features good hap-tic feedback.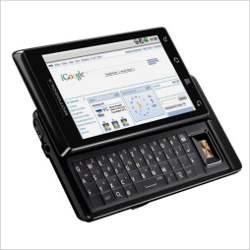 Motorola Milestone has a 5MP camera with built-in flash. Its zoom and auto focus offers DVD-quality video recording at 24 fps. You can even drag/drop/sync your content and share them using the Motorola Media Link.
The device supports free access to the maps of 401 cities in India with voice guided street level navigation.
Connectivity options include 3G, WiFi, Bluetooth. However, the HDMI option is missing in the handset. The phone is currently selling for Rs 19,786 on both Flipkart.com. Letsbuy are slightly costlier at Rs 20,399.
Sony Ericsson Xperia X10
The Sony Ericsson Xperia X10 was the first Android smartphone from the Sony Ericsson stable. It comes with a 4 inch capacitive touchscreen display with 16 million colours and a resolution of 854 x 480.
The X10 packs a great set of features including an 8 megapixel camera, DVD quality video recording, crisp 4″ screen, and a snappy Qualcomm Snapdragon 1GHz CPU .
It comes with 3G connectivity with 10.2 Mbps download speeds; WiFi and Bluetooth are also present.
The X10 comes with the Timescape app, which aggregates all the info from your friends and renders it an easy-to-access format replete with flashy animations and cool transition effects.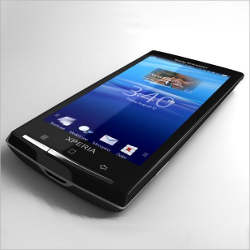 The phone sports the Infinity button, which lets you to pull out all the information about a contact just from a text message that they have sent. Pressing the Infinity button when a track is playing will dig up info on that artist, and let you see related tunes, pictures and videos, all with the swipe of a finger.
The Sony Ericsson Xperia X10 sports a whopping 8 megapixel camera, which lets you capture highly detailed and accurately colour toned pictures regardless of the light conditions. The phone supports smile detection, image stabilisation, face detection, macro mode, and will let you focus on objects just by touching the area of the screen where you want the camera to focus.
The handset supports multiple autofocus, a feature usually found in dedicated digital cameras. The X10 records in widescreen and supports 30 frames per second recording and comes with easy geo tagging and automatic face tagging.
The Sony Ericsson X10 is powered by a 1500mAh battery which holds well for up to 10 hours of continuous talking. Other features in the phone include Wi-Fi, A-GPS, accelerometer, compass, proximity sensor, Gmail, Google calendar, search and maps.
The price of the phone has come down drastically and is now available for Rs 18,000 on the shopping.indiatimes.com, letsbuy and flipkart are costlier with a price of Rs 21987.
Samsung Google Nexus S
This is the second iteration of Google phone, this time manufactured by Samsung (the first one 'Nexus One' was manufactured by HTC). Samsung Google Nexus S comes with a 4 inch Super Clear LCD capacitive touchscreen display with a resolution of 480 x 800 pixels.
The Nexus S is powered by Android v2.3 Gingerbread OS, installed on ARM Cortex A8 1 GHz processor. The CPU is supported by 512 MB RAM, and 16 GB in-built memory.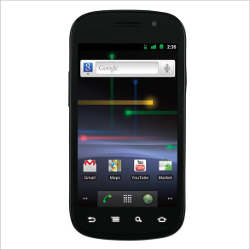 The Samsung Google Nexus S uses a 1500 mAh battery that powers 2G talktime services up to 14 hours and 3G talktime services up to 6 hours 40 minutes. The standby times for the Nexus S are up to 713 hours (2G) and 428 hours (3G). The usage time for the Nexus S battery is dependent on the number and the nature of applications running on the phone.
Google Nexus S has a 5MP camera autofocus camera with a LED Flash. Videos can be shot on the Nexus S camera with WVGA (800 x 400 pixels) resolution. Additionally the Google Nexus S has a front facing secondary VGA camera for video calls and other live camera applications.
Connectivity options include GPRS, EDGE and 3G with HSDPA, 7.2 Mbps on HSUPA, 5.76 Mbps standards on 3G. Data connectivity include WiFi 802.11 b/g/n with DLNA support, Bluetooth v2.1 with A2DP support, and MicroUSB v2.0.
This phone is one bargain, which is hard to miss with a price of Rs 19,999 from both Letsbuy and Flipkart, especially since the original price of this recently launched phone was close to Rs 30,000.