Google is all set to unveil its second generation of Pixel devices on October 4 along with a plethora of other products like Google Pixelbook, Google Home Mini, and a new Daydream VR headset. However, just before the launch, the press renders of Google Pixel 2 and Google Pixel 2 XL has surfaced online, which gives a final design of the upcoming devices.
The press renders were obtained by Venture Beat and it shows that both the smartphones will follow the dual-tone design, which we saw in the original Pixel and Pixel XL. However, this time the company has made some changes. The dual-tone texture can be seen in the above the fingerprint sensor at the back panel.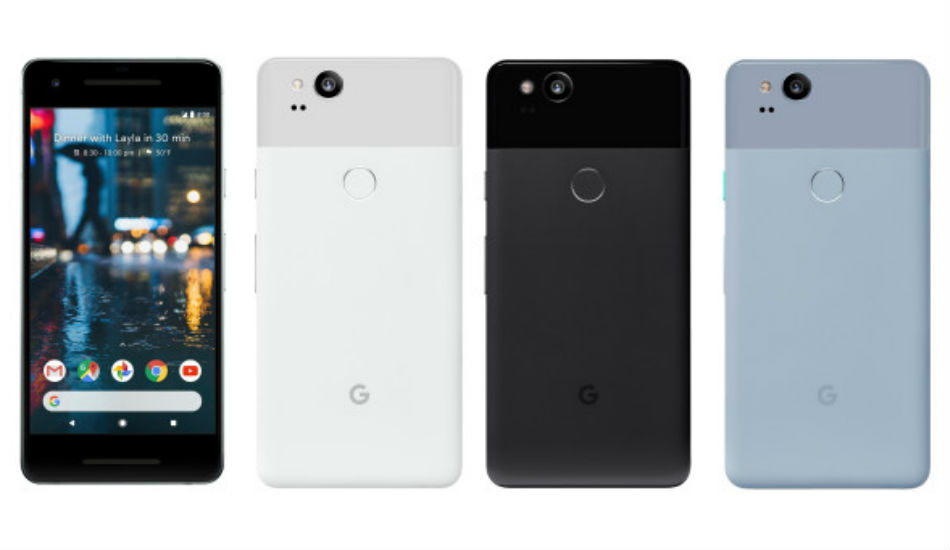 Google Pixel 2
Coming to the front, the Google Pixel will feature a 5-inch Full HD display with a standard aspect ratio of 16:9. However, the Google Pixel 2 XL will compete with the likes of LG V30, Samsung Galaxy Note 8 and iPhone X with a 6-inch QHD+ display with an aspect ratio of 18:9.
Interesting, just like its predecessors, the Pixel 2 and Pixel 2 XL will be powered by a special variant of the Qualcomm's latest processor, known as Qualcomm Snapdragon 836. (Google Pixel and Pixel XL had Snapdragon 821 processor).
Sadly, both the smartphones will not come with dual camera setup, which has now become a trend in the smartphone industry. Both the smartphones will take leverage of 12-megapixel rear cameras and there would be front-facing stereo speakers. Further, both of them will feature a 4GB of RAM and there will be two storage variants: 64GB or 12GB. The report further mentions that Google Pixel 2 will be available from October 19, while the Pixel 2 XL will be available from November 15.
You might also like this:
Previously, according to a report by Droid Life, Google Pixel 2 XL will come with a price tag of $849 and $949 for the 64GB and 128GB storage variant respectively. Further, Google will also introduce financing scheme and the 64GB variant will cost $35.38 per month over 24 months, while the 128GB will be available for $39.54 per month.
The Pixel 2 will be available in 64GB and 128GB storage variants. The former will be priced at $649, while the latter will come with a price tag of $749. The 64GB variant will be for $27.04 per month over 24 months and 128GB model will cost $31.21 per month.