A Chinese website has published pictures of an upcoming Nokia S40 device boasting a 1GHz processor, confirming an earlier report of The Mobile Indian, that the Finnish handset maker is launching such a device.
Going by the looks, this device is expected to have the same touch and type input and will be built on the lines of the Nokia C3-01 device. As we had reported earlier also, the device will be featuring a mighty 1GHz processor and similar specifications as the Symbian siblings.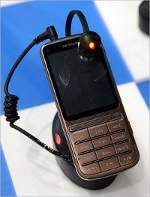 A 5 megapixel camera is expected to be included in the device as well. With the added megahertz, the new S40 device is expected to be faster and quicker along with being more efficient when it comes to resource utilisation like battery power and data connectivity.
In terms of difference as compared to the present S40 devices, the new device will feature a better much responsive capacitive touch screen possibly with a multi touch based optimisation on the operating system as well.
However, it is still not clear as when Nokia would launch this device in the market but as we can see, the device is almost ready and this is not a prototype of the device, it seems more like a factory line sample.
In the recent past, we have seen Nokia shifting their focus somewhat towards the development of the S40 operating system as well. Application upgrades aside, the pictures of the new device gives a new meaning to the future of the S40 operating system. But it is highly anticipated that the device will be announced this year itself by the Q4 along with the other upcoming devices as well.