Huawei Sonic is priced at Rs 8,800, but the way the device looks it doesn't look like a budget Android phone that the price points to.
The chrome stripe in the front, mat finish at the back and a 3.5 inch screen makes it look like a much costlier device. And fortunately the good part doesn't end there. The touch response was pretty smooth.
Huawei has also included some unique apps in Sonic which combine all your social networking accounts to give you one single view of updates. Also the social integration works across contacts, massages, pictures etc. So for instance when you click on a contact you can also get the status updates that a person has made recently.
There is also a new massaging app that not just lets you have group chat or record a voice massage. It also enables sharing of attachments.
On top of all this there is a Cloud service that apart from offering 16 GB cloud storage also offers functionalities like phone finder, which tracks the phone, initiates a beep sound so that you can locate if it's around, and also send a massage. You can remotely lock the phone as well as wipe out data after backing it automatically in the cloud.
However, the real-time function of these features is yet to be tested. But the bundled application definitely works well.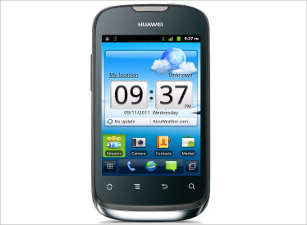 While Huawei Sonic has only 600 MHz processor and works on Android 2.3.5, the first impression is of a smooth and fluid functioning. Some of the phones that we got were in the hands of some of the Huawei executives who were using it as their private phones and even were very fluid in their response.
Huawei as also included its own app store apart from the Android Market. In the Huawei store, the company will upload only the most popular and selected app that are the best version for doing the task they are meant to do.
The biggest drawback of any Huawei phone is the limited availability due to only 30 city network of retail, however, they are working on improving that by adding 2000 retail outlets.
How Huawei Sonic performs in the real world will determine how successful the phone will be. However the first impression is good indeed.