In couple of hours Apple will officially launch its latest smartphone iPhone 5 in India. The 16 GB version of the phone is priced at Rs 45,500 while the 32 GB and 64 GB versions are priced at Rs 52,500 and Rs 59,500 respectively.
Apple iPhone 5 will be launched at public events in five different places across Delhi, Mumbai and Bangalore. The phone is already available starting today from multiple online sites. This time around Apple has launched the phone in open market unlike earlier when it was launched through Airtel and Aircel only. Both the operators are still offering special tariff plans for the buyers of this phone.
While Airtel has launched four postpaid plans starting Rs 300. The basic plan offers 200 MB of 3G data, 500 local calling and 300 SMSes free per month. For Rs 500, iPhone 5 buyers using Airtel postpaid SIM will get 500 MB of 3G data, 900 local minutes and 400 SMSes free per month.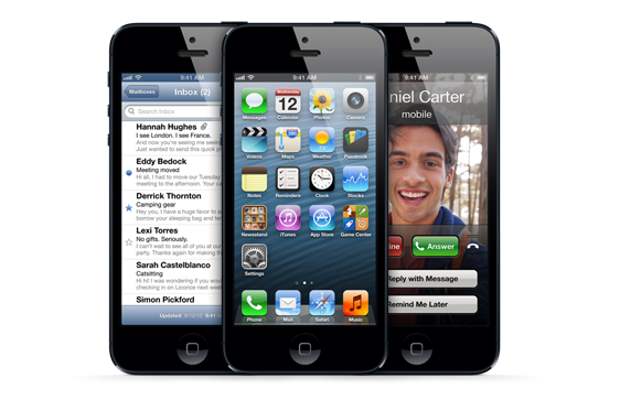 There is Rs 800 plan with 1.2 GB 3G data, 1,400 local minutes and 500 SMSes per month. And the costliest plan is for Rs 1,000 offering 3 GB 3G data, 1,500 local minutes and 600 SMSes per month. Post the limit the data rate is 3 paisa for 30 KB (normally it is just 10 kb).
Aircel's postpaid subscribers will get 1 GB 3G data per month, 500 minutes per month of voice calls and 500 SMSes per month for 12 months. After crossing the free data and voice limits, users will be charged as per regular tariff rates. There is no rental fee on these plans. However post 12 month period one can pay Rs 399 per month for these benefits.
If you want to witness the launch event of Apple iPhone you walk into one of the five locations in Delhi, Gurgaon, Mumbai and Bangalore between 7 pm and 11:00 pm today.
In Delhi one can visit DLF Place, Saket District Centre, Pushp Vihar.
In Gurgaon it is Galleria DLF Phase 2. If you are in Mumbai you can either walk in to Inorbit Mall, 2nd Floor, Food Court, Link Road, Malad West or go to Phoenix, Tulsi Pipe Road. For residents of Bangalore the address is UB City, Vittal Mallya Road.