Alcatel is the latest entrant in the Indian mobile handset industry. Alcatel's handsets will be launched as the result of a partnership between TCT Mobile (which will operate in India under the brand name Alcatel) and Dutch company ICE Mobile Network Systems, hence the handsets will be co branded Alcatel ICE. Hong Kong-based Alcatel has debuted in India with its handset named Alcatel ICE3 which comes with social networking features. The phone is priced at Rs 7,000.
MS Malik, director, ICE Mobile Network Systems told Telecom Yatra. "We are planning to launch three new Alcatel handsets in the next two months and reach a total of five handsets in our portfolio by July."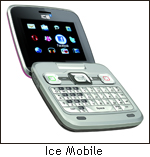 The company is targeting a presence of at least a million handsets in the Indian market within a span of six months. Malik added, "We are targeting young people who are tech savvy and are looking for latest technology and style statement. The handsets would be priced starting from Rs 3,000 up to Rs 15,000. We will also be including 3G handsets in our product portfolio."
Talking about Alcatel's presence in the handset market, Praveen Valecha, country manager, Alcatel Mobile, said, "Alcatel has been in mobile business for a long time. Globally we are among the top 10 vendors in mobile telephony."
Valecha said that the company intends to be aggressive in its marketing campaigns. It aims to rank amongst the top three mobile handset providers in Qwert, email and multimedia handset categories in India, by 2012.
The company has signed on actress Kangana Ranaut as its brand ambassador. "Kangana has a special appeal which is fashion and style and definitely she matches coolness of ICE… We are promoting our product 360 degrees and it will be available via 10,000 counters in next three months," added Valecha.
TCT Mobile is a Hong Kong based mobile phone design house and manages two brands: TCL and Alcatel.
ICE Mobile Network Systems has been in the Indian market for 25 years and has a wide distribution network for fixed lines, wireless phones, data cards, reverse logistics and mobile phones.