Milagrow is a homegrown tablet brand which markets its products unconventionally. For instance, it had launched a tablet especially for females.
So here is another tablet, called TabTop 7.4, from Milagrow which claims to be the slimmest and yet powerful. While it indeed is the slimmest, read on to know whether it performs as told or not.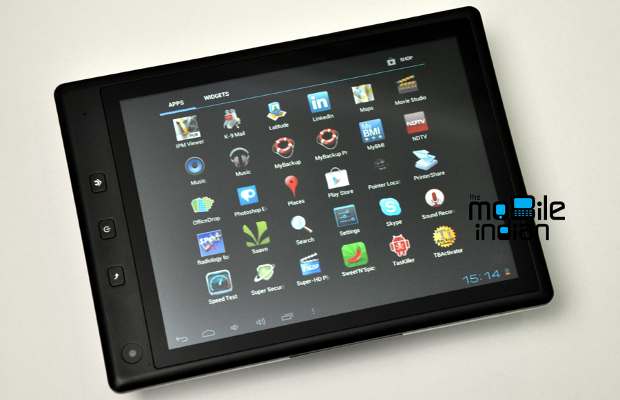 ###PAGE###
Design
The tablet is indeed very slim at just 6.5 mm at the thickest point and it is also very compact with very slim bezel around it. There are only three physical buttons on the tablet on the left side of the bezel with front facing camera placed on top left corner. There is no volume rocker on this tablet.
The rear panel comes in aluminum finish. There is just one speaker grill and a small black design element on the top. The edges are sharp while the front is all black. Overall the design is simple but attractive.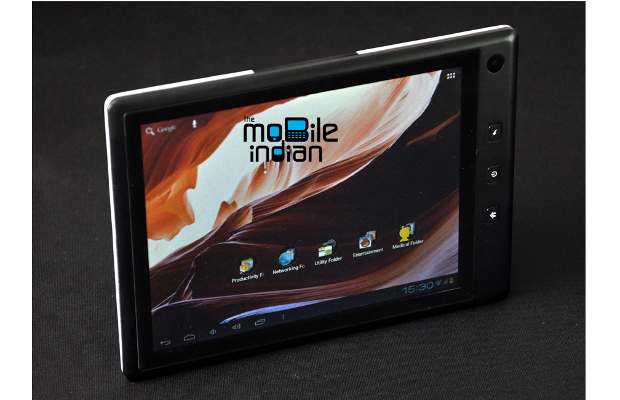 The ports, which include mini HDMI port, power socket, a micro SD card slot and a 3.5 mm Jack, are on the right side – all placed in a very uncluttered manner.
The build quality of the tablet is very good and is infact one of the best in the low cost segment. Strangely, the power button does not double up as a lock button which is a sore in the design. As a result of which if you want tablet to go in the sleep mode one has wait for preset time defined for it to get the result.
###PAGE###
Display
The Milagrow TabTop 7.4 comes with a 7 inch capacitive touch display with five point touch and 4:3 aspect ratio. Since this tablet is targeted at professionals, the company claims that this offers 51 per cent more area compared to tablets with 16:9 aspect ratio when used for viewing Doc files, images and X-Ray scans by doctors or CAD (Computer Aided Design) models for engineers. Indeed, it offers more viewing area as claimed.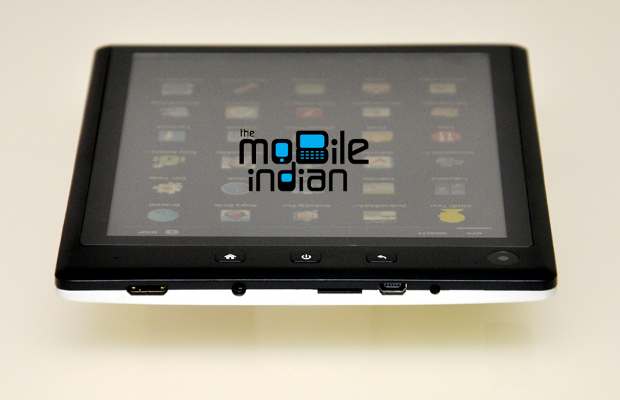 The screen has an Oleophobic screen guard that prevents finger marks which is a good thing. The screen has a resolution of 800X600 resolution which is good and in line with other offerings in the market. The screen though not particularly bright offers good colour rendering and sharpness levels.
However, we found that sometimes the touch goes haywire, so while you are touching with two keys in close proximity, the chances of hitting the wrong key are quite high.
###PAGE###
Performance
The tablet comes with a 1.2 GHz processor coupled with 512 MB of DDR3 RAM and Dual Mali 400 MP. The combination works fine most of the time and even plays CAD 3D files well. Though at times it did slow down, it never stopped working. It played games and videos without any hiccups.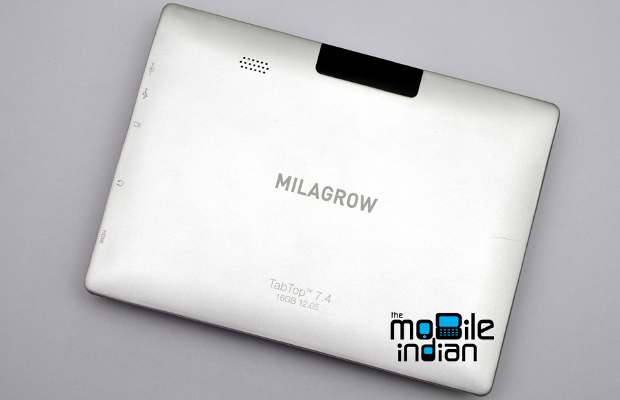 As claimed, the tablet also meets the 39.5 seconds to boot up, which is rather good since the tablet has 50 additional apps apart from the usual number of applications that an Android tablet comes with.
###PAGE###
Application
This tablet comes with 55 preloaded applications. However most of them will not be to use for everyone, but nevertheless they are a good selection given that people with specific need like doctors will find some of the apps useful. Infact, such apps are very tough to find since they are not very popular.
There is also an Indian Android market with collection of India specific applications which people can download; complete Google Play store is also installed and fully accessible.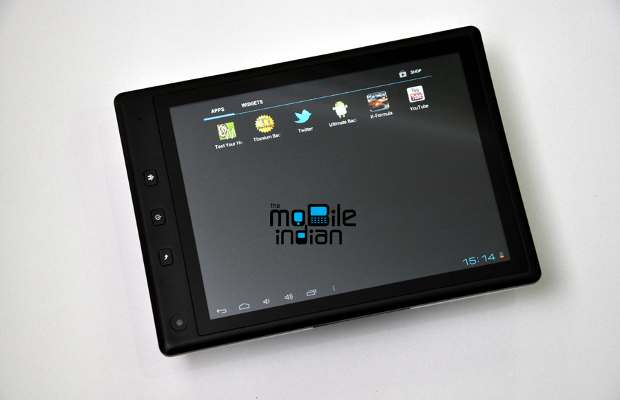 What is particularly good is the fact that the full version of Documents to Go app is available on the tablet and so are some of the otherwise paid apps. However, most other apps are available for free.
There is also an offline E-mail client that has been pre-installed for working on e-mails, even without Internet access. There is also an online E-mail client with instant push notifications. Other apps included are Office Drop with free cloud storage of 1 GB.
The apps have been divided into five categories of productivity, networking, utility, entertainment and medical folders. The tablet also supports Hindi and 60 other languages with keyboards for each. However, when we tried to edit news for our Hindi site, the text appeared completely jumbled up, while it may be a problem of font used, it indeed was not satisfactory.
###PAGE###
Battery
The tablet has a 4000 mAh battery which is big for such a thin device. The battery powers the device for 9-10 hours of moderate usage which is good for a tablet.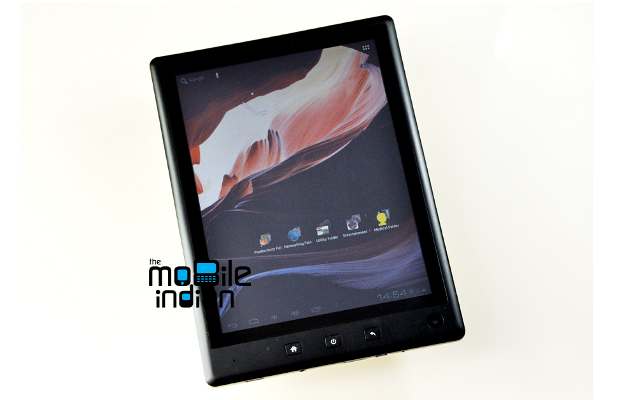 ###PAGE###
Camera
There is a 1.3 megapixel camera in the front of the tablet. However there is no rear camera. While company claims that the camera supports face detection, we did not find any settings to switch it on and on its own the camera was not detecting face. Autofocus though did work.
The camera supports 6x digital zoom, single motion Panorama mode for wide angle pictures, time-lapse for slow motion videography (7 time intervals), 8 exposure levels for different light levels, 30 fps, 5 white balance settings – Auto, Cloudy, Incandescent, Daylight, Fluorescent; VGA & QVGA option, Snapshots while video shooting. All these features did work and the interface of the camera is quite easy too.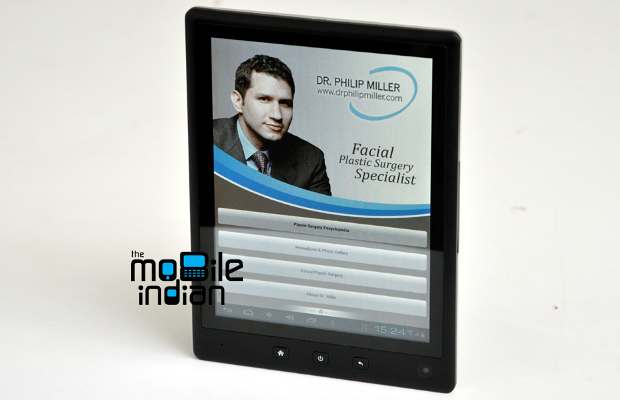 However, given that it is a mere 1.3 megapixel camera, we were not even expecting stellar results, and it performs as expected. Having said that the camera is functional and for casual photographs and video chat it is indeed very useful.
Sharing and editing with crop and rotate pictures, set levels, remove red eyes, add effects, and much more is easy.
###PAGE###
Other features
The tablet runs on Android v4.0.3 (Ice Cream Sandwich) but company says that it will release updates, which normally low cost tablets don't get. Another important feature is the compatibility with all 4G/3G and 2G external dongles. The tablet also supports an external hard disk drive of up to 500 GB which is unique, and to use it the company has supplied Mini USB to Full USB convertors.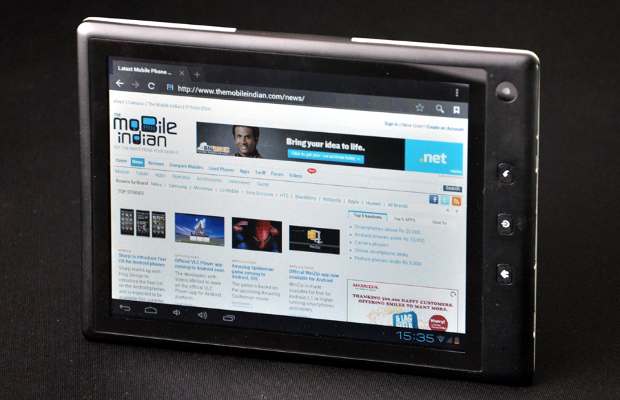 Milagrow has also included a charger with a USB socket with cable that has two out puts including a power socket and Mini USB, so the cable can charge the tablet and at the same time power the External Hard drive but you can't use it to charge your phone as they come with Micro USB port.
The tablet comes with a HDMI Port with dual display technology which means that the display on the tablets' screen will display the image as the same as TV; the tablet screen remains fully functional during that time too which comes handy while playing games.
###PAGE###
Verdict
The tablet is priced at Rs 10,990 for the 4GB variant while the 16 GB variant costs Rs 13,990 – at this prices, the tablet indeed is a good value for money. There are niggles however none of them are big enough to change the buying decision.
It is a decent tablet priced well and nothing else. Agreed there are certain features that are unique to it like support for external hard drive but they are not big enough to call it something other than tablet.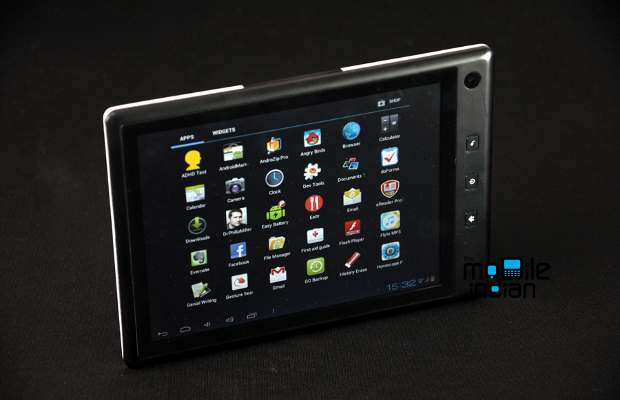 The tablet doesn't even beat the better known tablets from big brands like Samsung but in terms of overall package, it indeed is a good option in the budget range.