Samsung recently announced the launch of its latest flagship Android tablet with the launch of Galaxy Tab S6, in India. The tablet comes with a price tag of Rs 59,990 and it is available for purchase from Flipkart, Amazon and Samsung Shop.
With this, Samsung is all set to bring back the tablet segment, which is on the verge of becoming obsolete. The latest tablet does come with a hefty price tag, but it is loaded with top-of-the-line specifications along with some sleek design, immersive display and more. So, does it make an interesting proposition?
[[VIDEOID=1534]]
Sleek design, immersive display!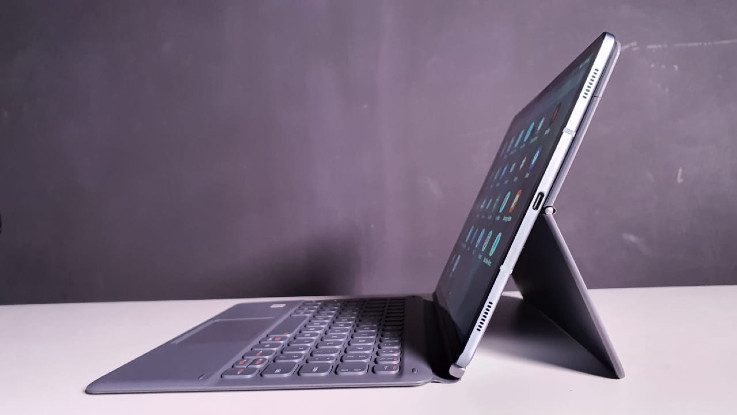 Samsung Galaxy Tab S6 is probably one of the slimmest tablets we have seen from Samsung. The metallic body along with lightweight design makes it an ideal tablet or 2-in-1 to carry around. The compact size of the tablet also makes it quite convenient to put inside a small bag. The back panel comes with a metallic finish and it now comes with a dual-camera setup at the top-left position along with Samsung branding.
The front panel comes with some bezels around the corner, but it does not hamper with the overall visual experience. You get power on/of button and volume controls on the right side, which is not that convenient to reach, especially when you hold the tablet in portrait position. That said, the 16:10 ratio of the tablet makes it a great machine for content consumption, but professional working using Samsung DeX, it is not that great. The sad thing here is that it does not come with a headphone jack, so, you either require a wireless headset or USB Type-C supported earphones for this tablet.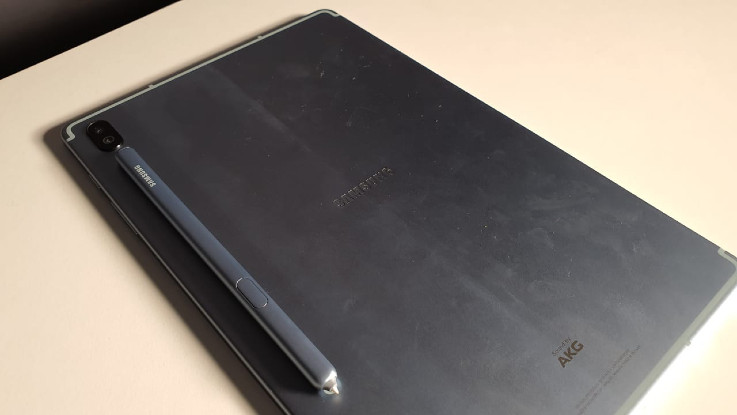 Coming to the display, the Galaxy Tab S6 hits the right spot. The Samsung Galaxy Tab S6 features a 10.5-inch WQXGA Super AMOLED screen with a resolution of 2560×1600 pixels and an aspect ratio of 16:10. Samsung is known for making some top-of-the-line AMOLED panels and this one is no different. You get good colour reproductions with black being inky deep and overall contrast of the display is quite good in our opinion. The viewing angles are good and the pixel density it to the point, which makes the text looks sharp from a respectable viewing angle.
The display also supports HDR and HDR10+, which makes it a great device for streaming. This coupled with four speakers with Dolby Atmos makes it a delightful experience. The audio is loud and it is clean as well. The Dolby Atmos-equipped speakers come as a treat when you bing watching certain web series or action-packed movies.
S Pen comes in handy!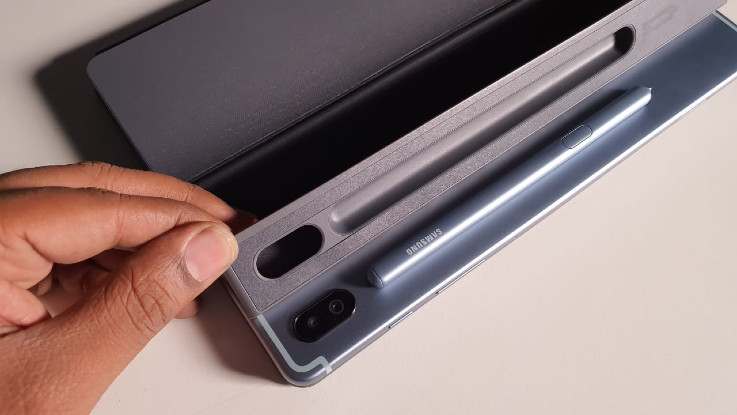 The Galaxy Tab S6 comes bundled with S Pen, which is a good thing. The S Pen fits perfectly into the hand and the whole experience is quite smooth. Good thing here is that it can be charged wirelessly when you attach to the tablet. However, magnets are not that strong, so you need to keep a tab on the S Pen while attaching it. Coming to the features, it is loaded with air gestures, which is similar to what we have seen in Galaxy Note 10 series. Sadly, it is still limited to the camera only. So, for example, you can switch between different camera modes with a simple swipe left or right, zoom in or zoom out by rotating clockwise/anti-clockwise. The best use case for S Pen is for taking notes and of course, showing your artistic talent. But, we still feel that the air gestures could have been developed for more things like swiping from different screens, scrolling pages or more.
The Smart Keyboard now comes with a trackpad!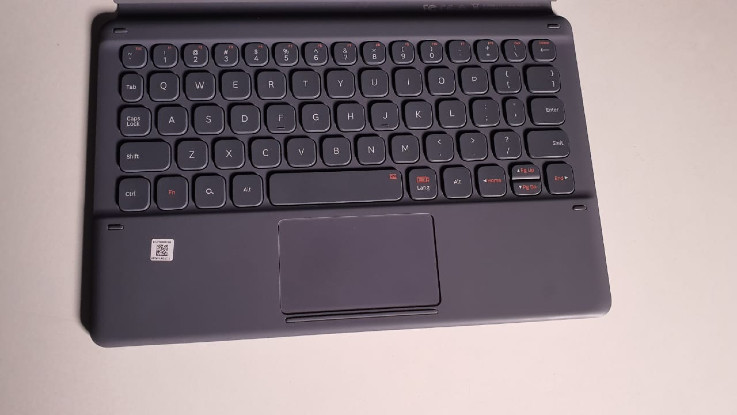 The company is also providing a Smart keyboard case with the Galaxy Tab S6, though you need to purchase it separately. The Smart Keyboard case comes with a price tag of Rs 9,999, however, the company is offering it for Rs 5,499 for a limited time period. The major plus point of the keyboard is that it comes with the trackpad. This makes it easier to navigate between different windows in Samsung DeX mode. The keyboard is a bit small for our hands, though once you get used it, you find it a bit better for typing purpose. Furthermore, trackpad comes with poor palm rejection and it makes it a difficult job when you are typing. Thankfully, the company has given an option to disable by pressing Fn + Spacebar. There are also some shortcut commands, which can come handy while the tablet is in DeX mode.
Performance is a strong aspect of this tablet!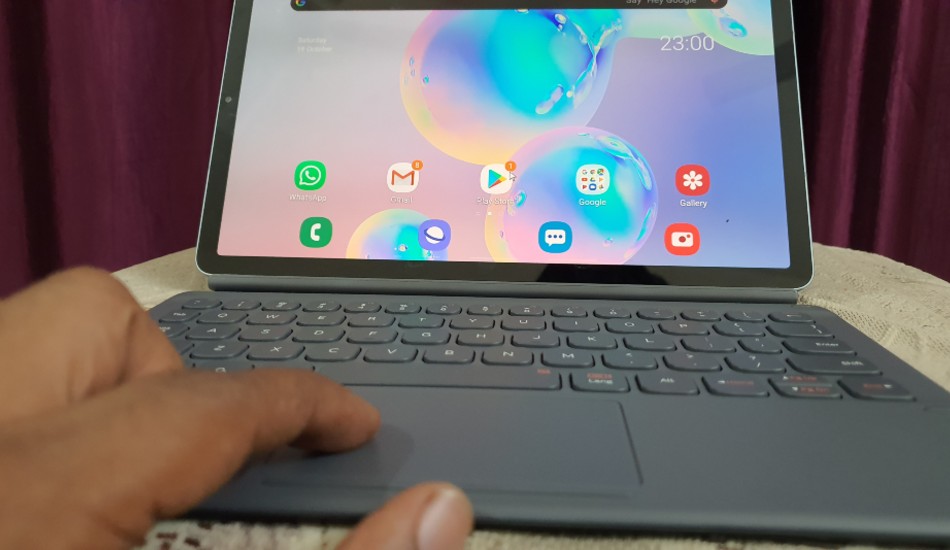 Samsung did the right thing by adding the latest chipset to this tablet. It comes powered with Qualcomm Snapdragon 855 processor along with Adreno 640 GPU. The tablet is backed by a 6GB of RAM and 128GB of internal storage. That said, the performance is quite fast and smooth. Whether be it multi-tasking or opening multiple apps in the background, we never faced any kind of lag or stutter. The tablet can also handle some graphic-intense game like PUBG Mobile. We played the game on high setting and we didn't notice any noticeable lag or stutter during our gameplay. However, the tablet does gets slightly warm during long hours of gameplay.
For security, it comes with in-display fingerprint sensor and face unlock features. Oddly, the company has gone with optical in-display fingerprint solution as compared to the ultrasonic one, which is present in its flagship smartphone series. In our testing, we found out that the fingerprint sensor is not as fast as we have seen in other smartphones. The face unlock still works fine in our testing.
Software is standard, Samsung DeX still needs improvements!
The Samsung Galaxy Tab S6 runs on Android 9.0 Pie, which is based on OneUI. The user interface is the same as we have seen in other Samsung smartphones or tablets. The UI still comes with some noticeable bloatware including Microsoft app suite, company's own apps and more. You also get call connectivity feature through which you can pick up a call or message from your Samsung smartphone to this tablet.
.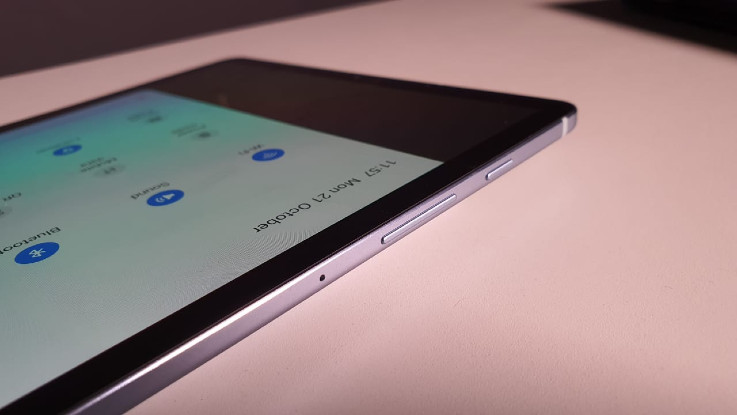 However, the major highlight here is the support for Samsung DeX. One can simply launch the mode by going to the quick settings menu or simply attach the keyboard. The Samsung DeX basically transforms your tablet to a laptop. You get the desktop-like versions of your favourite apps on this tablet. You get a bar at the base where you can pin your favourite apps and one can also open multiple windows on the screen, which is quite useful. We opened multiple tabs and apps on the DeX, we didn't notice any lag during our experience. However, there are some downsides tas well.
To start with, the apps can be snapped as it does in Windows. So, every time you open an app for multi-tasking, you have to manually tap and drag the window to align it according to your needs. The whole process is quite painstaking and it spoils the whole productivity level of the tablet. The Samsung DeX is good if you want to quickly jump from streaming to finishing some last-minute work, though it still cannot replace your laptop.
Battery output is fine!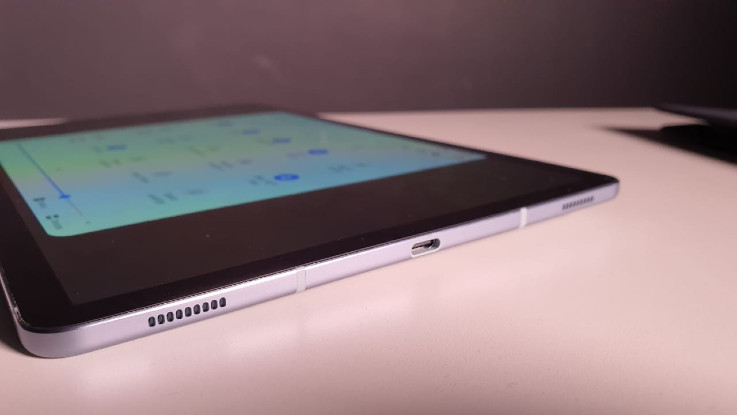 The Samsung Galaxy Tab S6 is juiced up by a 7010mAh battery and the company bundles a 15W fast charger within the box. The battery can easily last up to two days under normal usage like streaming some movies, browsing the internet and more. Under power usage, it will easily last one full day of usage. Coming to the charging time, you can get it fully-charged within 2.5 hours.