Samsung Galaxy Beam is not the first projector phone in India. Many Indian brands like Intex and Spice have tried it with their feature phones. However, Samsung Galaxy Beam is the first projector smartphone with Android operating system.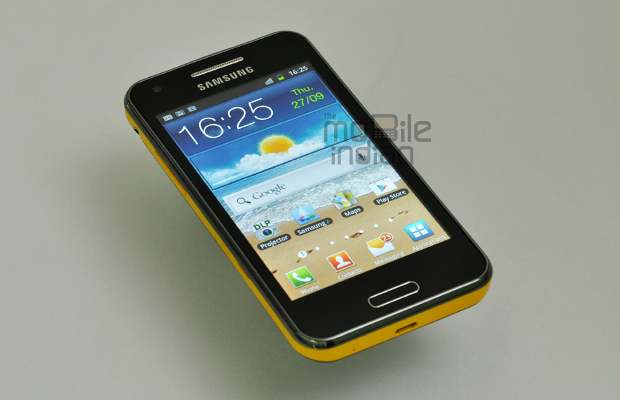 The phone takes the whole game several notches higher by not just offering a DLP Pico projector with decent 15 Lumens LED lamp, it also offers a powerful smartphone at a price that many might argue to be on the higher side.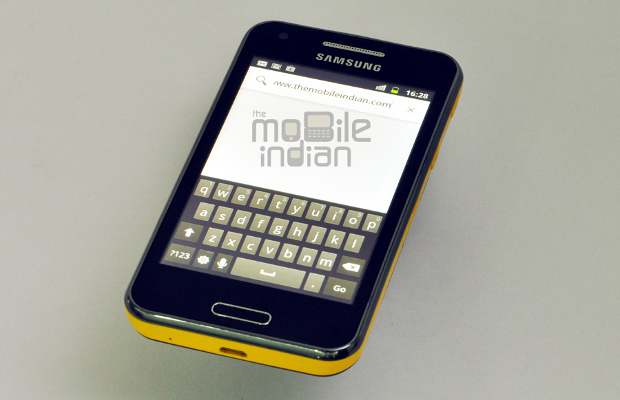 The phone is actually a combination of Galaxy S Advance and a pico projector. While the Galaxy S Advance costs Rs 19,500 in India, the Galaxy Beam is available for Rs 27,500 which means that the projector costs Rs 8,000. Is that cost justified? Let's find out.
###PAGE###
Design
Samsung has done a great job in keeping the weight of Galaxy Beam down to a level where most won't complain. The phone weighs 145 grams which is only 25 gram more than Galaxy S Advance and is 12.5mm thick as against 9.7mm thickness of S Advance.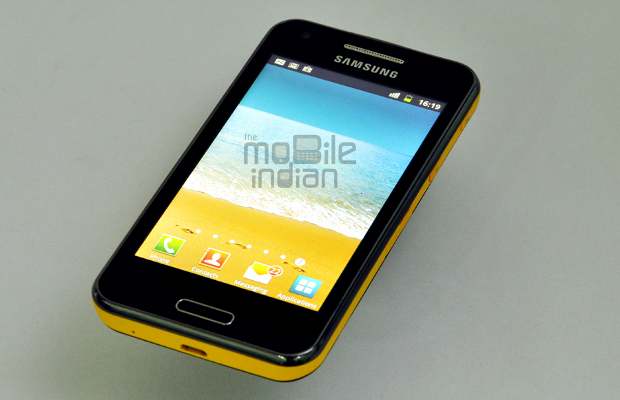 A yellow band all across the side of the device gives it a vibrant look and a back with lightly textured surface gives is good grip and feel. The projector is on top of the device, while the micro USB slot is on the bottom end. The front gets one physical button at the centre which works as home, shortcut to the task manager, and voice command button. Alongside are two capacitive buttons for options and back which only appear momentarily when you touch them.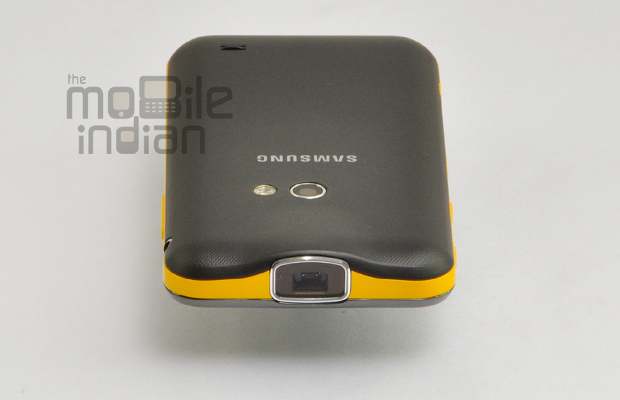 There is nothing underneath the back cover except for its large 2000mAH battery, SIM slot lies on left side below the volume rocker and 3.5 mm jack and the micro SD card is on the right side below the power/lock and beam (projector button).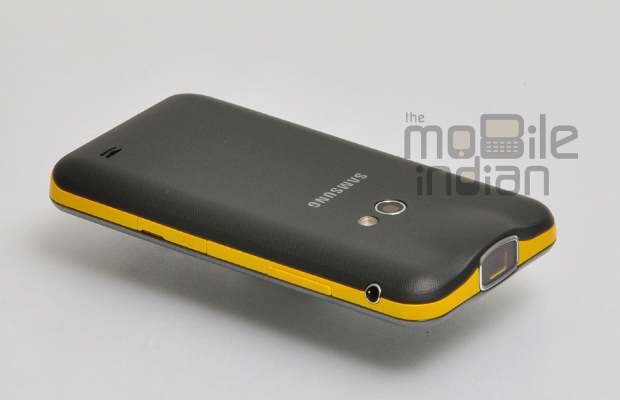 The camera is at the top centre on back with LED flash on its side. All in all, the Samsung Galaxy Beam has a very neat and useful design.
###PAGE###
Projector
The highlight of this phone is its projector and so we will talk about it before we talk about anything else. The projector is a DLP (Digital light processing) unit and comes with an LED bulb that is claimed to have a life of 20,000 hours while normal projectors have lamp life of maximum of 5000 hours. The projector is capable of 15 Lumens output which is very low compared to a normal projector and is lower than even the Pico LED projectors which project at up to 30 Lumens normally and some even produce 50 Lumens.
This phone can project an image up to 50 inch size with nHD (640×360-pixel) resolution. However, compared to a Pico projector which costs anything above of Rs 25,000 in India, this one will technically cost you only Rs 8,000.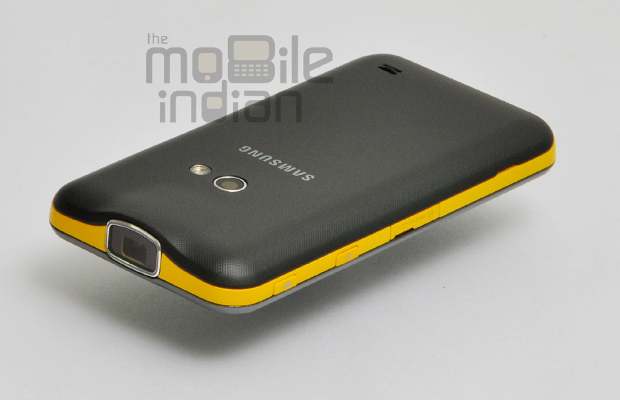 And the only drawback of this projector is that it doesn't support external source of images, however you can always access web based content, like YouTube, through it
The projector produces good images when used inside a dark room on a white background and like any other projector, it will not work when used in well-lit situations or on not so clear wall. However, it doesn't require complete darkness to project decent images.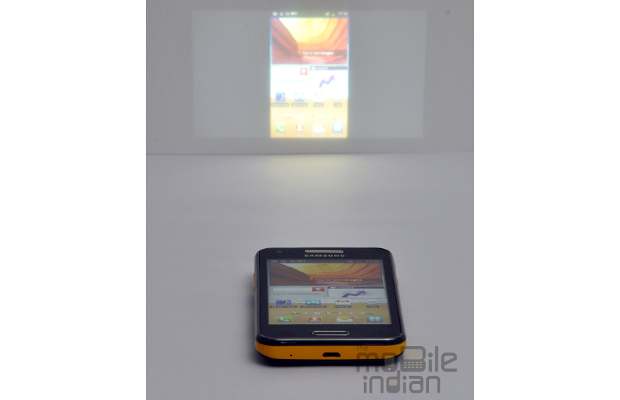 Samsung has given several useful option with this projector like ability to write and mark on the screen with a quick pad application. You can also project an image that your phones camera is seeing, a good option to make this phone work as an overhead projector to show any document to a large audience, and here the LED flash comes in handy as you will need a dark room to project and the camera will need light to shoot.
You can also convert this projector into a torch and has an Ambiance mode in which it plays a set of music and image for certain duration before you start your presentation using DLP app. However, there are issues like you cannot pull out this DLP application during the presentation for that you will have to go back to the home screen to pull it out.
The Beam button on the side helps in switching on the projector directly and the projector opens with an all screen that you can use to adjust settings and also enables quick note and rotation.
There are many use of this projector and you don't have to carry anything for that to happen except your phone. And the good part is that the speakers of the phone are quite loud so you won't need external speakers, especially indoors but you may need speakers in outdoors.
###PAGE###
Camera
The phone comes with a 5 megapixel camera at the back and a 1.3 megapixel in the front. The rear camera is good and takes very decent pictures especially in the daylight situation. In low light conditions, like indoors, LED flash makes it click decent pictures. The colour and saturation levels are good and pictures look vibrant. Front camera is very good for video calling and that's the use it is intended for.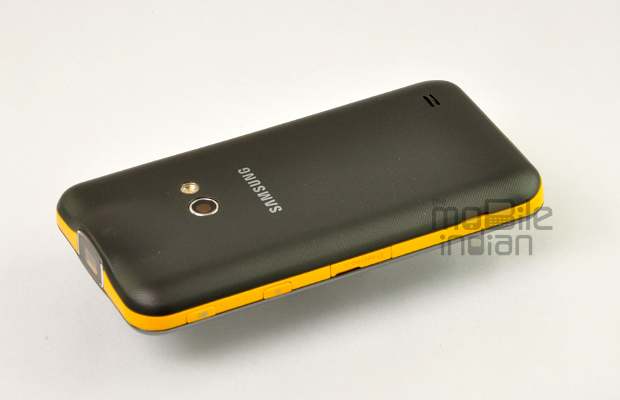 Operating system and UI
The phone has Android 2.3 version. However, Samsung has already said that it will release the Android 4.0 and even Android 4.1 for this phone. The operating system is overlaid by Samsung Touchwiz user interface which has 7 customisable home screens.
###PAGE###
Display
The phone has a 4.0 inch display with 480×800 pixel resolution. The display is quite bright and has good colour reproduction, sharpness and contrast. Besides, the screen has also good viewing angles. The touch sensitivity of the screen is also of top notch.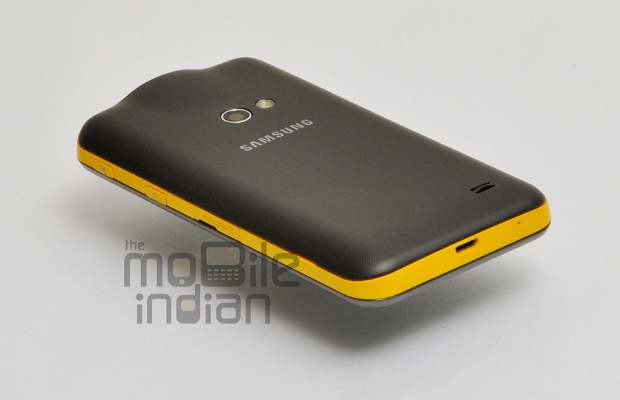 Performance
The Galaxy Bean comes with a 1 Ghz dual core processor coupled with a healthy 768 MB RAM and Mali 400 GPU, which lends this device a very snappy performance. Though its performance is of no match to the Galaxy SII which is priced at the same level but it is definitely in the league of phones priced in the range of Rs 24,000 and below. The apps open quickly and games play without any framing.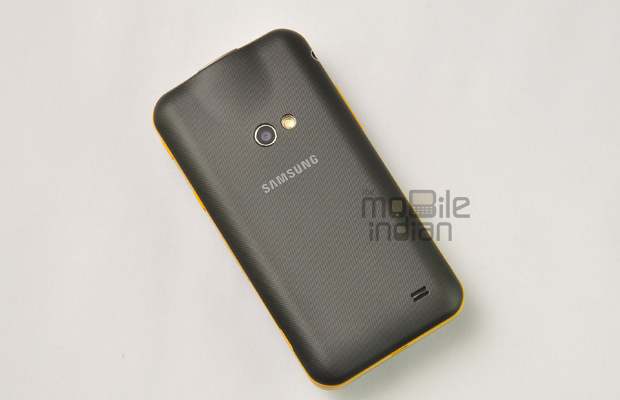 The phone also has a very decent battery life and provides almost two days of normal usage with two three hours of calling, 2-3 hours of music, web surfing and few hours games too.
The claimed talktime of up to 9 hours seems easily achievable. With full charge, the phone easily survived with running projector for three hours. Hence, the phone can easily. The phone, with its large 2000 mAH battery, thus can run even longer.
###PAGE###
Other features of the phone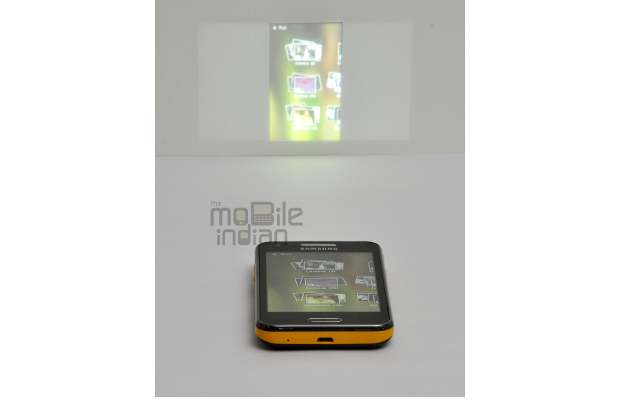 The phone comes with an 8 GB of internal memory which is expandable by another 32 GB through a micro SD card. You also get the normal set of smartphone features like GPS, WiFi, Bluetooth, etc.
###PAGE###
Verdict
If you are looking for a portable projector then this is a perfect phone. Even though it won't take content from your laptop directly, you can always copy your content onto the phones' ample memory to project it on a larger screen.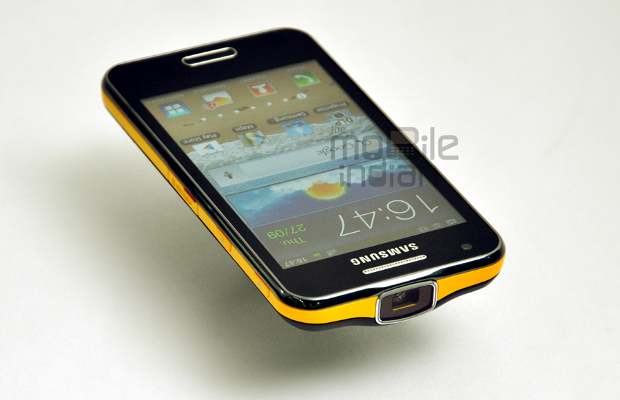 The phone is well built and performs well too. However only those should go for it who see value in the projector of the phone. Else they can look at many more offerings which are cheaper and offer better smartphone experience for the same money.