So, if you are looking to buy a new top end smartphone you might have heard or researched about Samsung Galaxy S6 Edge Plus, Sony Xperia Z3+, HTC One M9+, Apple iPhone 6 Plus and LG G4. So what's great about them? They have top notch hardware ofcourse. However, they also come with huge price tags in which you can buy a decent second-hand car.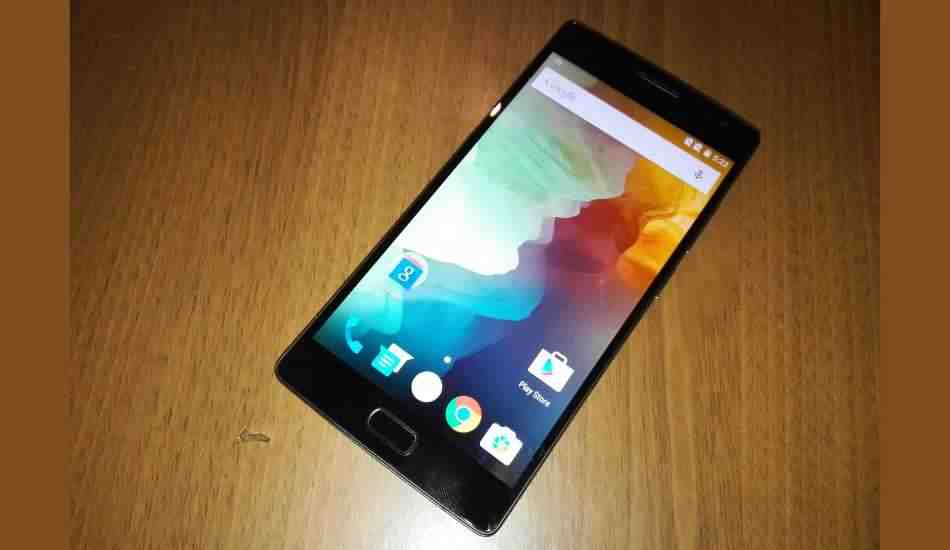 However, China's OnePlus, which came into existence in December 2013, claims to deliver such best in class hardware as well as looks for about half the price with its latest flagship – the OnePlus 2.
The OnePlus 2 is priced at Rs 24,999 for the 16 GB model. Just for the record, the previous smartphone of the company, OnePlus One, got good response in India.
But now the question arises is OnePlus 2 worth buying at this price while ignoring other brands. Here, I have tried to address all your queries so that you can make an informed decision. Read on to know more.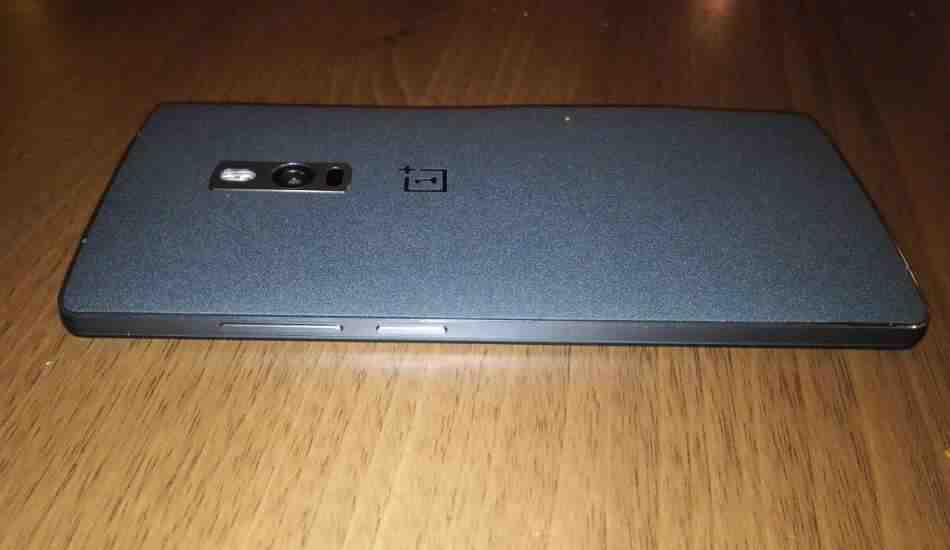 Is it owners pride and neighbours' envy?
In terms of design, OnePlus 2 has definitely a couple of new elements which are not available in any other Android smartphones. To start with it has a waist line of 9.9 mm which is 1mm thicker than its predecessor and at 175 grams it is a bit heavier too. In terms of length and width, it is 151.8 mm long and 74.9 mm wide.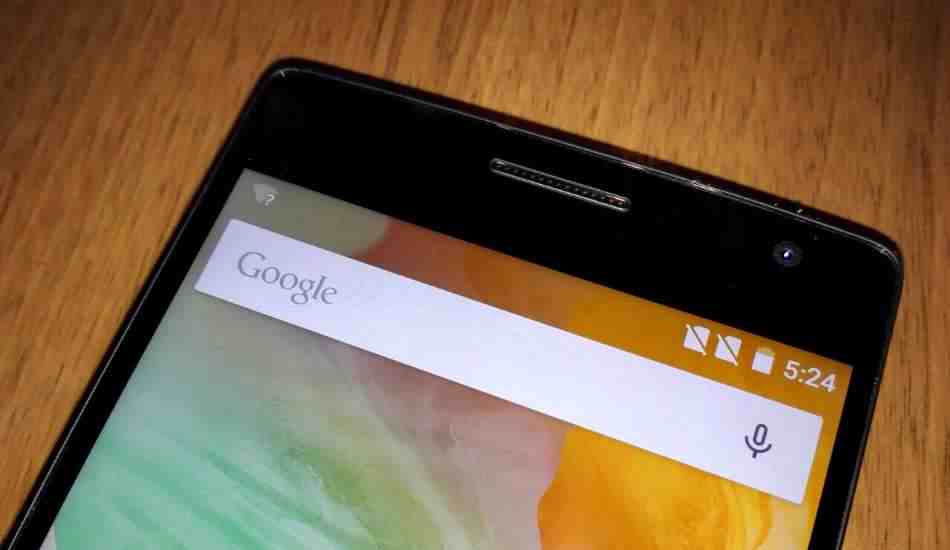 OnePlus 2 has an aluminium and magnesium frame which gives it a premium finish. If I talk about the front panel it has a 5.5-inch display, a home bottom at the bottom, a 5 megapixel camera at the top right corner and an earpiece alongside it. The home button is one of the new elements in this smartphone. It is actually a fingerprint scanner that doubles up as a touch pad. It is not like a regular home button found in many phones that can be pressed. Also, there are two navigation buttons on either side of the fingerprint scanner – the left one works as the back button while the right one is an app switcher/menu key.
In the back panel, it has a camera module which is an assembly of a dual LED flash at the top, lens in the middle and a sensor just below it which enables laser focus. The whole camera unit has been moved lower as compared to OnePlus One.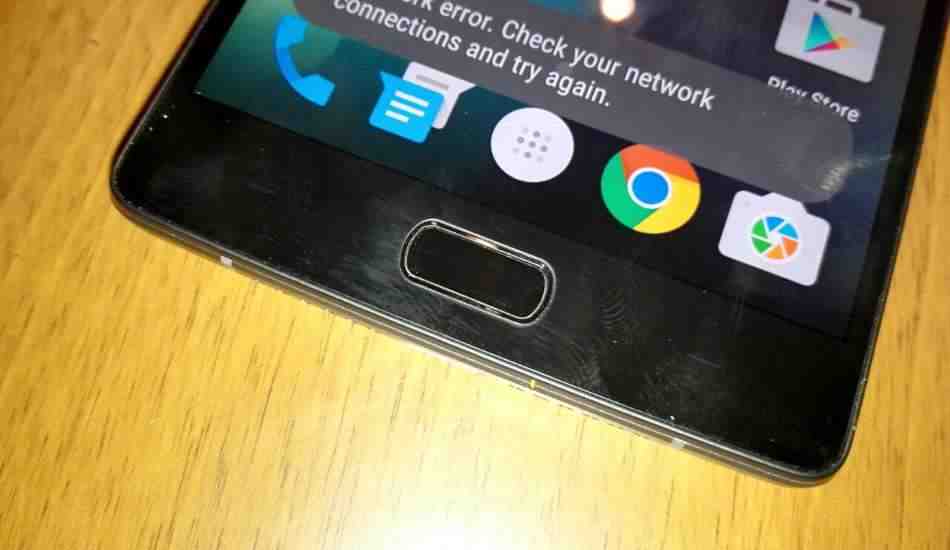 The back panel has a textured and a grainy finish. It is slight curved which helps is better gripping. The back panel is a removable one (though battery cannot be removed) and dual SIM slot is placed underneath it.
In the OnePlus 2, the 3.5 mm audio jack is at the top, two speakers grills flanking the USB-C port are in the bottom panel, volume rocker and power button are in the right side while a one-of-its kind Alert Slider is on the left side panel. The Alert slider allows controlling notification as per your need – one can completely mute all the notification sounds, have the selective notification on and switch all the notification sounds. In other smartphones one can manage notifications through volume rocker though in iPhone there is a hardware button which mutes / unmutes all the notification. One may take some time to getting used to it.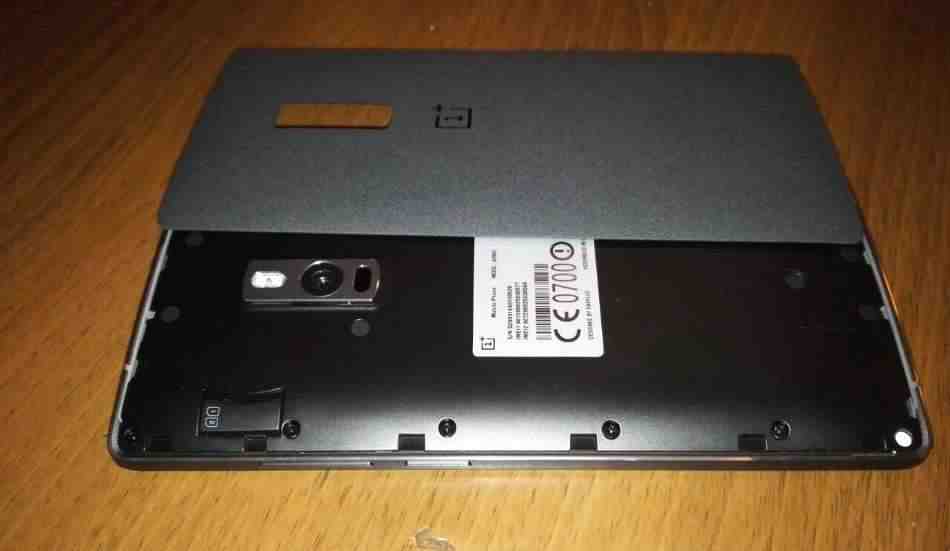 In the above para, we have mentioned about USB-C port on the bottom panel of the phone. So what is it? It looks like a micro USB port found in other Android smartphones. It has several advantages, one is that you can plug it in either way, both sides are the right sides, and you'll have even faster data transfers. However, you cannot use regular chargers with it, hence you have to carry its charger along all the time, atleast till USB-C port becomes a standard feature in all the smartphones.
All in all, as far as the look and feel is concerned OnePlus 2 everyone will have their own perspective but as far as I am concerned this device is definitely owners pride but may not be neighbours' envy. Though full marks to OnePlus team for bringing in a couple of new features like Alert Slider, fingerprint scanner and USB-C port.
Is it a one man army?
Now, this is the question that bothers most of the customers before buying a new smartphone. So let's first start with the display.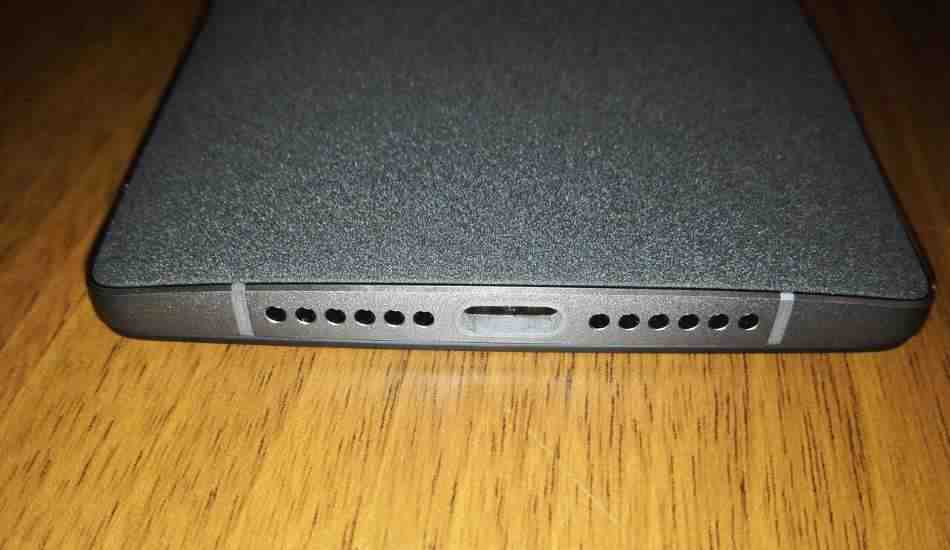 The OnePlus 2 has a 5.5-inch display with 1080p resolution. Incidentally, even OnePlus One has the same display but the similarity ends there. The display of OnePlus 2 is much better than its predecessor. It is brighter, less reflective and is not a fingerprint magnet. Even in bright sunlight, the display is readable. Some readers have asked us: has OnePlus made a blunder by not arming it with a 2K display? My answer would be no. The reason being it is quite difficult to differentiate between a 1080p display and a 2K display just by glancing at it unless both of them are kept next to each other. Also, with a 2K resolution display the phone would have higher power requirement and would drain the battery faster.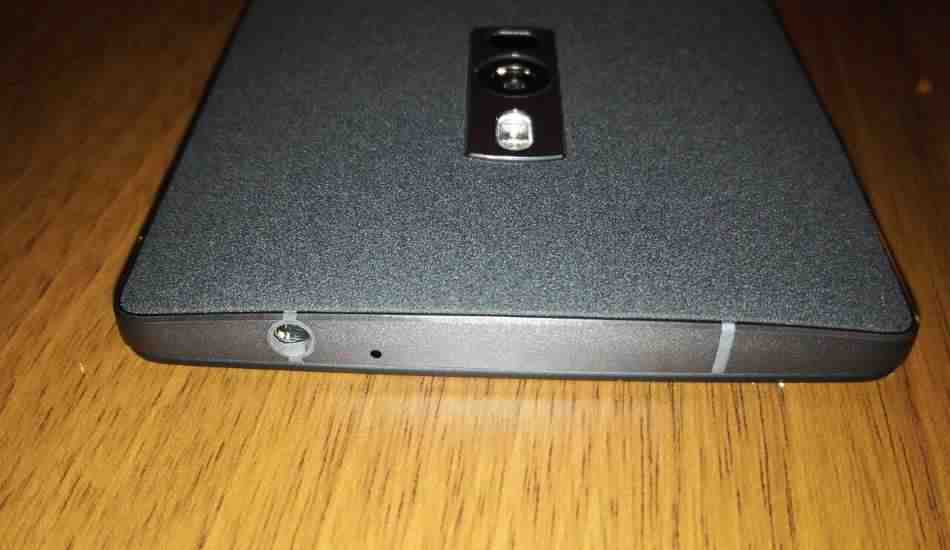 At the price point at which OnePlus 2 is being sold the display is quite good but as compared to other flagship smartphones from Samsung or HTC brightness is a bit on the lower side.
Now let's talk about performance. OnePlus 2 has a 1.8GHz octa-core Qualcomm Snapdragon 810 CPU which is coupled with 4GB RAM and 64GB internal memory. It runs on OxygenOS 2.0, which is based on Android 5.1.1 Lollipop. During my usage, I did encounter heating issues while prolonged usage but it was manageable. And as far its performance in concerned in real life scenario I didn't encounter any lag in tasks like playing games, opening/closing apps or multitasking. But a couple of times I faced issues while unlocking the phone using swipe. The device just won't budge. Also, fingerprint scanner needs some overhauling as half of the time it wouldn't respond.
As discussed earlier, OnePlus 2 runs on the new operating system, OxygenOS 2.0, by the company. Actually if we look at this new OS closely, you will know that it is just like the stock Android OS with few nifty changes in the user interface. The most interesting feature I liked in the OxygenOS2.0 apart from theme building is its enhanced app permission control that allows you to manage what all information all the individually apps can access. In simple terms if you are downloading an app which requires you to give it permission to read your phone-book you can block permission after downloading it.
On the connectivity front, the OnePlus 2 supports dual-band WiFi , Bluetooth 4.1. and 4G LTE. The voice quality during calls on OnePlus Two is just wonderful and even the speakers are loud and clear.
Here, I would like to point out that OnePlus 2 does not have NFC. But should that be a cause of worry? Use of NFC is still in the nascent stage and by the time it goes mainstream in India, my guess is, OnePlus 6 would have been launched.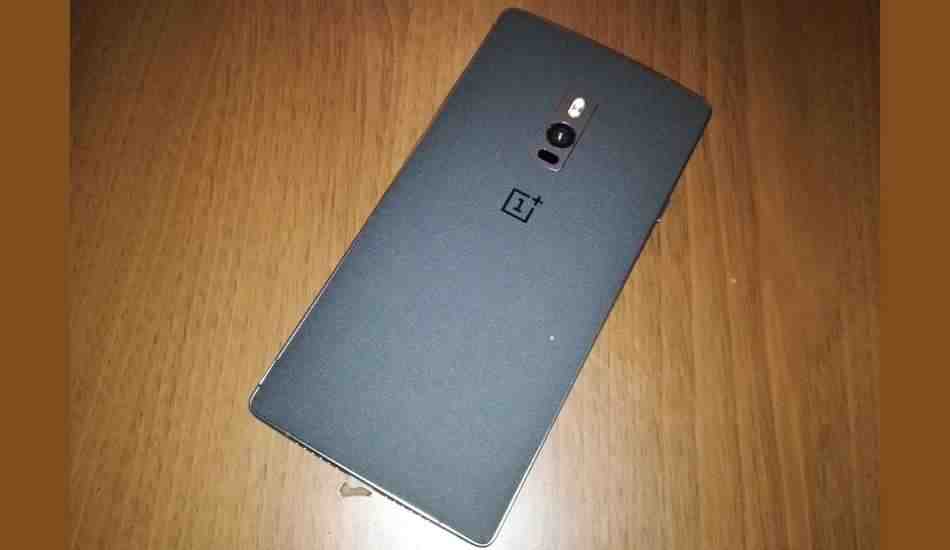 The OnePlus 2 has a 3,300 mAh battery, which on paper looks like a mammoth but in reality the output is just decent. Heavy smartphone users will get around 6 hours of backup after which low battery warning will start flashing.
The USP of OnePlus 2 is its camera – both front and rear. In the rear, it has got a 13 megapixel camera and two LED flash lights. The rear camera captures amazing pictures even in low light. Though sometimes colours look a bit faded in low light but detailing is never missing. The rear camera also has a laser auto-focus which helps in getting an instant focus lock. Same goes with the front camera. Its wide angle lenses comes handy in clicking group selfies but in dim lighting output is just okay. In its price segment, OnePlus 2 has one of the best camera.
To check its camera samples, click here.
The only bad thing about the camera is its gallery app or should I say lack of it. OnePlus 2 lacks a gallery app and instead it stores pictures Google Photos app, which at best can be used to stores pictures rather than being primary app.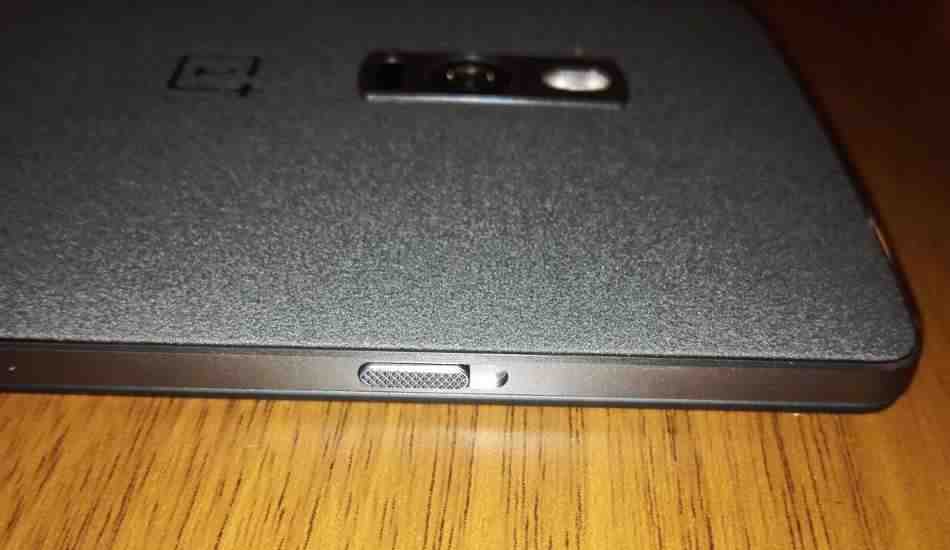 So what else?
OnePlus Two gives a couple of option to the user to interchange back cover, but for that you have to purchase them separately. You can choose from three different types of Bamboo cover and the default sandstone black. Also, similar to its predecessor can assign different task to hardware button and capacities in One Plus Two as well.
Should you buy it?
This is the mother of all questions. OnePlus 2 offers top notch hardware and a couple of innovative features at half the price of flagship smartphones from top brands like Samsung and HTC. There is nothing to complain about performance as well and in fact camera in better than almost all the smartphones that are available in sub-Rs 25,000 price bracket.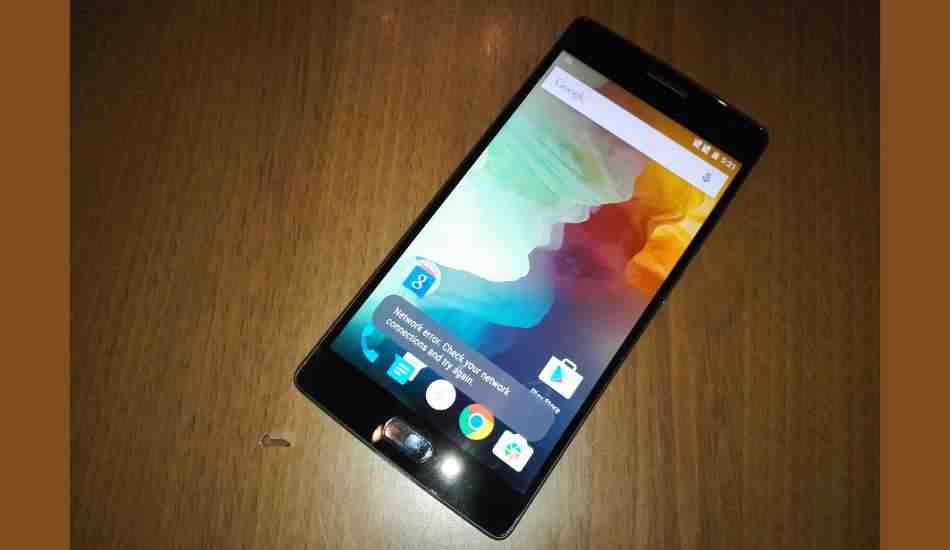 The problematic areas in the OnePlus 2 are unlocking the device, fingerprint scanner, battery backup and camera app. It is not that these issues cannot be solved through software updates but it needs to be seen how fast does OnePlus do it and more importantly they have to be OTA updates.
To sum it up, I would say OnePlus 2 is just like a Nexus device with some bugs, minus the hefty price tag and official logo of Google. The reason for it is that OxygenOS 2.0 looks and feels just like stock Android OS. So, is it worth buying? Yes, but hope updates come at regular intervals so that you don't have to pull your hair for bugs.