Designed for Humans – this is what Samsung say for the Galaxy S III which was launched earlier this year. The phone got rave reviews by almost everyone who touched it once.
So what is there in the Samsung Galaxy S III for which it has been hailed so much?
Here is a brief introduction: The Samsung Galaxy SIII was released earlier this May and has features like Android ICS operating system, 8 megapixel primary camera, a 1.9 megapixel front camera, 4.8-inch Super Amoled capacitive touchscreen, 1.4 GHz quad core processor etc.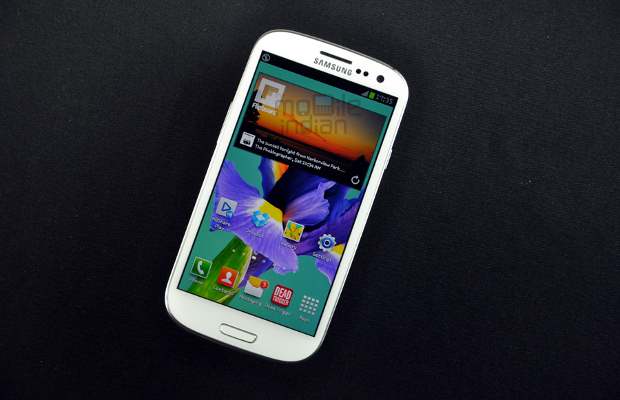 From specification and price point of view, it is obvious that it is a high end smartphone. It is available for Rs 36,000 but interestingly it was launched for around Rs 43,000 in India!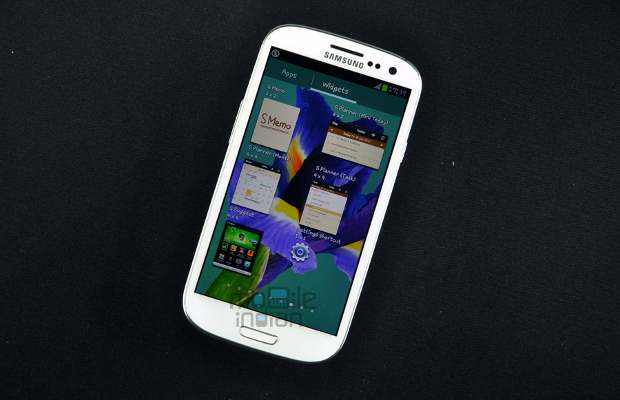 At this price, you could easily afford a decent tablet along with a good Android smartphone. In fact, you could get an ultrabook for this price too.
So, does the Samsung Galaxy SIII have the capacity to replace a good tablet and a decent smartphone on its own. Few handsets could achieve such as thing but before jumping to the conclusion, let's find out.
###PAGE###
Design and look
The Samsung Galaxy SIII comes with a huge 4.8 inch Super Amoled touchscreen with 720×1280 resolution. By far, though it is not the biggest but definitely is one of the large screen holding smartphones.
Like most Samsung smartphones, it has a home button but in SIII it comes in rectangular shape rather than squarish pattern found in other Samsung handsets. Front panel and the back panel of the smartphone are separated by an aluminum finish metal strip. The strip contains the lock/power button on the right hand top side and the volume rocker on the left hand side.


On the back panel, there is an LED flash, camera, and a speaker, in that order. The logo (Samsung) is written just below the three buttons. Despite its huge size, the volume rockers and the power button are placed is such a way that makes it easy to use them. Phone comes in 70.6 x 136.6 x 8.6 mm dimensions – which means that it is quite sleek in design. Also, it weighs just 133 grams which though doesn't make it the lightest smartphone but is definitely on the lighter side. In comparison, HTC One X weighs 130 grams while the LG Optimus 4X HD weighs 140 grams.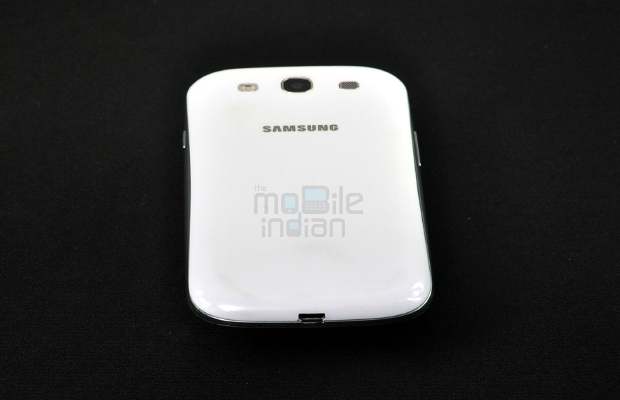 The body is made of plastic which though feels solid in hand but is always susceptible and may lose its shine over a period of time. However, the back panel has a glossy finish that enriches look and prevents scratches. The display though gets dirty and gets fingerprints every now and then. Thankfully it is scratch resistant so you can wipe it in your shirt as well.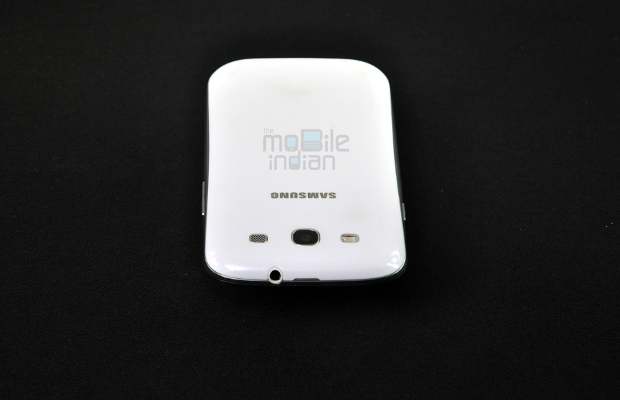 Now coming to the design part, the Samsung Galaxy S III is sadly not an innovatively designed product. Samsung has almost made it like most of its other handsets. So despite shelling out so much you still end up having a stale looking device.
The Galaxy SIII comes in marble white, pebble blue and red colurs but none is eye catching stuff. On the contrary, the HTC One X, which is available for a couple of thousand less than the SIII, is a real looker.
###PAGE###
User Interface
Samsung Galaxy SIII comes with Android Ice Cream Sandwich operating system which has been hailed both by users and critics alike for its user friendly interface. On the top of ICS, Samsung has overlaid its Touchwhiz 4.0 user interface, which infact made its debut with this phone. The UI is otherwise known as the Touchwhiz 'Nature UX' interface which is popularly known as the Nature 4.0 UI.
The first thing you will see when you start the device is the water ripple effect on the locked screen which has been liked by almost everyone. There are four icons on the locked screen which you can drag upwards to go directly to them. As you go to the home screen you will find four app icons along with the menu button – all these four icons are customisable.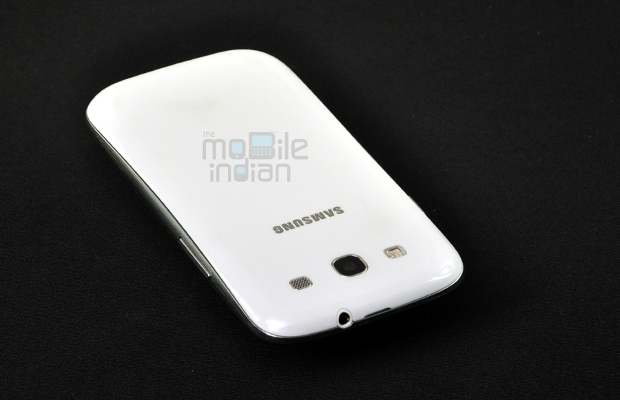 In HTC One X, as soon as you change the home icons, the locked icons got replaced. However, in Galaxy SIII, the locked screen icons are fixed and are not related to the home screen icons.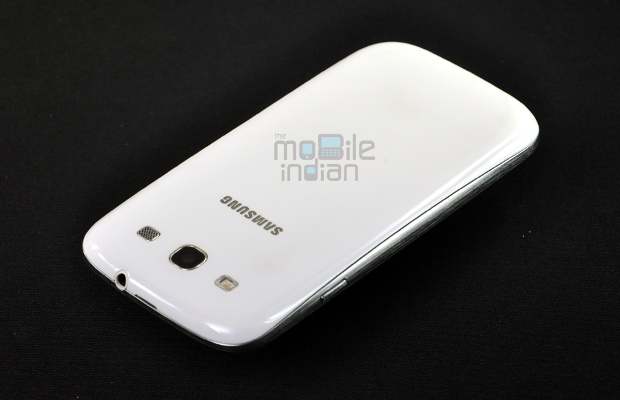 Like One X, the Galaxy SIII has also seven home screens but in the later there is infinite scrolling so you can keep on scrolling forward to reach a particular home screen. However, in One X as you reach the seventh screen, you have to scroll backwards to see the first home screen.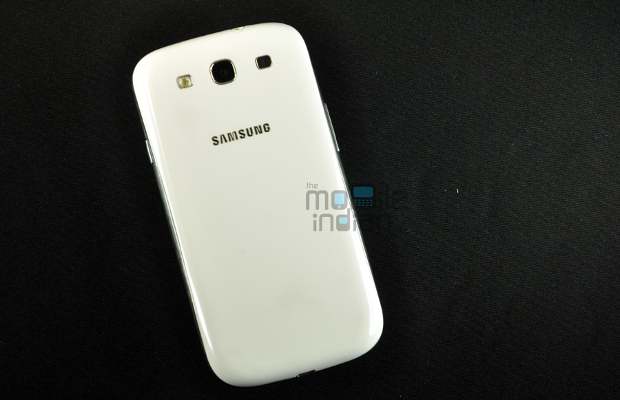 Like other Android smartphones, you can add widget to the home screen as well in Galaxy SIII. However, unlike One X where you just need to tap and hold the screen to add any widget, in Galaxy SIII you have to go the app menu and then touch the particular app icon to add it to the home screen.
From the notification bar though you can quickly activate lot of features like WiFi, Bluetooth, GPS, sound and lot others. Pressing the volume rocker also gives you direct access to change the sound settings.
Despite the above short coming, the Galaxy SIII scores over the HTC One X and its other competitors due to some innovative features like Smart Stay that prevents the phone from sleeping as long as you are looking at the phone. There is also the S Voice feature which is a direct competitor to the world famous Siri of iPhone 4S. Using S Voice, you can operate the phone without even touching it. However, S Voice disappoints a lot. Let alone recoginising different accent, the S Voice working is quite erratic and most of the times it fails to execute commands. In fact, there are some third party voice assistant apps in the Google Play Store that works better than the S Voice.
A nifty feature of this handset is that you can open the native task manager in the midst of playing a game or any other application to close other running apps to free some RAM by just long pressing the home button.
So in a nutshell, the Samsung Galaxy SIII has a nifty user interface and though it is not the best, it nonetheless scores over its competitors through its innovative features.
###PAGE###
Quad core processor and performance
It is the forte of the Galaxy SIII. The phone gives an unmatched performance when it comes to performance. It has an Exynos 4412 quad-core chipset, made with 32 nm process and clocked at 1.4 GHz. Besides, there is a Mail-400MP graphics processing unit.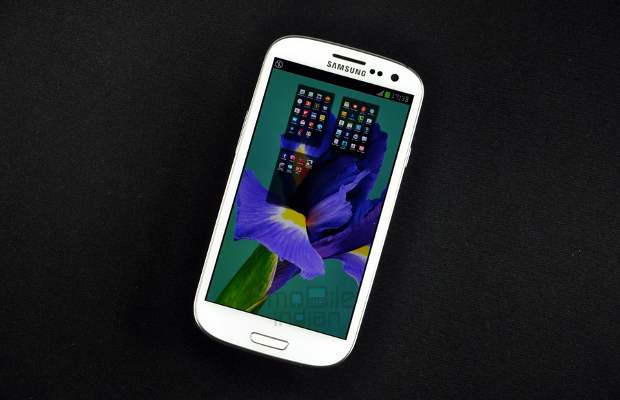 This is one of the deadliest combinations found so far in a smartphone. No matter which game you play and how many apps you open, the smartphone can still carry on thanks to processor and GPU, and of course the huge 1 GB RAM comes to rescue.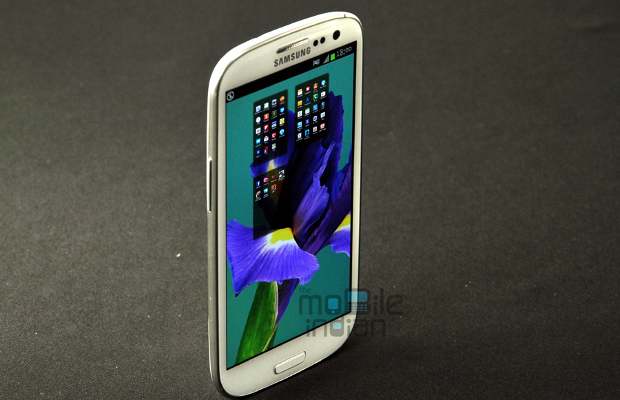 It is also a true multi taker. A notable feature in this regard is the 'Pop Up Play' feature that enables users to play videos on top of any ongoing application. So while browsing internet, you can still see the video you are playing and to return to the video, you just need to tap the video twice. Some says it's a gimmick on part of Samsung to include this feature as the video comes in such a small size that seeing anything is quite difficult. Also, it would have been better if users could have the authority to decide on the size of the video. But nonetheless, it is a nifty feature which is both helpful as well as unique.
###PAGE###
Power consumption
Quad core processors are known to be very power hungry and can dry the battery within minutes. However, in this arena, the Samsung Galaxy SIII comes out with flying colours. For an average user, with few minutes of gaming, browsing, watching videos and calling, the phone can easily last 24 hours.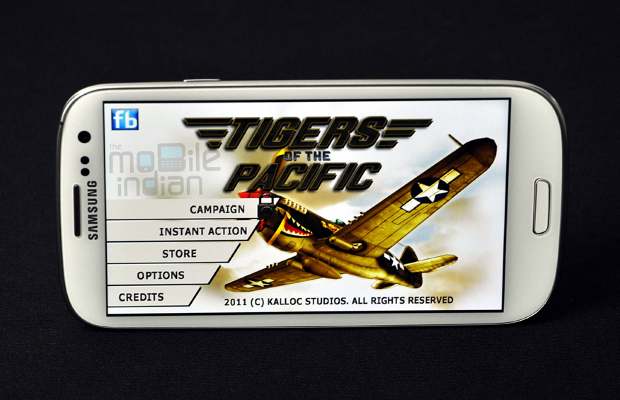 It comes with a huge 2100 mAh Li-ion battery that, as per Samsung, gives about 22 hours of talktime on 2G network while on 3G, talktime is about half of that. The actual performance also comes around that figure.
It can easily handle an hour or so of music playback, one hour of graphics intensive games, one hour of video play and can have still plenty of juice to run for the rest of the day.
###PAGE###
Camera
The Samsung Galaxy SIII comes with dual cameras – an 8 megapixel rear camera and a 1.9 megapixel front camera. The rear camera has autofocus feature which can click images in 3264×2448 pixels resolution and can also record HD videos with 1920×1080 pixels resolution. To aide photography, there are plenty of setting features like geo-tagging, touch focus, face and smile detection, image stabilization etc. Notable among them is the burst mode that lets you click 20 pictures at a time which is really helpful when you want to click images of a live event like cricket match.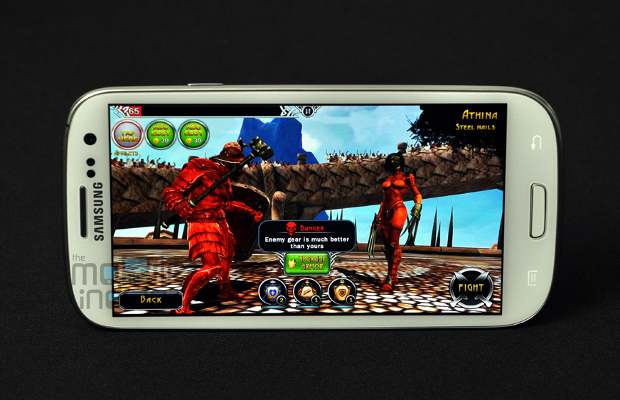 The camera app also lets you know where the pictures are getting stored – either in SD card on in the phone's memory. A small charger icon is also displayed if you have put the phone on charge while shooting.
It has a powerful sensor that let you click good quality images even in low light conditions and in well-lit conditions, the Galaxy SIII has the capability to captures some enviable pictures.
###PAGE###
Some more highlights
As we said earlier, its quad core processor can play any game available in the Google Play Store with ease no matter how much graphics intensive it is. It's just simply fast. On top of that, the 4.8 inch screen means you have enough real estate to use on screen controllers of games with ease. The big screen also comes as a boon when it comes to videos and reading ebooks or newspapers.
The music app in Samsung Galxy SIII is quite similar to traditional Android music apps. However, there is one 'Music Square' feature that lets users play the songs according to their mood. But this is not an innovative feature as it can be done in many other third party apps as well. But nonetheless the phone has good music output; even at higher volumes, the music does not crack. But the phone is not that loud, so you should better use the headset.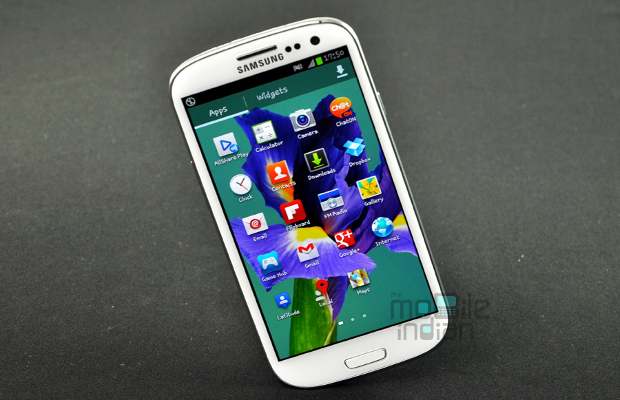 Another highlight of the phone is multimedia capacity. It supports MP3, WAV, eAAC, AC3, FLAC audio files while there is support for MP4, DivX, XviD, WMV, H.264, H.263 video formats. The native FM player is also quite good and way ahead of any other smartphone.
The native keyboard is well spaced out and is very comfortable. Cellular connectivity is really good and so does the internet browsing. Notably, its native browser comes with Incognitio mode and Adobe Flash player.
Connectivity options are also in plenty in the form of micro USB, 3G, WiFi, Bluetooth v4, DLNA, All Share, GPS with A-GPS support and WiFi hotspot capability. Sadly, it does not have a micro HDMI output port.
###PAGE###
Verdict
A big downside of this handset is the absence of a proper HDMI port which should have been there as it is a high end smartphone. In fact, according to reports, the Samsung Galaxy SIII has a different MHL (Mobile High-Definition Link) adapter than the standard cables used by most mobile phones. This is a really heartbreaking as you have again to shell out some additional bucks to buy the accessory.
The biggest disadvantage of this phone is that the best features of this like a fast quad core processor, big display are there in HTC One X, LG Optimus 4X HD which are priced cheaper than this.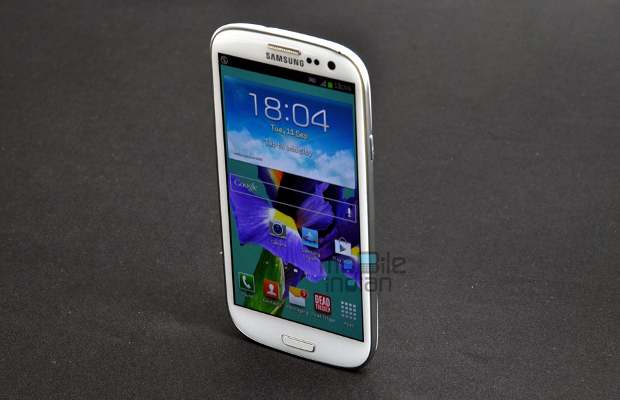 Having said that we don't mean to that it is a waste of money. Surely, it is one of the top of the smartphones if not the best among them. Currently, it is available for close to Rs 38,000 which is a bit too much; a price tag of Rs 35,000 level would have been better.
So to put it in a single sentence – the Samsung Galaxy S III has been designed for humans, but for those who can spend some extra bucks.