Look and feel is an important factor of a smartphone which till now has been ignored by most of the Indian handset manufacturers. But off late, many device makers like Micromax (whose current flagship devices are coming with metallic body), Lava (its recent Iris Pro 30 comes with iPhone like design) have turned their attention to design element of their smartphones and their latest devices have also been praised for that. Karbonn, a noted player of the Indian handset manufacturer which has long avoided the design element, is now coming out with good looking smartphones including this Titanium S5 Plus.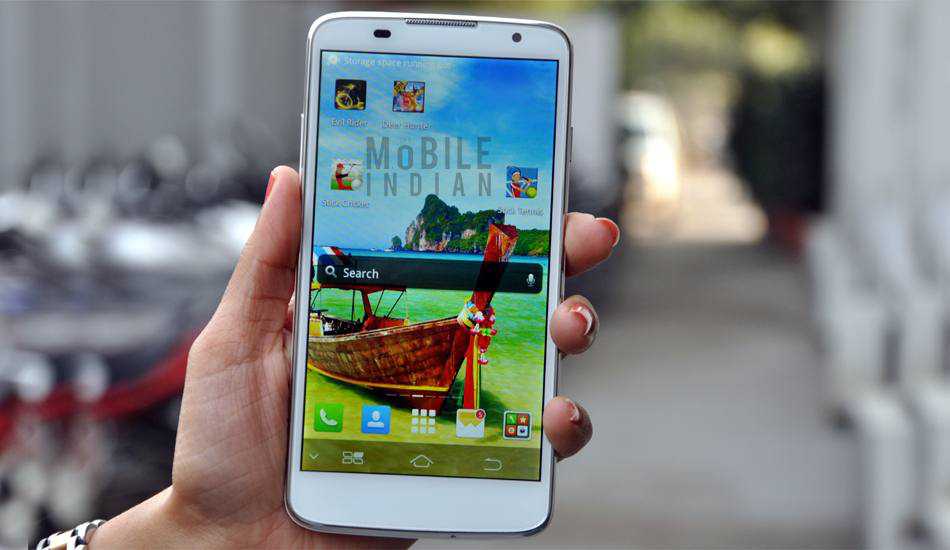 We had used the Karbonn Titanium S5 Plus for about three weeks and here is a complete analysis of the phone including its design and performance. Note that the phone is now available online for about Rs 10,000.
Design
The Karbonn Titanium S5 Plus is without any doubt one of the best looking handsets under Rs 20,000. The phone comes in white and black; the white colour variant that we have got for review was just enchanting. Not a single person I had come across who didn't praise it for its looks. This is due to the glossy finish of the body which makes it twinkle under light. A metal strip around the front display further adds to the sparkle. The volume rocker and the power button (both in metal) are on the left and right hand side respectively and are quite easy to reach. At the top, the 3.5 mm jack and the micro USB ports are located. The camera unit comes in rectangle shape and is encircled by a metal strip. The camera unit is a bit raised than the back panel which makes the lens prone to scratches. The micro SD card and SIM slots are located inside the back panel. The battery is also removable.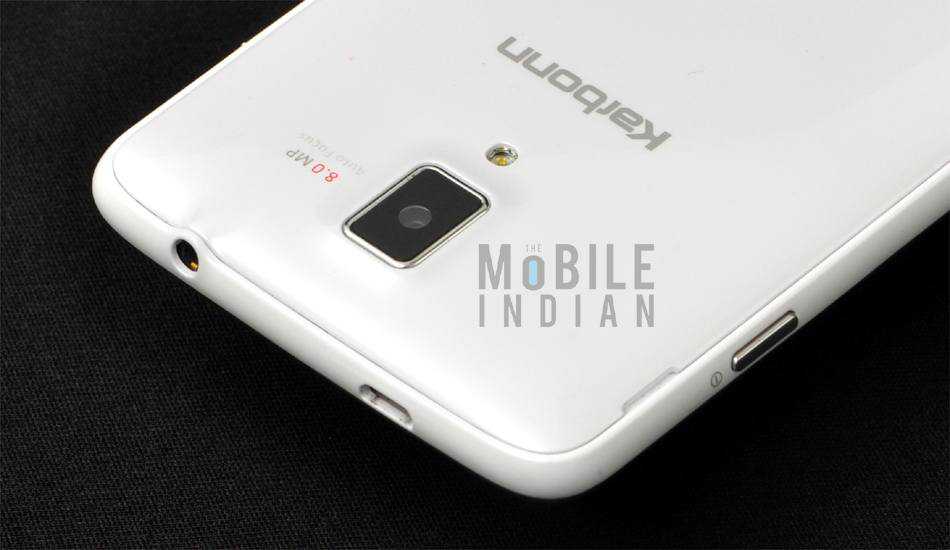 It's not only the looks, Titanium S5 Plus's body is also quite user friendly. First of all it is quite thin (just 7.9 mm thick) and lightweight (104.5 grams). So despite being a phablet (as it has a 5 inch screen), it is very easy to hold and operate. Karbonn should be congratulated for giving such an awesome looking device.
Rating for design: 10/10
Display
As I said above, Karbonn Titanium S5 Plus comes with a 5 inch touchscreen. This display though has only qHD (540×960 pixels resolution), it looks just sufficient on the display. This IPS LCD screen has multi touch facility as well. The screen also is not a fingerprint magnet and has a decent viewing angle facility (you can incline the display to about 160 degrees and still see the content).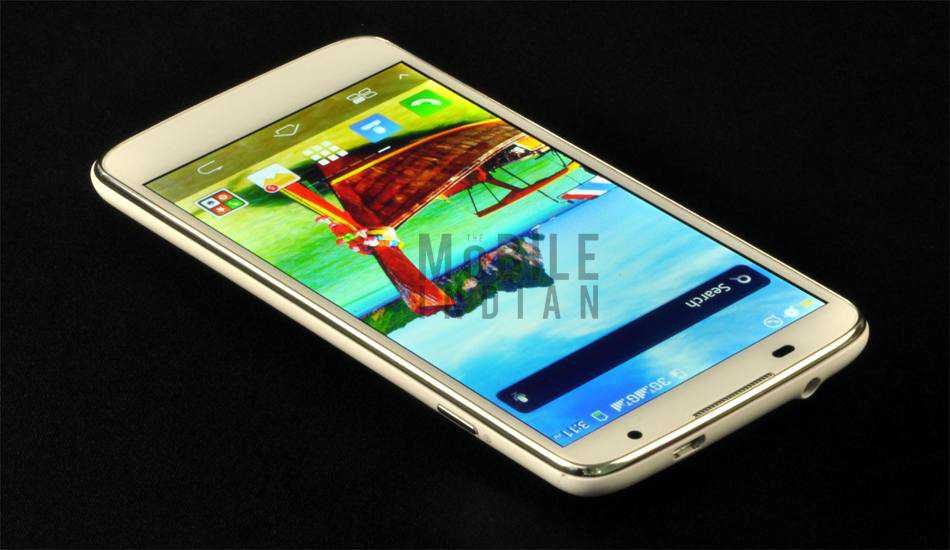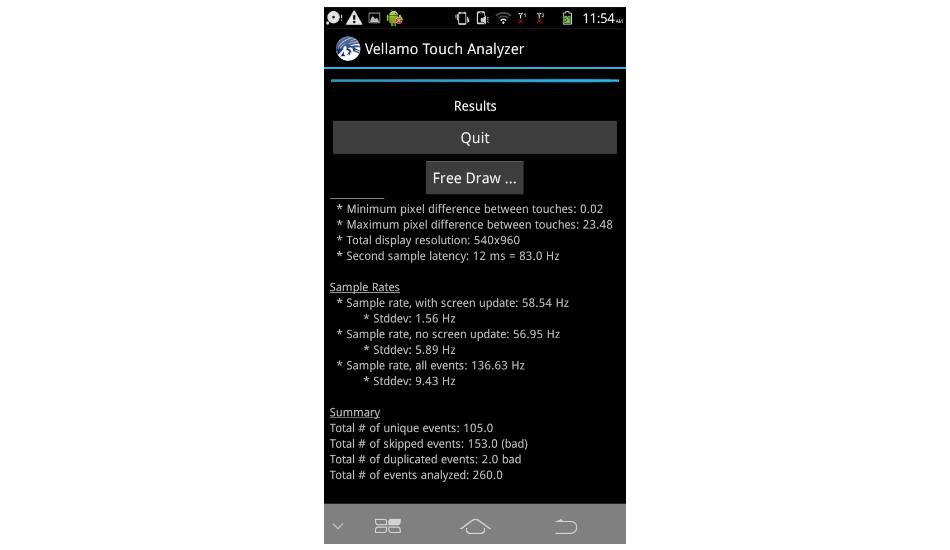 However, the response of the touchscreen was not upto the mark. On several occasions, especially the bottom of the screen, failed to respond to touches. Also, while playing games, many a times our touches failed to generate any response, giving us a below par gaming experience. The display has also very odd wallpapers which though look good make it very difficult to see app icons towards the edges; the problem compounds multi-fold as you increase the brightness.
Rating for display: 5/10
Camera
The Karbonn Titanium S5 Plus comes with an 8 megapixel auto focus rear camera. It has though a 0.3 megapixel front camera at a time when many newcomers in this segment have 5 megapixel wide angle front camera. There is an LED flash below the rear camera for low light photography.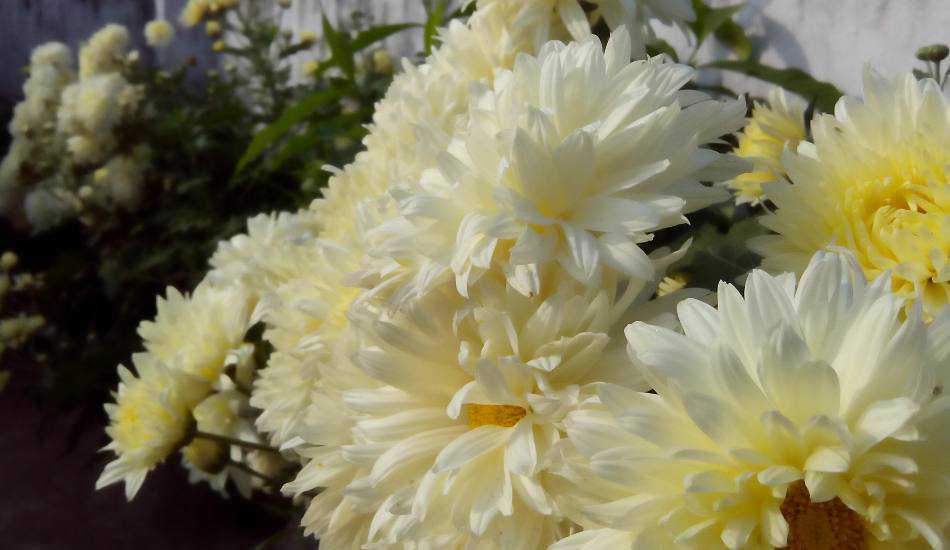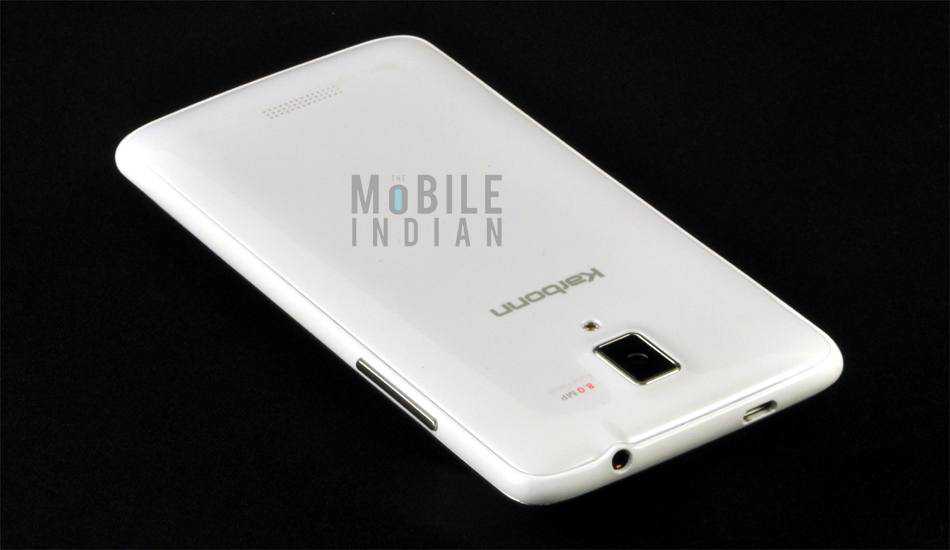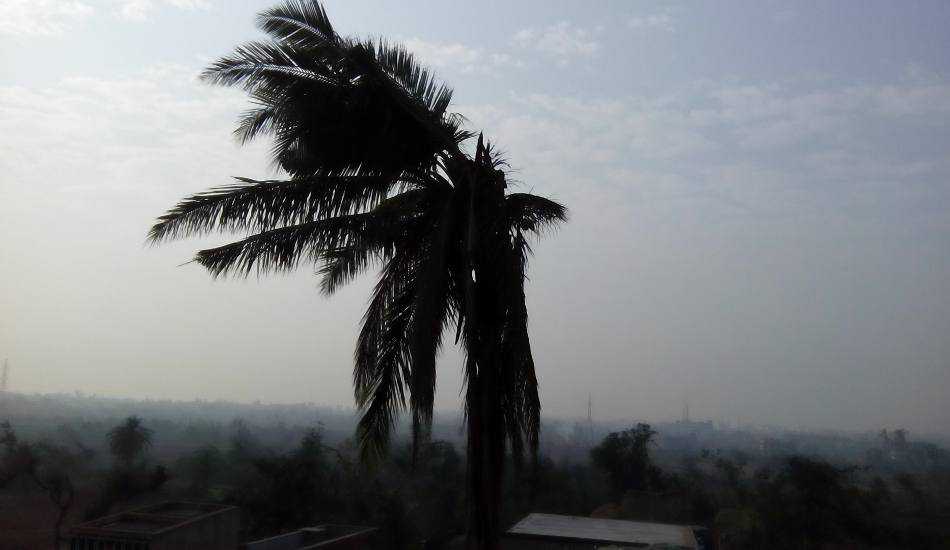 By default , the 8 megapixel rear camera does not auto focus thus misses out on capturing details (atleast it seem so when you see the pictures on the phone's screen). It has also a fairly wide angle lens. The phone though takes a bit extra time to focus; you have to properly focus before hitting the capture button else you will later realise the mistake. The camera is also able to capture moving images (see picture below).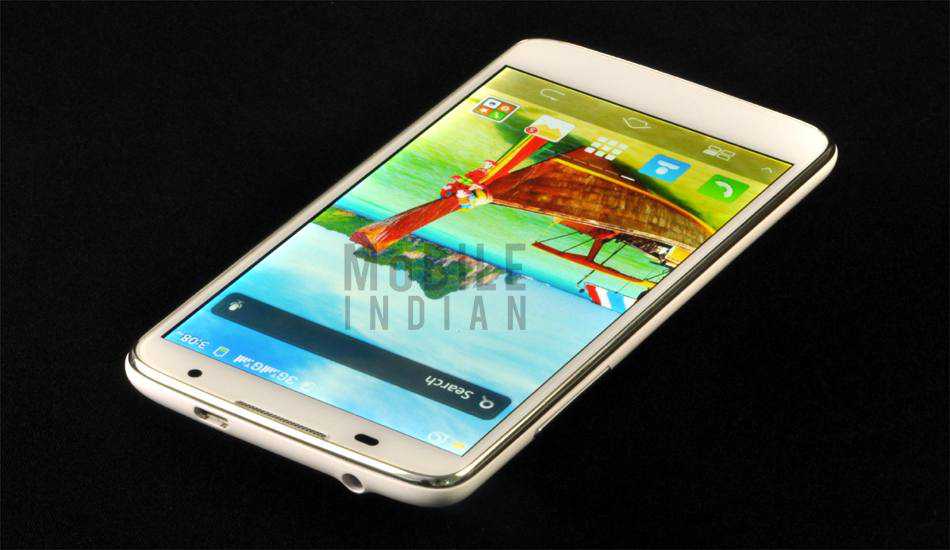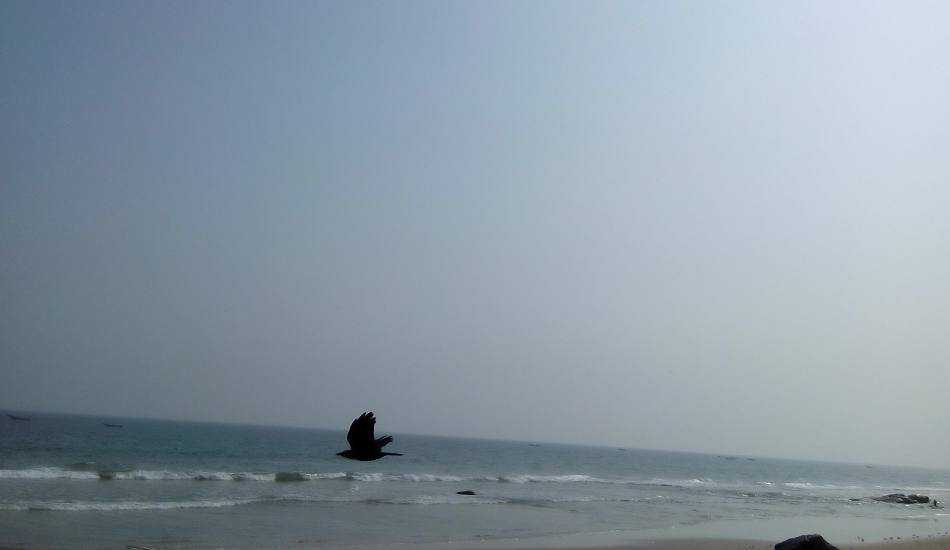 Though the pictures look great on the phone's screen, the moment you see them in PC, you will rue the lack of details. Even a slightest zoom on PC gravely mutilates the images. The front VGA camera is good for occasional selfies and video calling.
Rating for camera: 7/10
OS and UI
The Karbonn Titanium S5 Plus comes with Android 4.2.2 Jelly Bean operating system but it has slightly different user interface. First of all, it does not have soft touch buttons or a home button on its bezel. Instead, Karbonn has armed it with three onscreen touch buttons – return, home, menu. You can choose to make the on screen touch buttons fixed in its slot or to make then shrink when needed. In case you have chosen the later, there will a fourth icon which helps you to minimise the bar when you want. A long press of the return key opens the 'recently closed apps' section so you could quickly jump to one.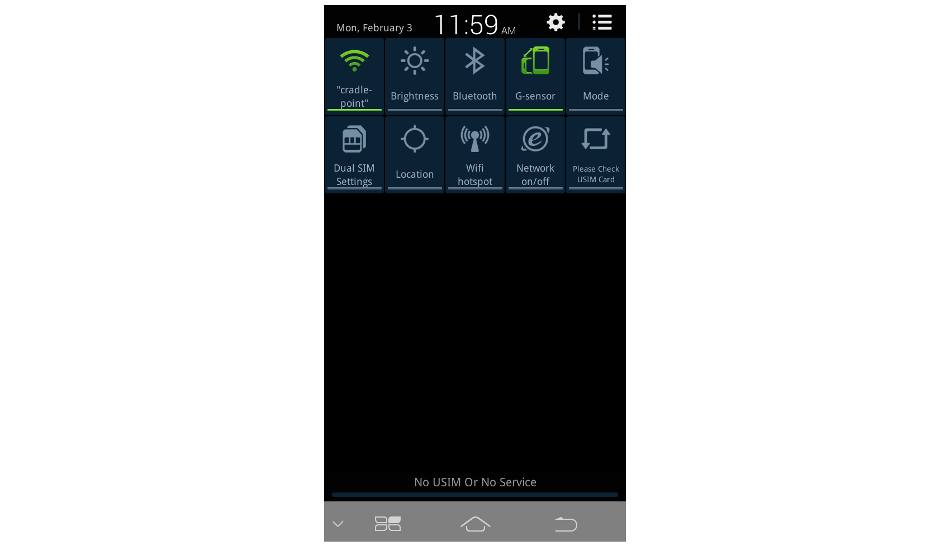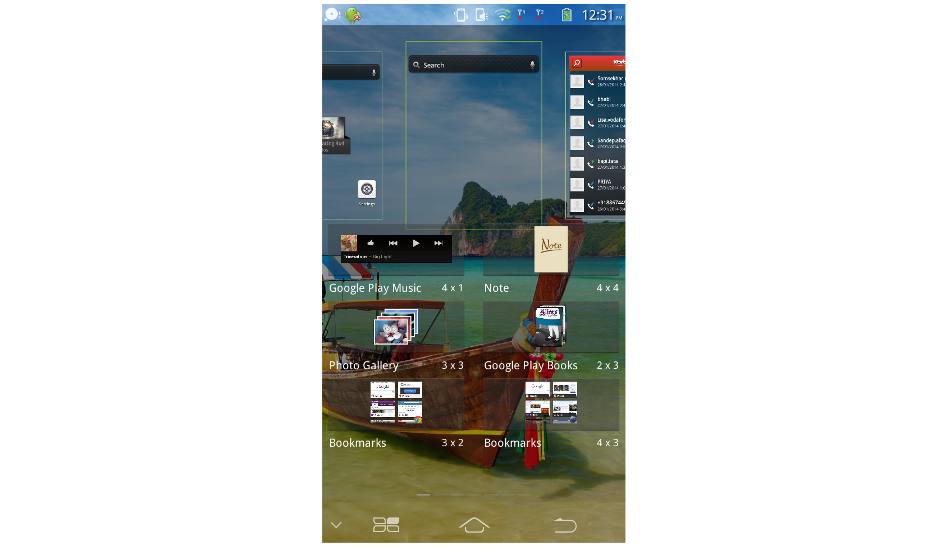 It can have a maximum of eight home screens. A long press on any part of the home screen will allow you to add widgets on specific screens. Alternatively, you can press the menu button to add widget, or to change wallpaper, or to quickly get access to setting, or to uninstall apps. It has several good wallpapers. You can also choose from various launcher as well as menu effect including Classic, Random, Stack, Cube etc. The notification browser, like all other Android devices, consists of several shortcut icons.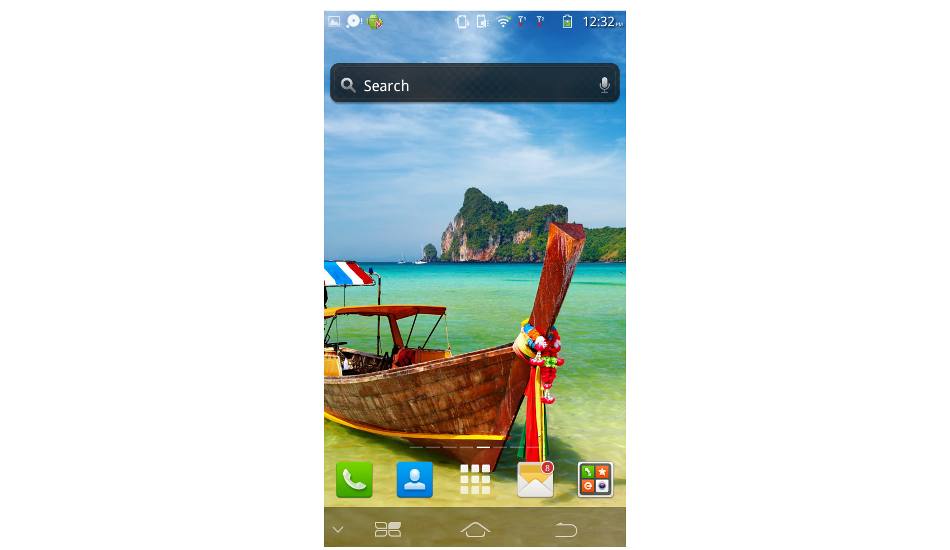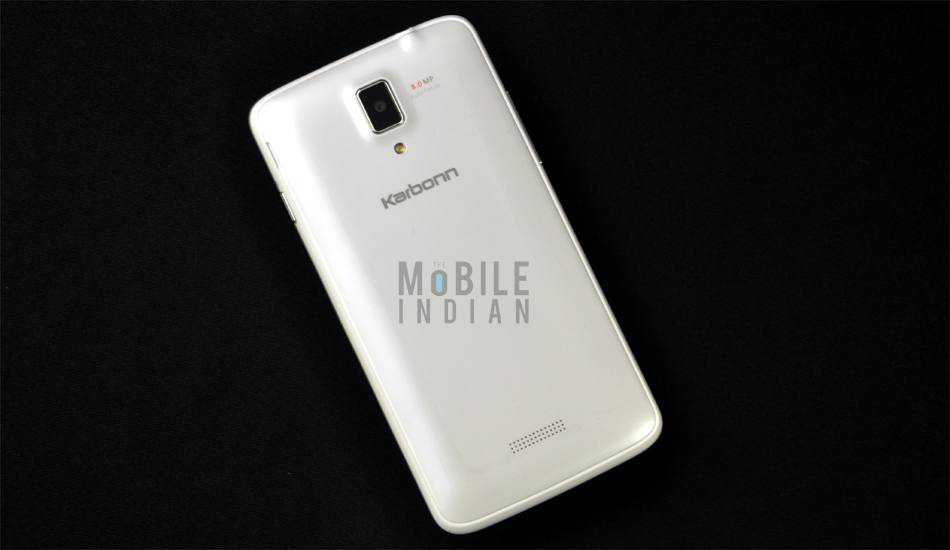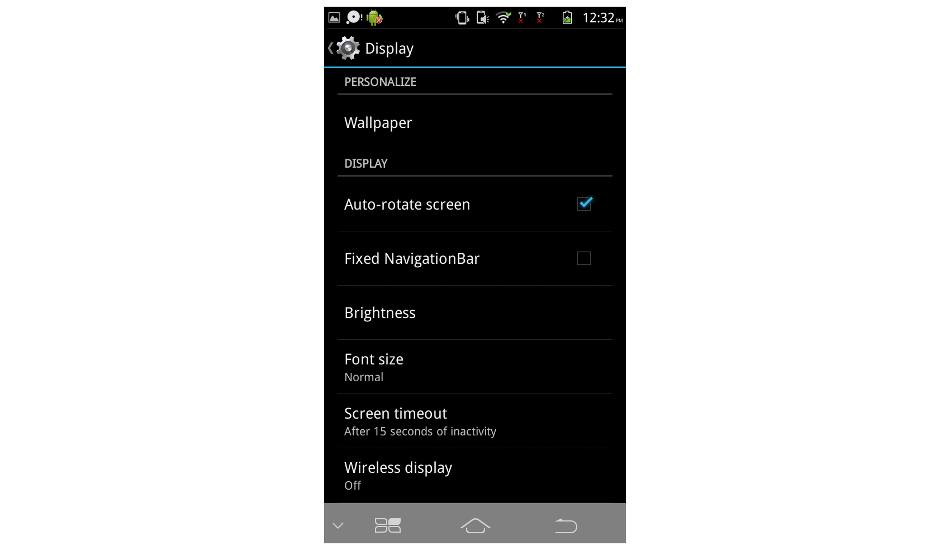 The message application consists of Chat mode and Folder mode. The later disintegrates the messages into inbox, outbox, send, drafts etc as in Gmail. You can any time switch between the two modes with ease.
Rating for UI: 8/10
Storage
The smartphone has 4 GB of internal storage of which 1.39 GB is allocated as phone storage which is only meant for applications. There is another 1 GB for users to store their content. This means about 1.6 GB has been occupied by the OS. Though 4 GB is quite a common scene with most Android smartphones but being a new device, the Titanium S5 Plus should have some more internal storage space. But with 4 GB internal storage it is like its competitors and no better.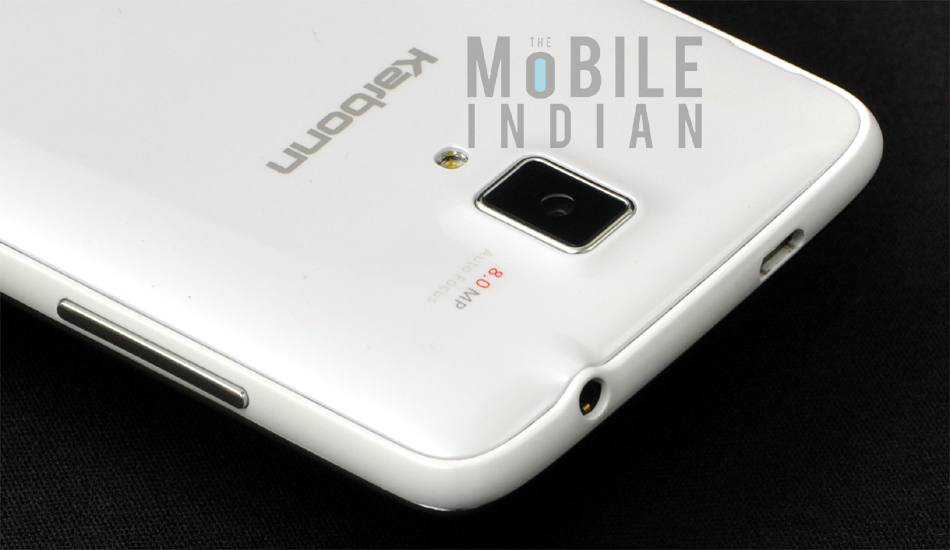 Also, Karbonn has stuffed the phone with many applications (bubble bash, Hungama, Modern Combat, etc) which further compounds the problem of low internal storage. The pre-installed apps cannot be un-installed and eats away precious memory.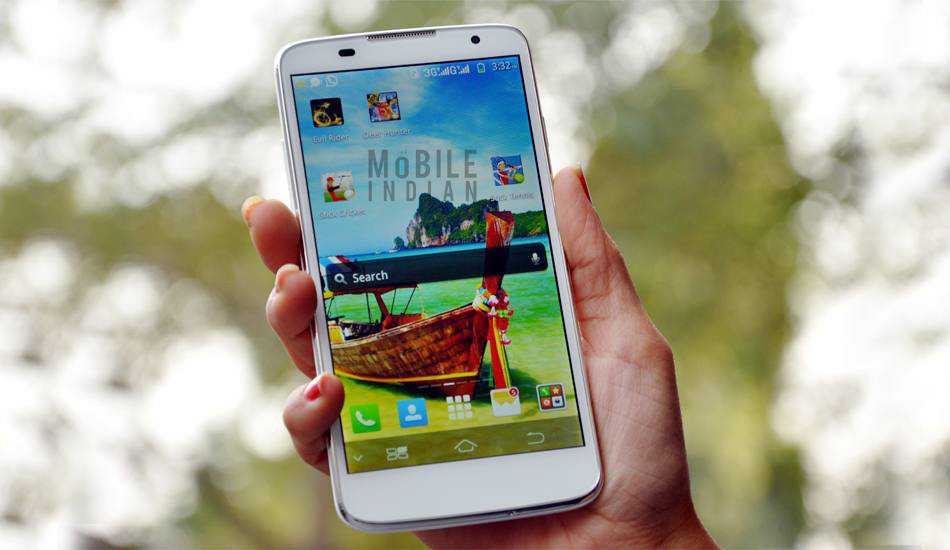 However, there is a 32 GB of micro SD card slot in the phone. So you have to use a higher capacity, preferably 16 or 32 GB micro SD card, else you will soon see a notification for low storage.
Rating for storage: 6/10
Performance:
The Karbonn Titanium S5 Plus has a 1.3 GHz quad core processor. To support the processor, there is 1 GB RAM but about 400 MB is occupied by the system. The phone has got good scores on several benchmarks including Antutu (16227), Linpack (88.339), 519 on Vellamo (Nexus 4 has 597), BenchmarkPi (got 11054 ranking).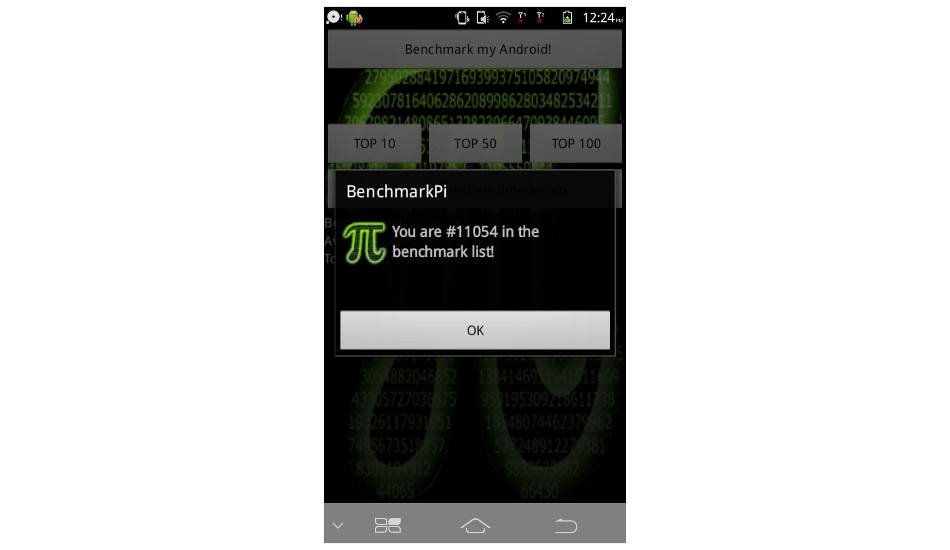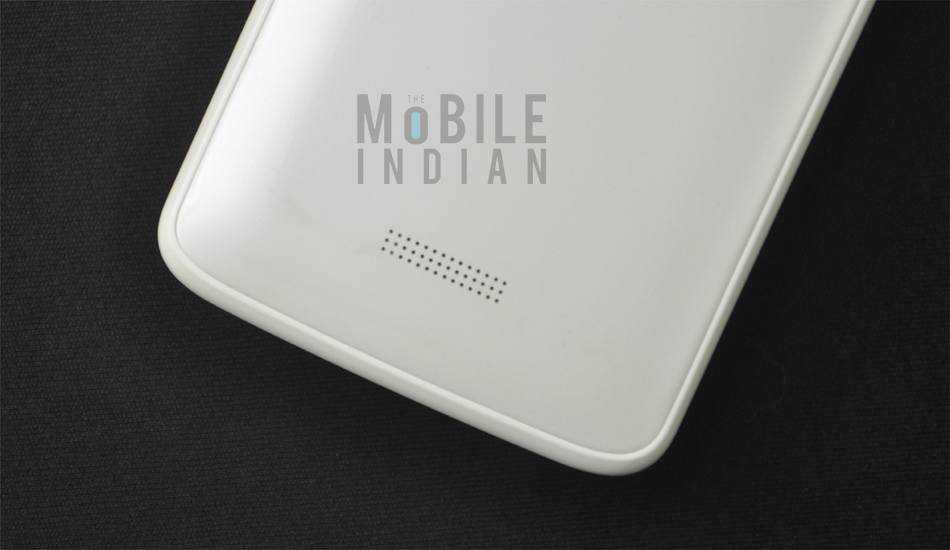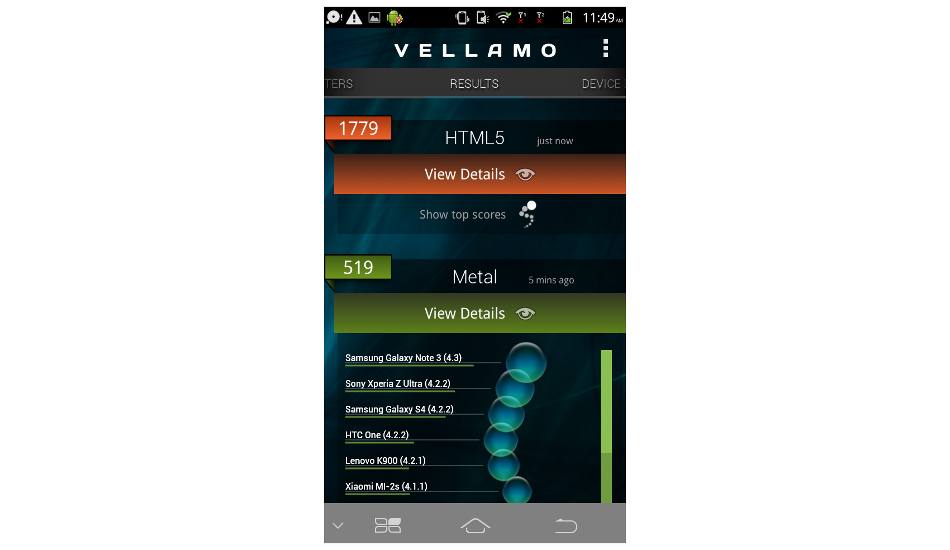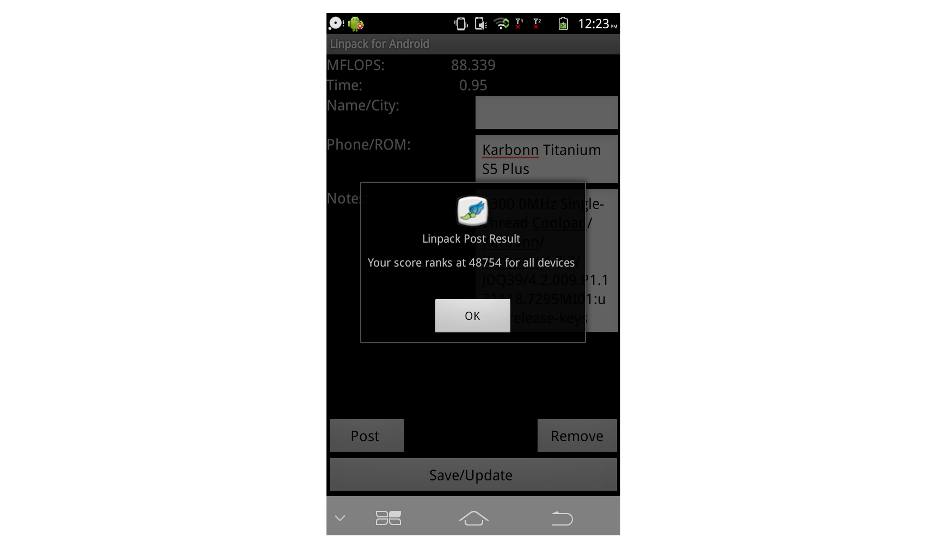 However, in contrast to the benchmark scores, the phone used to encounter lots of lags, especially while playing games (even light games like Stick Cricket), which is not acceptable for a quad core device. It however managed to play heavy games like Deer Hunter 2014 but with lags ofcourse. So perhaps you need to clear its RAM before running a game. As I cited in the storage section also, the phone comes with many unwanted applications which eats up precious RAM as well that also causes slowdown of the phone.
Rating for performance: 6/10
Battery
There is an 1800 mAh Li-Ion battery, which is removable, in the Karbonn Titanium S5 Plus. The phone comes with a 1000 mA charger which does a decent job in charging the phone quickly.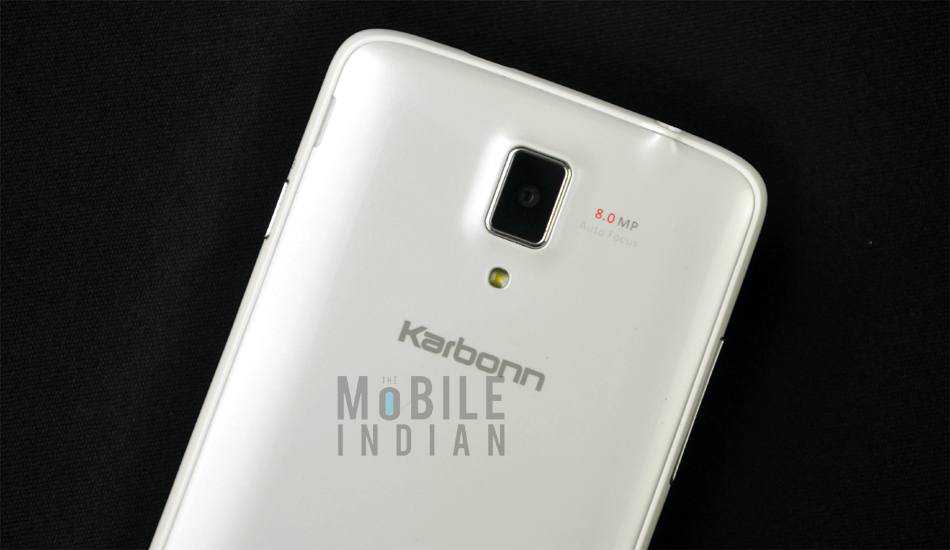 As far as the battery backup is concerned, the phone is quite average. With two SIM cards, it can stay alive for about 10-12 hours with average use involving few minutes of calling, half an hour of gaming and browsing. In one instance, we kept its brightness at minimum and watched HD videos on YouTube using WiFi connection (no SIM card was inserted) and the phone consumed eight per cent charge in 35 minutes. In another instance, when we had kept the brightness at minimum (WiFi was kept off) the phone consumed six per cent battery in half an hour during which we played the Stick Tennis game, which is considered as one of the lightest Android games. As far as video playback is concerned, it consumed three percent charge in 25 minutes during which we kept the brightness off (no SIM card or Bluetooth or WiFi was used).
Rating for battery: 7/10
Connectivity
The Titanium S5 Plus has two SIM slots, both are of regular size and are not mini SIM slots. Of the two, one is meant for 3G network while the other is for 2G networks so while inserting your SIM cards give due attention. Besides, it has WiFi using which you can also browse at higher speeds. The Titanium S5 Plus has also WiFi tethering facility.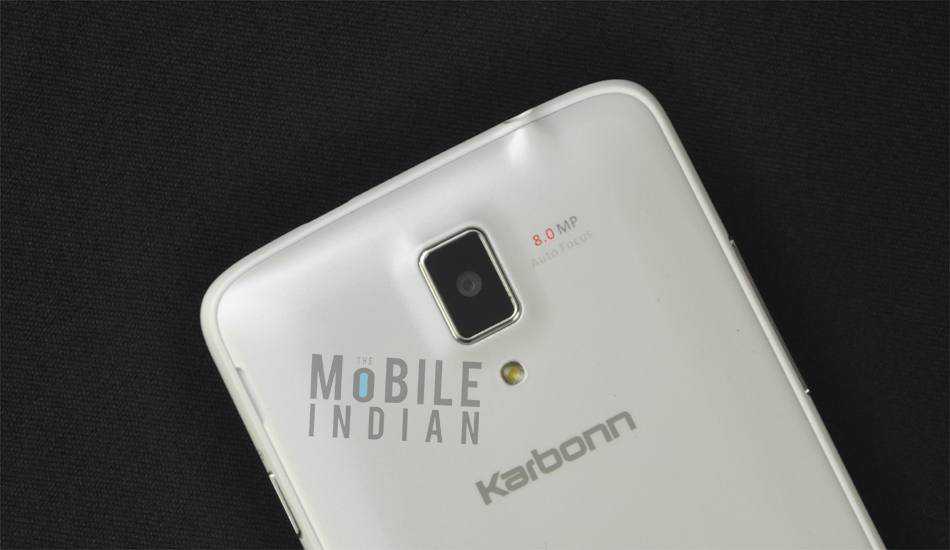 Also, it has the USB internet (reverse teething, just opposite of USB teetering) facility using which you can share your PC's internet with the phone (How To share PC internet with an Android smartphone).
Rating for connectivity: 8/10
Others
The Karbonn Titanium S5 Plus comes with a decent pair of headsets. It has got video as well as music players. FM radio is also there in the handset. The volume levels are just enough if you are using the video player in a quiet room else you better use the supplied headset.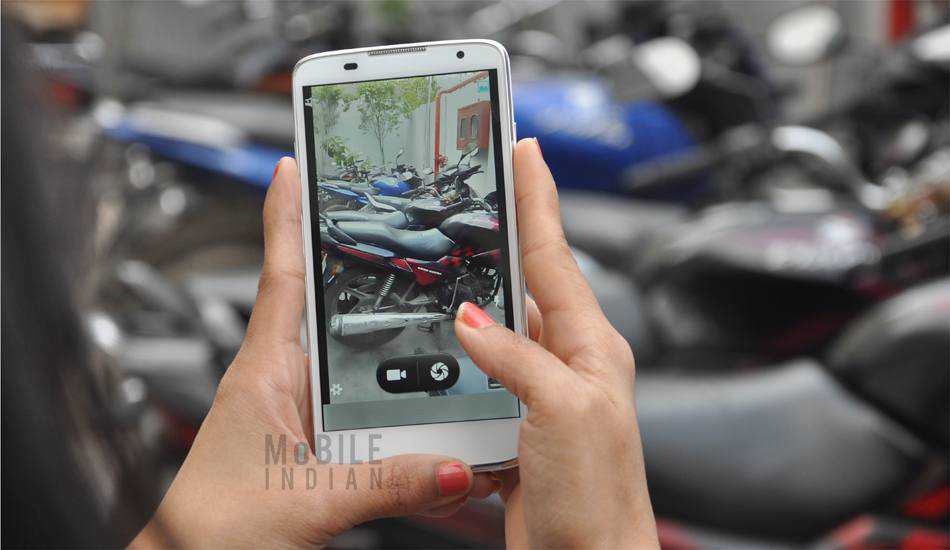 Images by Sushil Kumar