HTC M8 is the true successor of HTC One. Not only it is a design marvel but it has some unique features too.
Advertisement
Pros
It has a magnificent design
Performance is top notch
Cons
Camera is not good for long shots
Battery is sufficient for a day only
In the third week of April this year, HTC announced the launch of One M8 in India for Rs 49,900 and our first impression of the device was that , "HTC One (M8) is a beautifully crafted smartphone and can be a head turner." Today we are presenting to our final thoughts on the device. Read on to know more.

On paper

HTC One M8 runs on Android's KitKat version and has the quad core Snapdragon 801 processor which is also being used in Samsung Galaxy S5 and the Sony Xperia Z2. It features a big 5-inch display which has 1080p (full HD) resolution and Gorilla Glass 3 covering. This flagship device of HTC also has the latest HTC Sense 6 user interface. The One M8 has 2 GB RAM, 16 GB internal memory and a micro SD card slot which can accommodate whooping 128 GB card.

In the camera department there are lots of thing that HTC is doing for the first time. HTC One (M8) is the first device from HTC to have a 4 megapixel UltraPixel rear camera and a secondary rear sensor that claims to improve depth and add the ability to refocus your shots after they've been taken.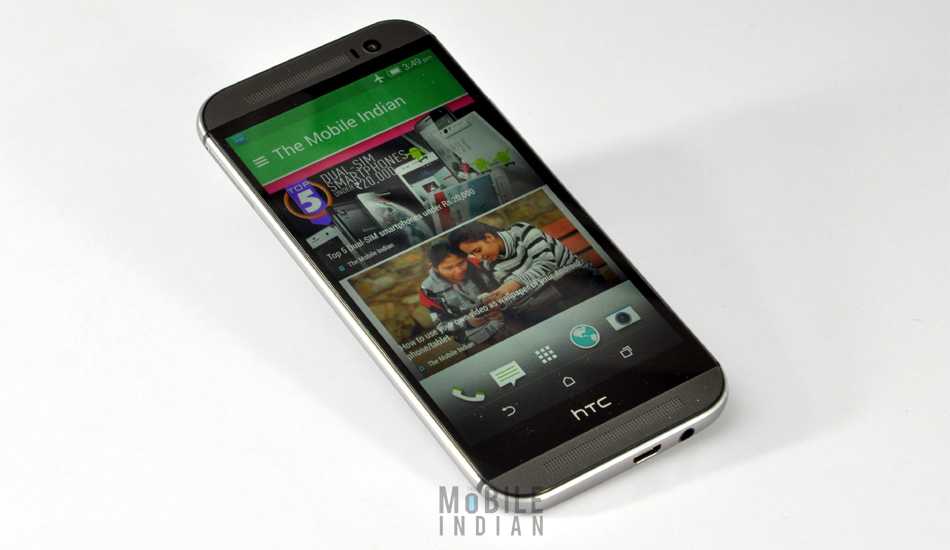 HTC calls this complete setup as dual camera which is accompanied by two LED flash lights. In the front, M8 has a 5 megapixel unit.

HTC One M8 also has IR (infrared) blaster which will help in doubling up your smartphone as an remote control for television, air conditioners, music systems and so on.

Design

At first sight, you may mistook it for the older HTC One but you will know the difference once you hold it. The M8 has much better metal finishing and its rear panel is more curved than what it was in HTC One that makes M8 more comfortable to hold and it fits in the palm quite well. Also, its gorgeous all Aluminium unibody with a smooth metal finish gives the device a premium look which it is meant to be.

Here I would like to add that unlike the HTC One which has around 23 per cent plastic body, One M8's body is entirely made of metal.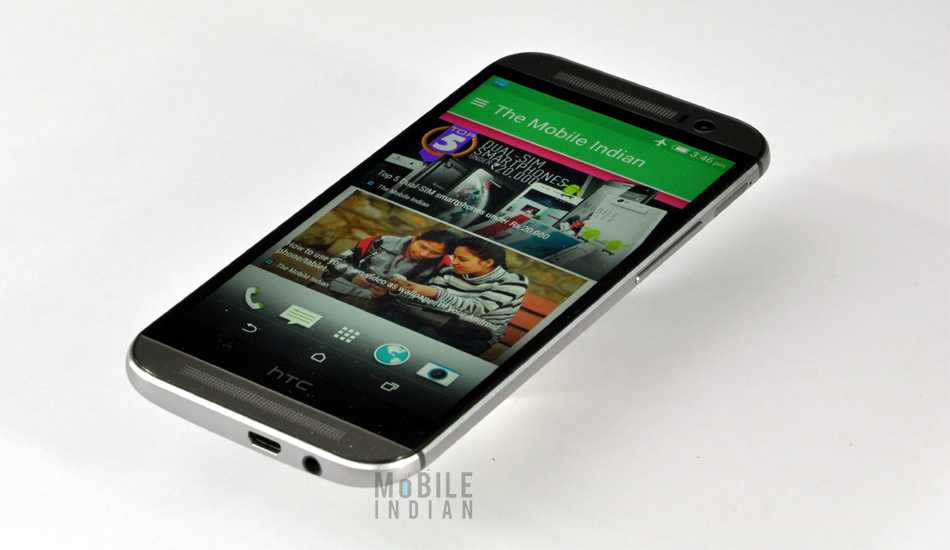 HTC One (M8) has a 5 inch display that harbours three capacitive on-screen buttons at the bottom rather than just below the display. The 5 megapixel camera is just above the display while two HTC BoomSound speakers are on either side of the screen.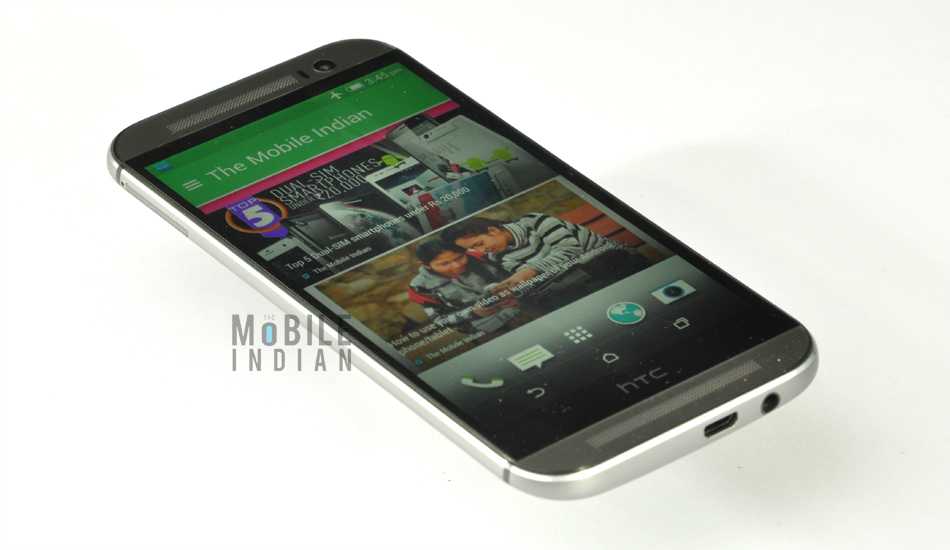 On the back panel you will find the dual camera along with dual flash which looks quite elegant. In HTC One (M8) the physical keys - power on/off and volume rocker - are placed in the top and side panels respectively. They are slightly raised and gel with the design of the phone. This also protects the keys from getting damaged during day to day usage. In the side panel you will also find nano SIM Slot and a micro SSD card slot. Since M8 has a unibody design, its 2600 mAh battery is not removable. The 3.5 mm jack and micro USB port are placed in the bottom panel.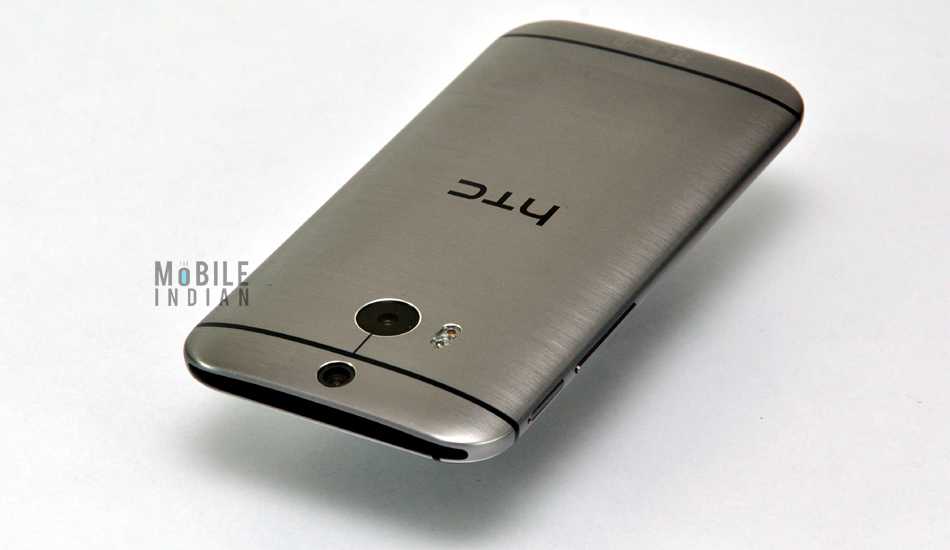 Overall in terms of design HTC One M8 is definitely one of the best designed smartphones available in the market today.

Interestingly at a time when most of the flip covers available in the market don't match the smartphone's design, look and feel, HTC have come up with a unique dot view case. By tapping this case twice, you can check the time, weather, new texts, emails and calls - without opening the flip cover. HTC Dot View phone case protects the screen, along with displaying notifications and interactions in a retro, dot-matrix style.

Rating for design: 10/10

Display

The M8 retains its predecessor's (HTC One) resolution but has a slightly bigger screen. This means the M8 has slightly lower pixel density than HTC One but it is barely noticeable.

The HTC One flaunts a 5 inch display with full HD resolution (1,920x1,080 pixels) like most of the high-end devices. I don't have complaints regarding M8's viewing angles, brightness or colour reproduction. As a matter of fact watching videos, photos, and text on the display was a pleasurable experience.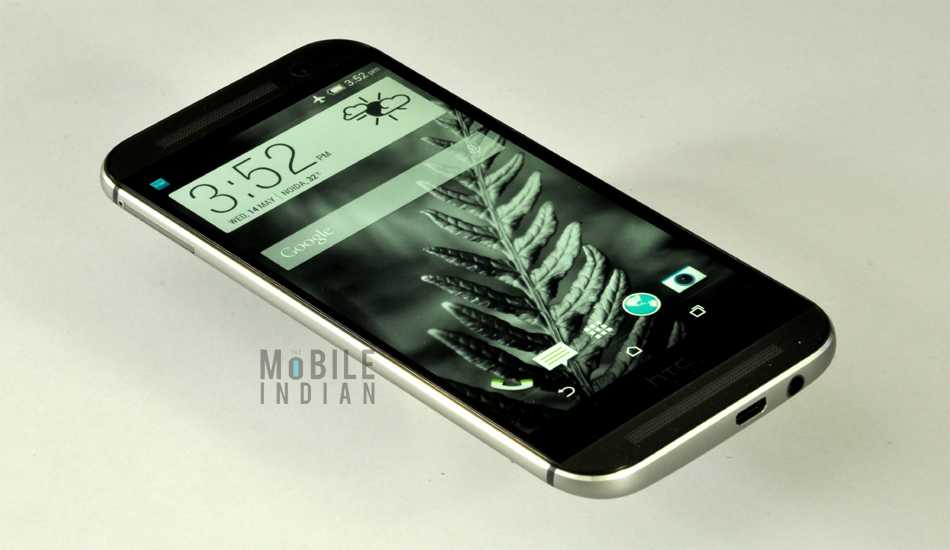 For adding extra layer of protection to the display screen a slab of Gorilla Glass 3 is placed on its top. This has raised the display by a quarter of a millimetre above the rest of the phone's body.


We did check the visibility in bright sunlight and were happy with the output. We easily manage to operate it under bright sun light and response to touch was never an issue.

Rating for display: 10/10

Camera

HTC One (M8) is the first device from HTC's stable to have a dual rear camera and dual coloured flash to help in better colour reproduction. It has a 4 megapixel UltraPixel resolution rear camera which comes along with a secondary rear sensor just above the primary camera to improve depth and add the ability to refocus your shots after they've been taken. It also has a 5 megapixel front camera for video chatting and taking selfies.

To use the dual camera one doesn't have to do anything; everything is done automatically. One just needs to click the picture and after that you have to open gallery to apply effects like post-capture focusing, a depth map, insert someone in the picture, gives themes to clicked pictures and so on.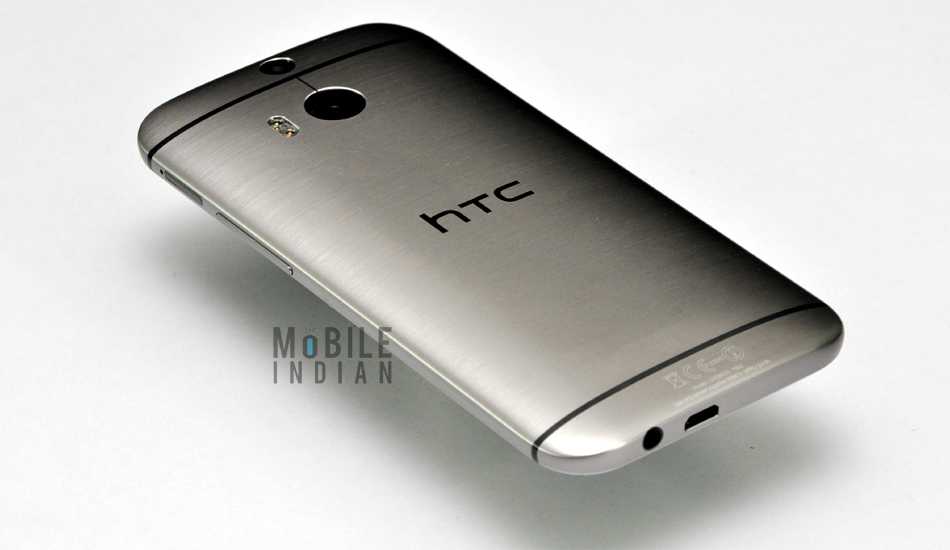 The camera interface comes with six shooting modes - regular, video, Zoe, front camera, Dual capture and a 360-degree panorama mode.


We clicked few pictures from the rear camera in different lighting and modes. The close up and mid-range shots that were taken in bright light were just amazing with sharp detailing and good colour reproduction. In dim light, pictures were decent but not great. Also, long shots after 50 per cent zooming gave below par results and the quality was such that it became difficult to even identify the subject. In a nutshell they lacked details. But the front camera is appreciable.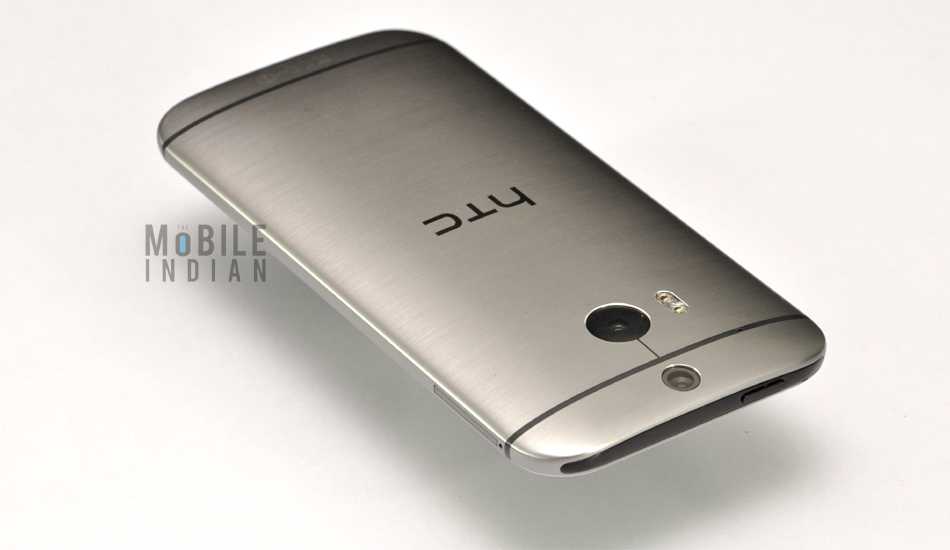 HTC M8 has the dual capture mode as the Samsung smartphones like Note 3 and Galaxy S5 where one can use both front and rear camera at the same time to capture the subject and insert the picture of photographer in the snap.

Overall, camera capabilities of HTC One M8 are quite good for close to medium range photography but for long shots this is not the device to be used.

Rating for camera: 7/10

Performance

The HTC One M8 uses the 2.3 GHz quad-core Snapdragon 801 processor, 2 GB of RAM and 16 GB ROM. To further expand internal memory, it has a micro SD card slot that can accommodate a micro SD card of upto 128 GB. The handset runs Google's Android 4.4.2 operating system, the latest iteration from Google and on top of it has HTC's latest Sense UI.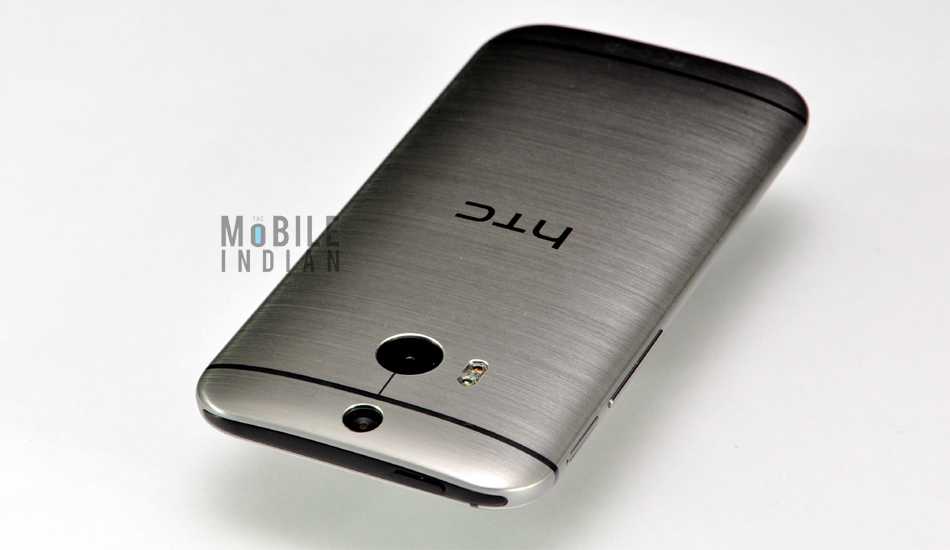 As expected, the smartphone we didn't face any lag while playing games or opening apps. Frankly speaking the whole action of launching an app would complete before I blinked. The high end games which I enjoyed playing on the device were Asphalt 8 and Real Racing 3.

Even typing on M8 was pleasurable task as on couple of occasions when I had to edit some article I did it on the phone itself rather than on my laptop.

Rating for performance: 10/10

Gesture Control

There are a couple of gesture controls provided in M8. To start with if you haven't applied PIN or pattern-swipe security you can wake up the M8 simply by tapping its screen twice similar to LG's KnockOn feature. Secondly, one can launch the camera app in a flash even in the lock mode, just turn the M8 into a horizontal position and press either end of the volume rocker to launch it. By doing this user will be able to save time by not having to first press power button and then from menu launching camera app.


Finally, to unlock the phone you can either open blink feed or menu section depending upon the right or left swipe used to initiate the action.

Blink Feed

HTC had last year introduced BlinkFeed, a magazine-like news aggregator app which pulls in articles from various websites and then serve everything on a single vertically scrolling panel. You can choose from various kinds of feed like technology, auto, politics, sports and so on.

Battery life

HTC One M8 is equipped with a 2,600 mAh battery as compared to the 2,300 mAh of HTC One. We were able to use M8 for around 12 hours on a full recharge while keeping brightness on auto mode and keeping WiFi and 3G active. The activities that we did in the said period are half an hour of calling, one hour of browsing, 20 minutes of videos and half an hour of gaming. Also, we had synced to mail ID along with Google services and were using them whenever there was a notification.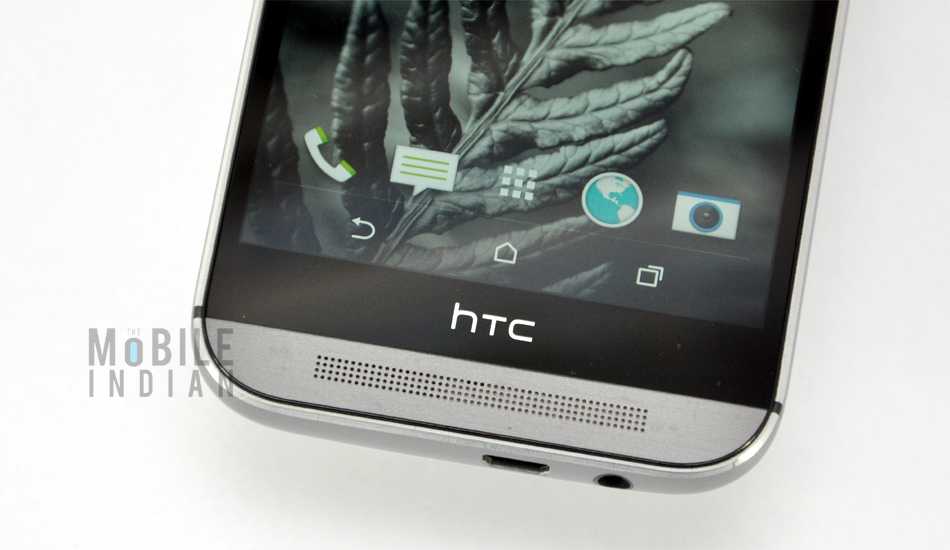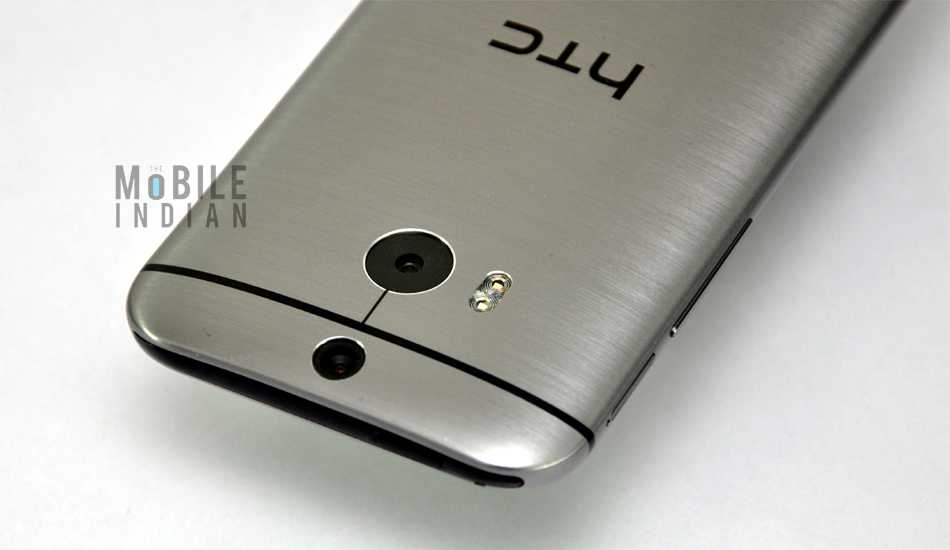 To conserve battery in case you are running short of power and there is a remote chance of reaching a power source any time soon, HTC has introduced extreme power mode in M8. When one activates this mode brightness is reduced, data connectivity in turned off and only essential apps are active like calling, messaging and mail ( it has to be manually synced). We did tryout this feature and were able to extend battery life by around 6 hours when only 5 per cent battery was remaining.

Rating for battery: 8/10

Images by Sushil kumar
Advertisement
Verdict
HTC One M8 is a smartphone that leaves no space for complaint against design or performance. The only problematic areas are camera and price. In India if consumers from middle class are going to buy a top end phone his budget will be around Rs 25,000 and if something really excites him budget can be extended upto Rs 30,000. In my opinion people who love flaunt their smartphone for its design and want trouble free performance, they can consider HTC One M8.