Draw a few lines and then divide the drawn shape in to desired or equal parts &#151 it might sound simple but is painfully difficult. The game, Slice It, utilises the same concept to offer the players hours of fun and, along with it, a lot a brain activity as well.
The game is based on a simple principle: you have to slice any and every given thing or shape. Either a structure needs to be divided in to equal or exact shapes or to be divided in parts with equal volume.
The game takes up less than a minute to install on any Android smartphone using a Wi-Fi network and slightly above four minutes to download and install if you are using 2G GPRS for connectivity.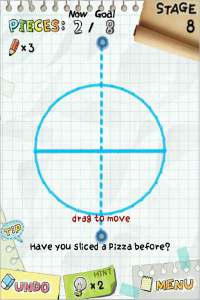 The game has a very simple and easy to use interface. The application opens up to a simple page with three option including play, about and more games from the developer. The game has in total five different level and along with it in total 180 different stages.
Level 5 is the special level and to unlock this stage, a user needs to reach a certain level like the Stage 2 in level 5 opens when user gets 50 stars in the level 1.
All the levels offer greater difficulty than its predecessor and that goes for the stages too. You start off with the very basic stage and go on for more and more difficult stages.
Users can use hints to know how to clear a particular stage if not getting it but for getting those hints users have to use hint points which can be earned only by completing stages with 5 stars rating.
In application advertisement comes as a bit of annoying part as after every stage or retry, the advertisement banner shows up and you will end up skipping it many times and accidentally opening it often which shifts the focus from the application to the advertisement.
Overall the "Slice It" game offers hours of fun and a lot of brain activity for the players with its 180 stages. Any and all members of the family, be it youngsters or the grown ups, can play it. The advertisement bit can be ignored as due to that only the game is coming to us for free. But a quick tip: you can turn off the data connectivity or the WiFi connectivity while playing to avoid the advertisements.