Plantronics' new Marque 2 M165 Bluetooth headset is currently available for around Rs 3,400. It is an upgraded version of the older Marque M155. At this price, there are few other options, primarily from True Blue Voice and Jabra – the two other noted headset makers in India. So what is it in the Marque 2 M165 that justifies its price tag? Let's find out.
Design
The Plantronics Marque 2 M165 comes in both white and black colours, so you have to the option to choose the right one for your handset. Its body is made of plastic but the finishing and the material used do not give it a cheap look. It is extremely light weight too as it measures just 7 grams, which is definitely of great help as it is supposed to be worn for long times. The Bluetooth headset does not have many buttons and so it is quite simple to use. There is a sliding power button on the left side. The call receive button is in the middle, and is also meant for ending calls. A volume controller cum mute button is on the right portion of the headset.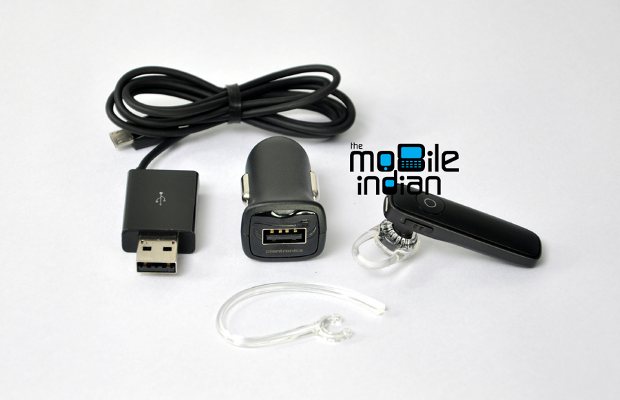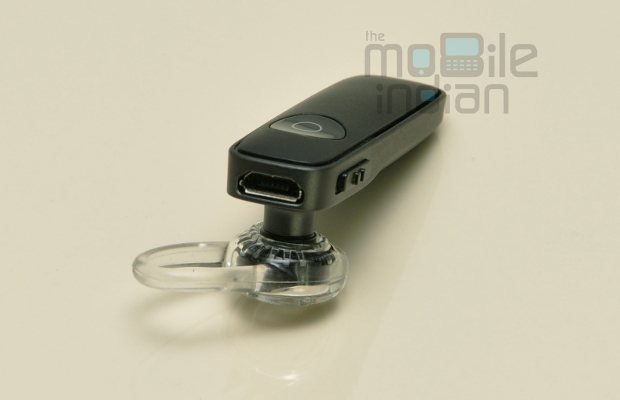 The keys are well placed and are easily reachable. There is a micro USB charging port as well, so powering the device is not much of a problem either.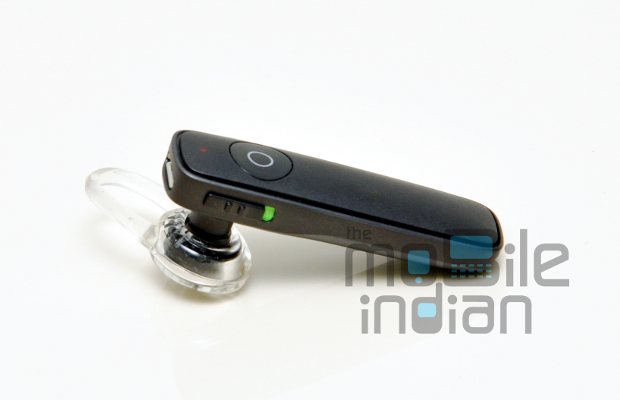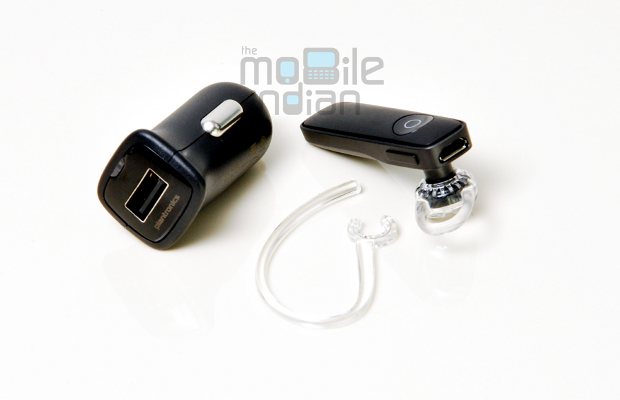 The Marque 2 M165 comes in a decent package, which contains the Marque 2, an AC adapter, a car charger and fold-out manual and safety guides. The sample we got did not have any optional eartip, instead it had only one eartip that seemed slightly oversized and could cause discomfort initially, but it should be okay as time passes. There is an ear loop as well. Note that many retailers are selling it with three eartips (small, medium and large) so you won't have to face any discomfort as we did.
Battery
The Plantronics Marque 2 M165 Bluetooth headset comes with LED indicators that let you know the status of the headset. A red light LED comes up both when the headset is put on charging as well as when it is low on charge. The headset comes with voice guidance as well. So every time you power on the headset, it says how long the battery will last.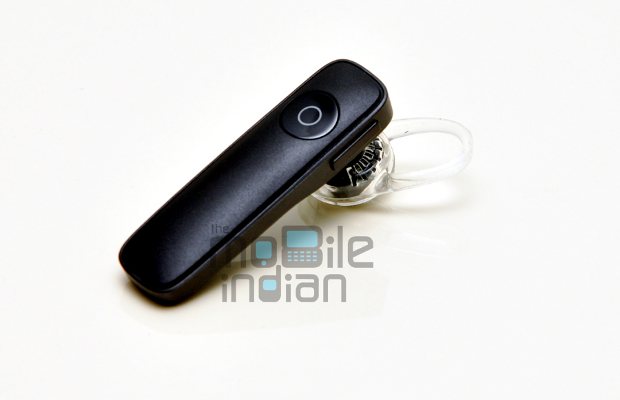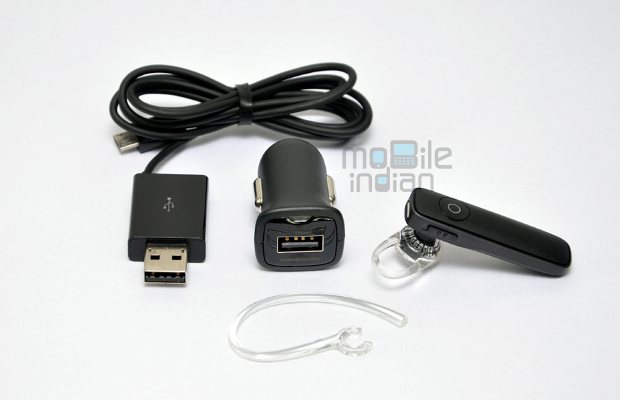 The Marque 2 provides talktime of up to seven hours and standby time of up to 11 hours, which is more than enough for most mobile phone users. Also, it comes with propriety DeepSleep technology, which is a type of battery saving mode that enhances your standby time significantly. However, this mode gets activated only if you keep the Bluetooth out of range from the paired handset for more than 90 minutes.
Pairing the phone is quite easy, just press and keep the call button for 2-3 seconds and it will pair the headset with your smartphone. Of course, you have to first start the Bluetooth feature on your smartphone and choose the headset. The Plantronics Marque 2 can be paired with two devices at a time and it receives calls from both without a problem.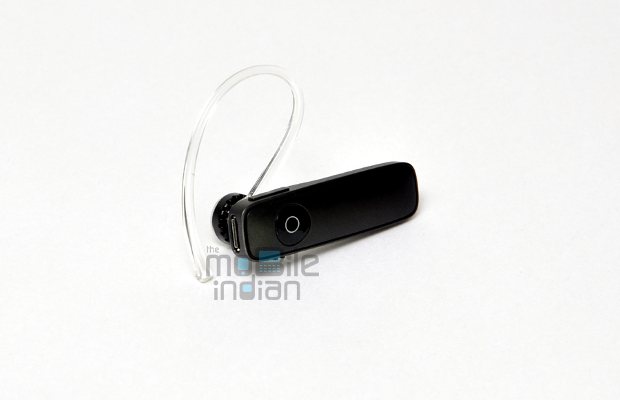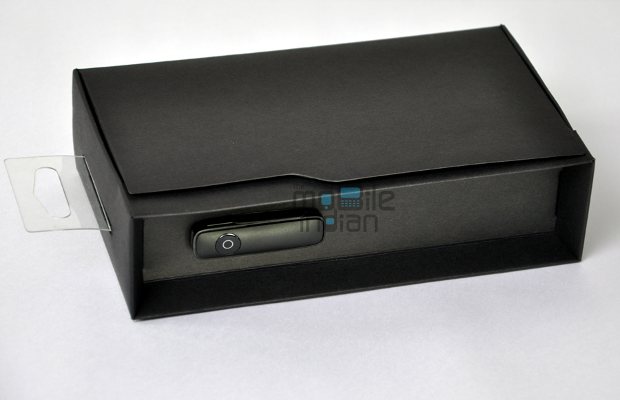 While pairing, the headset gives a voice prompt, confirming the pairing. Otherwise too the indicator light flashes red and white alternatingly to show that the pairing process is on. Once paired, the indicator light stops flashing. As said above, there was no problem in pairing it with devices, but the headset keeps getting disconnected every now and then, which could be a problem with the smartphone I am using.
Calling
You just need to press the call button to receive or reject a call. If you are too busy to do that too, then just say 'answer' or 'ignore' to receive or reject a call. You can also activate and deactivate the voice command features by pressing the call button and the volume button simultaneously. The Plantronics Marque 2 M165 comes with Wideband audio technology that helps the headset to provide higher quality voice. Besides, it has dual microphones, one of which reduces ambient noise and wind sounds for clearer conversations. We faced no problem with its noise cancellation or its sound levels, but some of my call receivers said the sound level on their side was not up to the mark.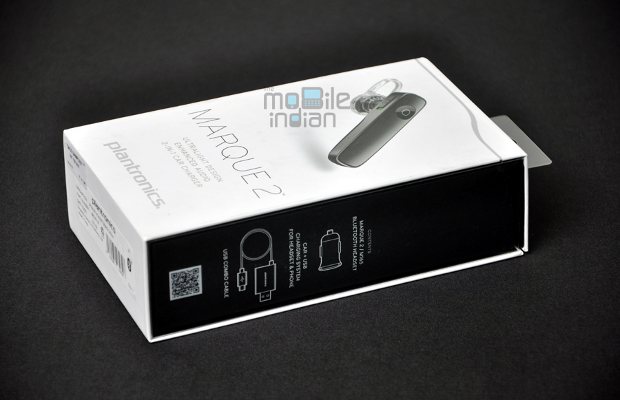 Controlling volume was easy – either you can do it from the Bluetooth headset itself or from your smartphone. You can also call back the last caller by double pressing the call button. It allows voice dialing, for which you have to press and keep the call button for about two seconds and after hearing the audio prompt, you can tell the phone to dial the name of a stored contact. However, like many devices, you need to have an American accent, else it will fail to recognise your commands. In fact, voice dialing seems to be erratic as most of the time the headset disconnects itself if you keep the call button pressed.
Conclusion
The Plantronics Marque 2 M165 performs the basic task, for which it is meant, quite efficiently. It pairs easily and provides clear sound. It looks good and has the simplest function.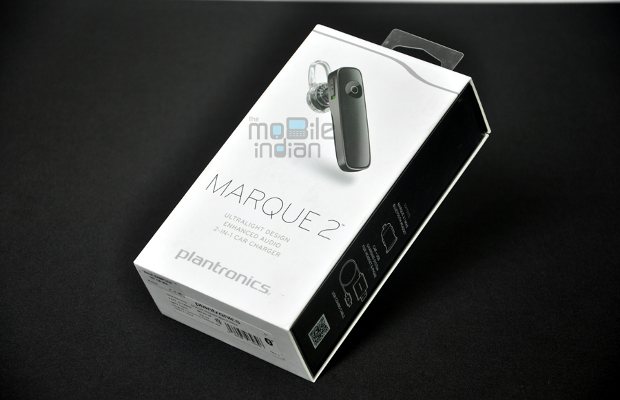 It should be very comfortable to use too, if it comes with three different sized eartips.