Despite the advancement of technology, transferring files is still not a hassle free affair. To transfer files from your smartphone to computer or vice versa, you have to connect both and turn on the syncing software, put the file to be synced in the software and finally you will be able to see it.
However, with the drop box application users can share almost anything between devices at just a click of a button. It is a smartphone counterpart for the famous Dropbox service for computers.
Dropbox application is available on iOS, BlackBerry and Android platforms. We have chosen the BlackBerry version of this application for the review considering the business usage of the BlackBerry smartphone.
It is a free to use application available for both computers and smartphones and can work seamlessly between devices. Users are required to have an account registered with the Dropbox online service. So if you have an account you can link it directly with the application or else the application itself will guide you on how to set up or sign up for an account.
The Dropbox service is available in both paid and free versions. The paid version offers a larger storage space along with some exclusive features but the free version also gives all the required functionality with a limited 2GB data storage space, which is more than enough for a casual or a moderate user.
The application has a modest download size of 1.2 MB which will take only a couple of seconds on an EDGE network and even lesser time if you are using a 3G network. Post the installation the application prompts you for the account information. As mentioned earlier, users can opt for a new account or can link an existing account with the application.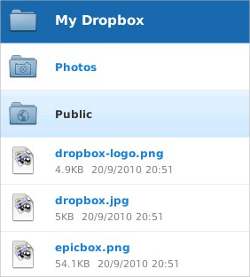 The Dropbox application layout is simple and user friendly with folder and files stacked together in an alphabetical order. Users are free to create multiple folders based on their usage from the Dropbox online account, by default the application has 2 main folders public and pictures.
By using Dropbox, users can share files, documents, pictures, videos songs and any other data across various devices. Along with this, Dropbox also allows users to create and share public libraries with others by invitation or by directly posting links of popular websites like Facebook and Twitter.
Basically the Dropbox simplifies the process of sharing and adds a few more functionality to the process.
But Dropbox also is not a perfect application in itself. It lacks the folder creation option on the BlackBerry device which is majorly missed during usage. Users can log in to the web account using the Browser of the device but the in application functionality would have been much better.
Ultimately, Dropbox is a classic example of how innovative and excitingly cloud computing can be used for sharing data and files across various platforms, which are as different as mobile and computing.
The inclusion of free usage will definitely help it go a long way and add a few million users. The Dropbox application is available across different platforms and provides cross platform connectivity too which is a notably good thing to have.
So Dropbox is a must have application for any and all smartphone users as it give ultimate functionality and usage whereas more things are discovered as you use it more.