This is a helpful Android app, but could have been much better if there were more features. Right now it contains what is available on Delhi metro website, but lacks innovation. For instance there is no information on where to change when you search for a route.
Advertisement
Pros
Consumes very little data
Works in offline mode
Cons
Doesn't show interchange stations for a journey
No parking availability information
No updated info like delay in the network available
map not interactive
Delhi Metro is growing by the day; from the first line being inaugurated in December 2002, with just six stations, the network has grown to include 134 stations now with many interchanges between different routes. So charting one's way to a particular place from a dozen of routes is definitely a complex issue. In such a case, an Android Application has come to the rescue of the passengers.

The application, called 'Delhi Metro Navigator', is a free Android app, developed by two young developers. The application has a very simple design with just four usable tabs (two others are About and Exit tabs).

Fare Tab

The first tab is useful for people who travel to different station each day (people in sales, marketing etc.) or those who are new to the city.

It tells you the price of the ticket. You just need to select the stations between which you intend to travel and it tells you the fare.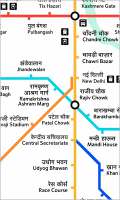 Very simple yet effective.

Map

This tab gives you the route map of Delhi Metro - it has been done a very old world fashion. The map is nothing but a picture of the Delhi metro route map. So you can only zoom in even that is limited by the low resolution image used.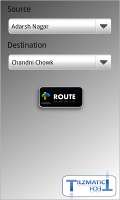 The application would have been much better had the map been interactive with ability to select the station in the map itself with fare, time etc displayed.

Route

This tab gives you the name of all the stations that you will cross en-route to your selected destination.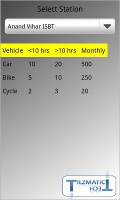 It will thus particularly helpful if you are supposed to change the train midway. This information is available on the Delhi Metro site and could have been easily implemented.

Parking

This is another tab that could have been much more useful than it currently is had it been implemented with more little more effort.

While it gives the parking rates for certain stations, for most it responds with 'information not available on the site (Delhi Metro)'. While the parking rate is a useful information, more required information is whether the facility is available at a particular station or not (not all stations have parking facility).

Verdict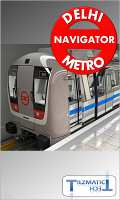 A useful but half-hearted attempt at creating an app that could be so much help. It is still useful for people new to the system, but they will still need to ask the fellow passengers (I have seen them doing that) or will need to look at the maps put up at the station.

Though sufficient announcements are made within the train about where to change, yet people find it tough as they are not aware. For instance, the announcement is made "Please change here for blueline", now what the heck is Blueline?

In such a situation this app has great potential, but it needs to be worked on further.

To increase the appeal to the regular passengers, an alert service can be started in the app, which will tell the users if there is any delay in the line (for this there needs to be a partnership with DMRC or even crowd sourcing through Facebook/Twitter integration can be used). This will not just save the passengers the hassle of waiting at the station, it will ease out the crowding at stations as well.
Advertisement