The Indian tablet market is full of SIM calling tablets from Indian brands, though most of these tablets come with very basic configuration like 2G only connectivity, a single core processor and a very basic camera. Amtrak My Buddy A712 G is no different; it is an Android 4.0 (ICS) tablet running on a Cortex-A8 1 GHz processor coupled with Mali 400 GPU and 512 MB RAM. The tablet has a 7 inch display with very basic 800 x 480 pixel resolution. There is a 0.3 megapixel camera in the front and a 2 megapixel camera at the back.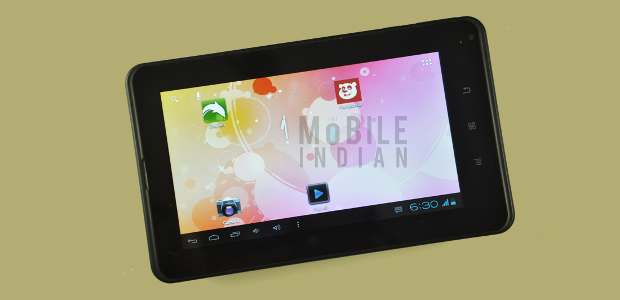 The tablet comes with 4 GB internal storage and a micro SD slot, Bluetooth 4.0, WiFi, HDMI (1.4) port for TV connectivity and a 3200 mAh Li-ion polymer battery. The tablet comes with a 2G SIM slot and supports 3G through a dongle.
Given that Amtrak was almost an unknown entity till now, does a basic SIM calling tablet priced at Rs 7,999 makes sense? Here is what we feel.
Design
The tablet's design is not revolutionary, though there are certain nice touches that we like. For instance, Amtrak has put the speaker where you would normally find an ear piece in the smartphone. This has made it a true calling tablet without the need for two speakers. Other tablets normally get speakers at the back, which means that you can't talk holding the device like a phone.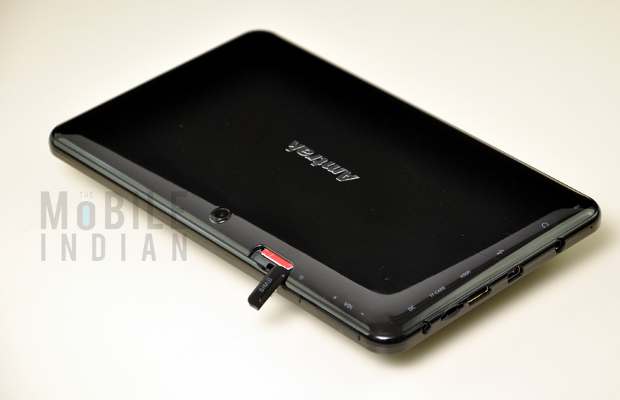 Other than that the tablet has a very basic design with a glossy finish back and a matt finished rim around the display. All in all, the tablet looks good and is also easy to hold. The Amtrak logo at the back is large and finished in chrome and looks fine. The only fear is that when it starts to lose colour it will look very ugly.
In terms of ports the tablet gets all ports on the right side except the SIM slot, which is on top along with a rear camera and is well protected by a flap. The power and volume rocker are also on the top right side. The ports include a 3.5 mm jack, a micro SD card slot, an HDMI port, a mini USB port and power socket.
Display
The tablet gets a 7 inch display with 480 x 800 pixel resolution, which is the bare minimum for a 7 inch tablet. The display, as expected, is pretty average. Though colours are not very sharp (thanks to low resolution,) they come across as well balanced with a nice tone. Touch sensitivity is also good.
Performance
The phone comes with a single core 1 GHz processor coupled with 512 MB RAM and Mali 400 graphics processor. In terms of benchmark score the tablet scored nothing as the Antutu benchmark crashed every time we attempted to even open the application.
However, other than that the tablet managed to play games like Temple Run just fine. The camera app seems to be too heavy for the tablet, though, as it crashed when switching between the cameras.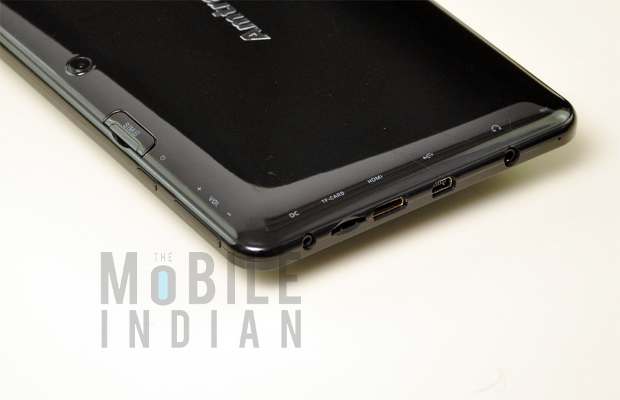 Other than that the application took time to open but was smooth after that and there was no other application, other than Antutu, which crashed or caused any problems.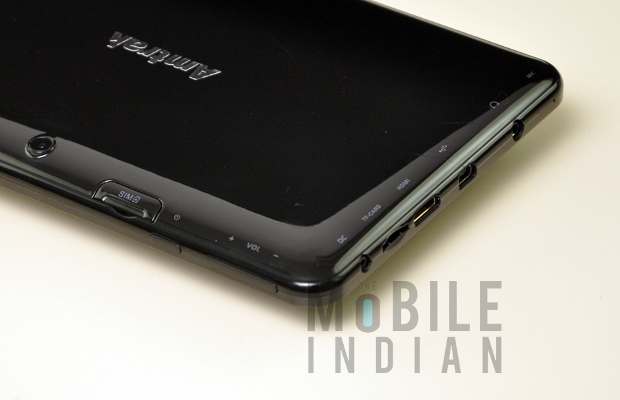 A strange issue with the tablet is that when you connect it with the charger and try to use it, it becomes very erratic with touch response going haywire. It becomes almost useless while charging. This might be an issue with the review piece, but we have seen it in few other low cost smartphones and tablets as well, and therefore we are inclined to think it is an issue with heating due to charging.
In terms of calling and WiFi connectivity there was no issue whatsoever.
Camera
The tablet does get a 2 megapixel camera at the back, but that is not of much use as the quality of the camera is bad. Indoors there is a lot of grain and significant shutter lag.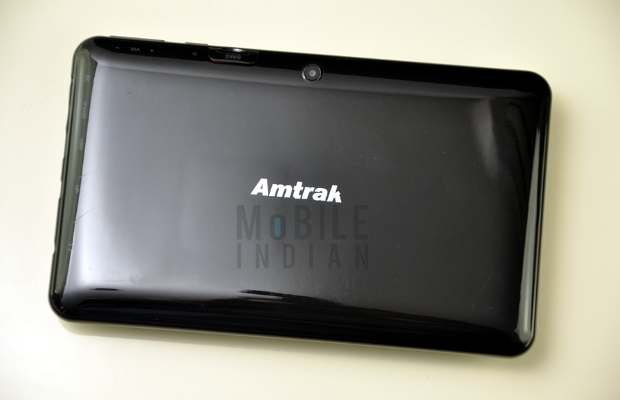 The front VGA camera is also of limited utility but can be used for video chatting functions. Switching between these cameras also caused the tablet to crash.
User interface and OS
The tablet is based on stock Android 4.0 ICS OS. There is visible modification and also there are not many pre-installed applications (ebook reader, emergence app are some of the additional apps that are installed,) which is a good thing since it takes less memory that can be used by the user.
Battery
The tablet gets a 3000 mAh lithium polymer battery, which is almost the norm for this category. But sadly that doesn't reflect the battery life. The tablet hardly lasts for 2-3 hours of simple browsing and gaming, and other intensive applications deplete it even faster.


While this is a consistent in this category of tablets, there is no excuse for such poor battery backup.
Verdict
Amtrak tablet is just like any other entry level device with 2G SIM calling. It has its share of issues thanks to bare minimum specifications. Poor battery life means that even though the tablet comes with smartphone like features it can't be used as such even if you are willing to overlook the size, specially because of charging related issues, which render it useless while charging.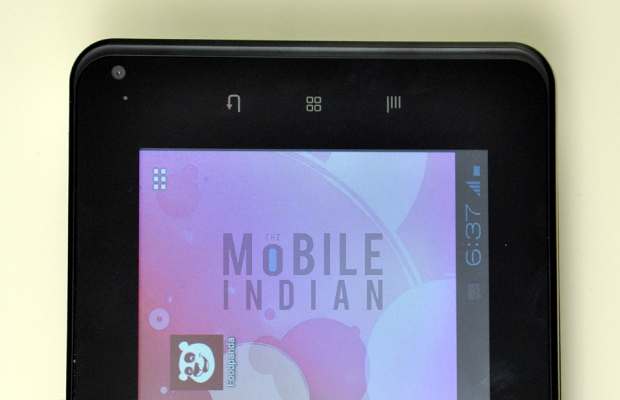 Pricing it at Rs 7,999 even with a free keyboard doesn't make the tablet any more exciting compared to devices like Salora Fontab, which is priced at Rs 6,478. It comes with better specifications including Android 4.1, a 1.5 GHz processor and 1 GB RAM. Swipe Halo Value Tab, Karbonn Smart A34, Micromax Funbook Talk and Lava E-Tab connect are all better equipped compared to this Amtrak product.
All in all while the tablet is usable, competition from better-known brands makes it a poor alternative.