The Mobile Indian does understand that there is a compelling need for operators, handset marketers and content players to works to together if they want to achieve their common goal – tempt the Indian consumer to go beyond voice.
Mobile.NXT, a two day conference organised on November 14-15 by The Mobile Indian in Delhi was our first attempt to capture the dynamics of the telecom space between the operator, handset marketer and content provider and predict the shape of things to come in the next 12 months. Over two days, 45 panelists in different session shared some interesting insights about the mobile ecosystem in the country and also threw some light on what an average mobile consumer expect from all the stakeholders in the days to come.
The chief guest for the two day conference was MF Farooqui, Secretary, Department of Telecommunications, Government of India. In his address he said, "The telecom sector had a dream run in the first ten years but later on it encountered some turbulence as well. We are now again poised for growth."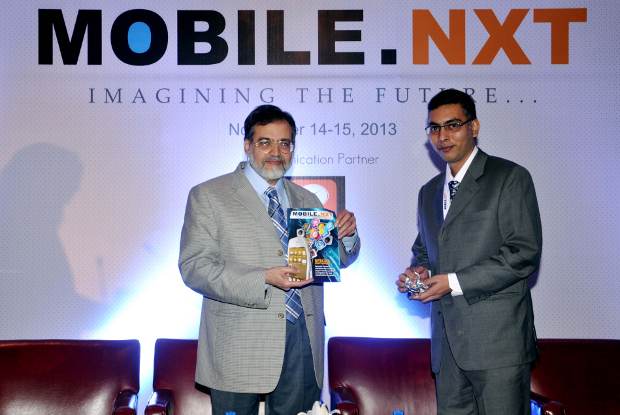 He emphasised that the next big wave in mobile sector is going to be because of adoption of mobile internet and the youth of the country are going to propel it. On the impact of mobiles on social upliftment front he said, "People who do not have access to education can now get education in ways that were earlier unimaginable."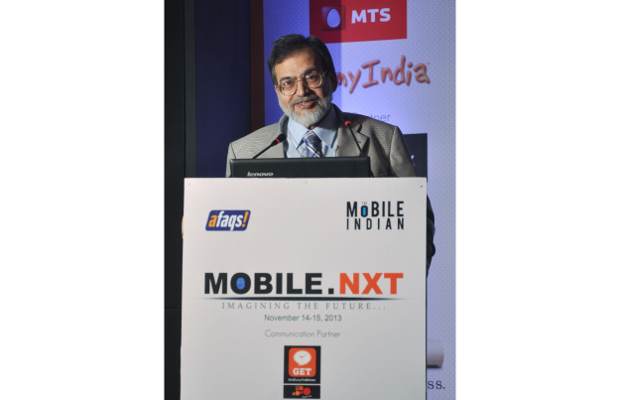 As far as the app ecosystem was concerned Farooqui said, "There is a huge potential that needs to be tapped. But for that app need have vernacular support so that one can overcome language barrier."
During the conference, a special supplement, named "MOBILE.NXT", was also released by Farooqui. This supplement has articles from leaders from the mobile fraternity who shared their view about what's the next big thing that consumers can expect form different players like operators, handset marketers, app publishers, content aggregators and security companies in 12 -18 months' time frame.
Following the chief guest, Dheeraj Mukherjee, account director, consumer choices, GFK Nielsen India, presented a paper titled "India and the world". In his presentation he highlighted some interesting facts about the Indian telecom sector.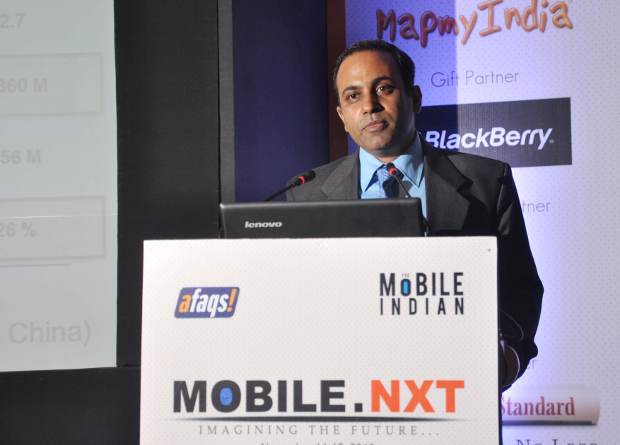 Dheeraj said in his report, "14 per cent of global mobile phones are sold in India in 2013, 230 million handsets are estimated to be sold in India in 2014, of which 28 per cent will be smartphones".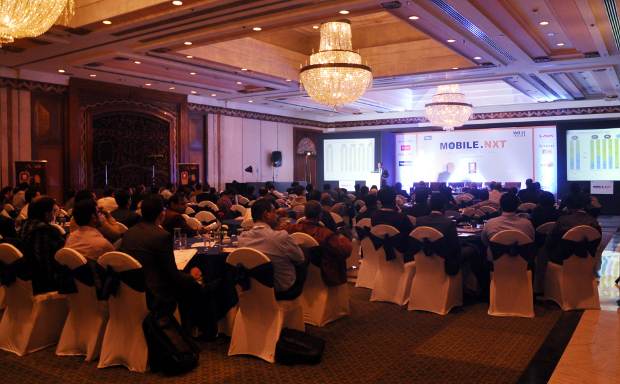 Commenting on smartphone growth, he said, "The Indian smartphone market will grow 125 per cent this year, against 37 per cent smartphone growth worldwide." As far as the feature phone market is concerned, he said 27 per cent of feature phones are sold in India.
He also highlighted that in rural India dual SIM smartphone market is 82 per cent of total smartphone penetration. As regards to shops that sell smartmobile phone products he said, "As of September 2013, about 60,000 shops were in rural (Town Class 5,6 & Rural) areas while 71,000 were in urban (Town Class 1-4) areas."
To get the best from the panelists, who were a part of 10 panel discussions at MOBILE.NXT conference, we chose the format as panel discussion and speaker were requested not to make any formal presentation. This resulted in sessions being more interactive.
The first panel discussion at the conference was "Mobile vs tablet vs phablet." Moderated by Sreekant Khandekar, director, The Mobile Indian and afaqs!, the session saw participation by Rajiv Ahlawat, director, Microsoft India; Anand Narang, marketing director, Huawei; and Troy Malone, general manager, Apac, Evernote.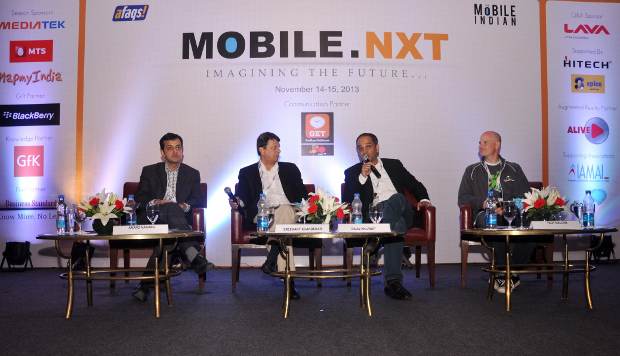 The panel was overwhelmingly in favour of phablets. Anand Narang even went on to say that phablets have overtaken tablets in terms of shipments in the last one year.
The second session on day 1 was on "Opportunities in non-metros", which was attended by Vikram Tiwathia, additional director general, COAI; Deepa Thomas, e-commerce evangelist, Ebay India; Sanjai Saxena, vice president of mobility, Tech Mahindra; and Valerie Wagoner, founder and chief executive officer, Zip Dial. The session was moderated bu Gyan Ranjan, executive editor, Voice and Data, Cybermedia.
Vikram highlighted the fact that of about 900 million mobile subscribers only around 700 million are active. He also said that in non-metros, voice is the major revenue generator but data services hold a lot of promise.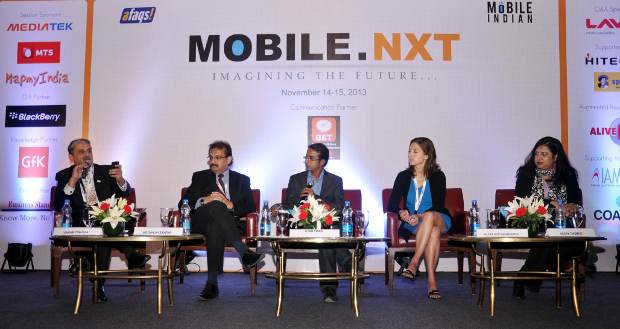 Meanwhile, Ebay's Deepa Thomas attracted the panel's attention to mobile commerce saying that there has been an explosion in m-commerce in recent years. She also said that 23 per cent of Ebay's sales come from mobile. However, she added that applications are not as effective as browsers since most people in India have feature phones and not smartphones.
To this Vikram said that m-pesa and mobile commerce are very important in furthering financial inclusion in India.
Sanjay of Tech Mahindra opined that mobile user in non-metros understand voice services but not most of the technical aspects of mobile phones; while Zip Dial's Valerie said that companies need to think out of the box to attract non-urban areas.
At the end of the session, we put a question to the audience asking whether online retail can be profitable in non-metros. The opinion was hugely in favour with 83 per cent responding with a yes.
The third panel discussion on Day 1 of Mobile.NXT was titled, " What will make the mobile internet explode?'.
It was moderated by Nikhil Pahwa, editor in chief, Medianama. In the panel there were Harsh Saxena, head of marketing, non-voice services, Tata Docomo; Sethuadhavan Srinivasan, director, strategy and corporate marketing, Huawei; Nikhil Naik, director, global distribution and content, Vuclip; Anupam Vasudev, chief marketing officer, Aircel; and Sunil Kamath, vice president for South Asia, Opera.
Nikhil Naik of VuClip attracted the panel's attention saying that network constraint is a big challenge for the growth of mobile internet. He said that there is a demand-supply mismatch when it comes to bandwidth.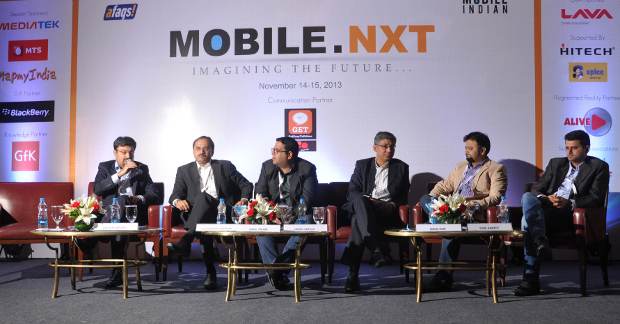 Further, Nikhil added that apart from network constraint affordable devices, connectivity, pricing, content and consumer awareness are the bottlenecks that are affecting the growth of mobile internet in the country.
Harsh said that IPV4 is a big challenge, and pointed out that a new age of interconnected devices like smart TVs, watches, cars and refrigerators will also push up the adoption of mobile internet in the coming times.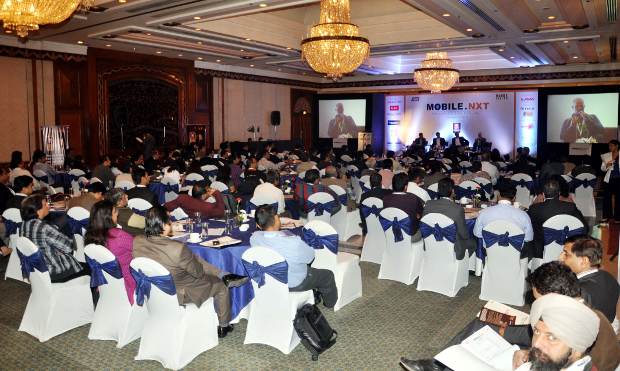 Sunil Kamath of Opera said that there has been 50 per cent growth in active users in the last 12-15 months, and better connectivity, association with telecom operators, relevant apps, and video optimisation are needed for growth in mobile internet usage.
However, Aircel's Anupam Vasudev said that data prices will increase in coming times as operators need to recover the losses that accrue from huge subsidy of voice services. While acknowledging the dearth of proper infrastructure for expansion of mobile internet, he said that infrastructure building is not an overnight job and one that needs a lot of capital investment.
Srinivasan was also of the same opinion and said that mobile internet cannot be like voice services, but added that operators have to meet users' expectations.
At the end of the panel discussion, we asked the delegates to answer a question by giving a missed call. The question was: "Was 3G instrumental in adoption of mobile internet? The audience's opinion was quite divided with only 54 per cent answering in a yes.
The last session of day 1 was "Made for India apps: What's the success mantra?" It was moderated by Sandeep Budki, executive editor, The Mobile Indian. It was attended by Rakesh Verma, managing director, MapmyIndia; Alok Jain, chief marketing officer, Zomato; Shabir Momin, managing director and founder, Zenga TV; and Miten Sampat, business head, Timescity.com.
All the panelists in this session were of the view that fragmentation is a big challenge when it comes to designing an app for major mobile platforms.
Alok was of the opinion that that app developers need to focus more on localisation of content and institutive design if they wish to register themselves in the mind on mobile user.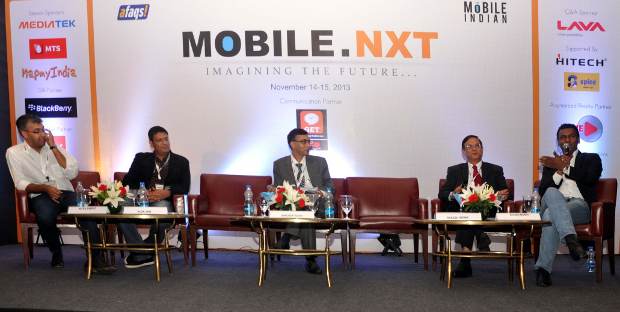 He further added, "In India, most content makers and app developers are busy creating and uploading apps but customer satisfaction is missed out."
Miten was of the view that there is no dearth of good apps in differ app stores across different platforms but their discovery is still a big challenge. He further added to make an app that appeals to the consumer developers must focus on just one problem they wish to solve for their core user community and do it such a way that the users are happy to an extent that they share the app in their peer group.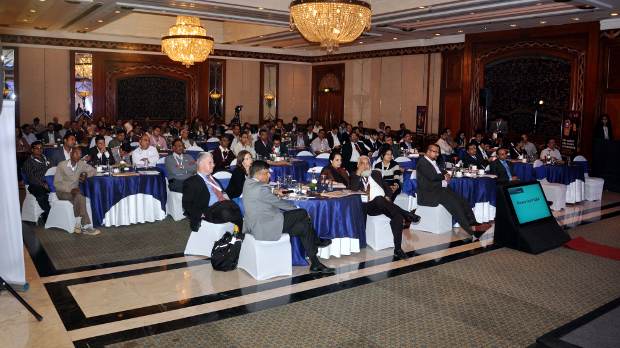 Shabir made an interesting observation he said if an app has to be successful with the Indian audience it has to be free and without any compulsory requirements like sharing your credentials or Facebook information.
Rakesh was very bullish about the adoption of navigation apps in India. He said most of the people are discovering new places during their official and personnel engagement and for them navigation apps are a blessing in disguise. He also added that serious users of navigation app don't mind paying for getting the app.
Day 2 of Mobie.NXT was even more interesting and executives of various segments of the telecom sector came to the venue despite the fact that it was a holiday and Sachin Tendulkar's last test.
The first session of second day was, "Can Indian mobile brands ever dominate the Indian market?" This session was moderated by Ashwini Gangal, special correspondent with afaqs! The panel comprised Sanjay Kumar Kalirona, business head, Intex; Ankur Singla, founder and chief executive officer, Akosha; Jitendre Dabas, head of planning, McCann; Lloyd Mathias, founder and director, GreenBean Ventures; and Shubho Sengupta, digital consultant.
During the discussion, Ankur Singla of Akosha said that MNC handset players tend to do a better job at after sales support than any other players.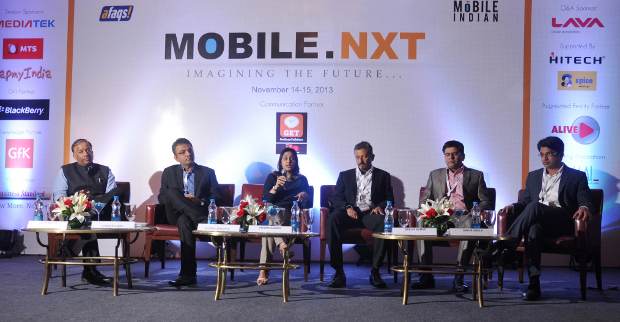 However, Intex's Sanjay Kumar Kalirona countered him saying that if an Indian handset company is coming out with costlier phones, it is ready to support them as well. He cited Intex's own recent support strategy.
Lloyd Mathias of GreenBean Ventures cited the example of Micromax and said that the company has successfully brought out innovative products. Micromax was the first handset maker to sense the opportunity in dual SIM handsets and has garnered great dividends for the same.
Lloyd Mathias also said that consumer usage and expectations need to be researched to crack the right price-value equation.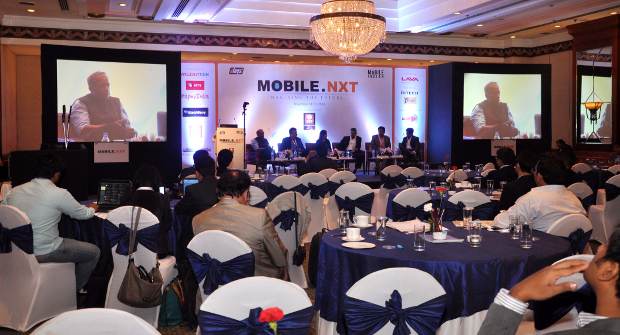 At the end of the session, we asked a question: Could an Indian handset brand ever become a significant player in the global market? Interestingly, 61 per cent responded with yes.
The second session of the day was on "Mobile security: is it keeping pace?" This session was moderated by Sandeep Budki, executive editor, themobileindian.com. It was attended by Tarun Kaura, director, technology sales, India & Saarc, Symantec; Ashish Bhatnagar, chief technology officer, MyDala; and Deepak Maheshwari, Experienced Public Policy Professional.
During the discussion, major issues like application permissions and privacy came to the fore. Tarun Kaura highlighted the fact that the number of threats on iOS were lesser as compared to Android. Deepak Maheshwari said that security is to be taken care of at the OS level to make it easier for the user. Deepak and Tarun also both highlighted the need to change the mindset of CIO in speeding up the adoption of security measures at the enterprise level.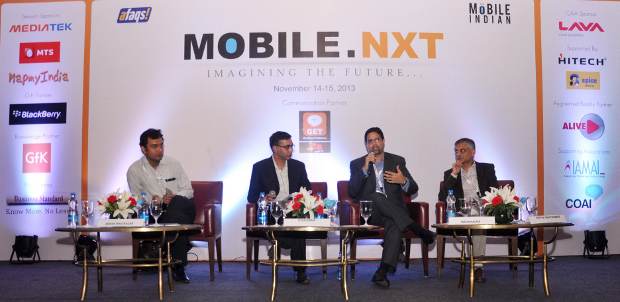 Ashish was quite unhappy with the way a couple of app players are forcing mobile consumers to share their personal data and location. All the panelists did agree that mobile data security is something which first needs to be taken care at individual level because everyone wants to safe rather than sorry.
Third session of the day was, "Does a consumer know the true potential of his device?" It was moderated by Gagandeeep Sapra. For this session we had a very impressive panel that comprised of Michael Civiello, senior director, Broadcom; Grant Kuo, managing director, MediaTek; Vishal Dhupar, managing director, Nvidia, South Asia; and Annie Mathew, director, alliance and business development, BlackBerry.
During the discussion, most panelists were of the opinion that people are not much aware of the true potential of smartphones available today and that they should make a conscious effort to discover all the features of the smartphone they use.
At the occasion, Grant Kuo of MediaTek announced that his company will soon come out with an octa core solution. Vishal Dhupar said that Nvidia is working on a rich solution under its Project Logan.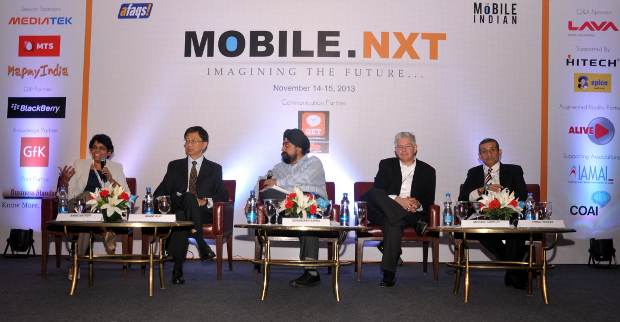 Michael Civiello said that Broadcomm is trying to bring as many features as possible to low cost devices.
The next session was titled, "Are mobile phones transforming social media, or vice versa?" This session saw a heated debate on the relationship between social media and mobile phones, among Kevin d'Souza, growth manager, Facebook; Rahul Razdan, president, iBibo games and mobile; Nishant Rap, country manager, Linkedin India; Pallab Mitra, head of new product development, Tata Docomo; Aparna Lal, head of digital marketing, Microsoft India; and Joby Babu, chief operating officer, Nimbuzz. The session was moderated by Sreekant Khandekar, director, The Mobile Indian & afaqs!
During the debate, Pallab Mitra of Tata Teleservices said that mobile has become a primary device to access social networks. Kevin d'Souza revealed that there are 62 million people in India accessing Facebook via feature phones. He also added that every aspect of mobile phones can be made more social. Kevin further said that SMS doesn't support vernacular languages and this is a big challenge.
Nishant Rao said that there is a need to ensure seamless experience between mobile and web browsers. Rahul Razdan said phonebook, push notifications and photos are three pillars of modern mobile communication.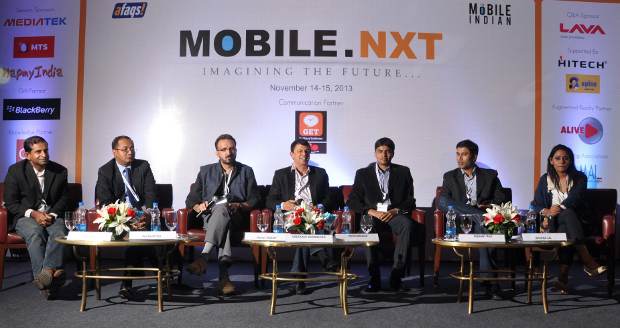 Nishant Rao called on handset manufacturers to re-invent products with different portable screen sizes to make them more usable.
The last session of the conference was, "How mobiles are changing the marketing game." It was moderated by Vanita Kohli Khandekar, contributing editor, Business Standard. Akash Chawla, marketing head, national channels, Zee Entertainment; and Alok Bajpai, chief executive officer and co-founder of Ixigo, were on the panel.


During the discussion Akash highlighted Zee Entertainment's various initiatives to leverage the mobile phone medium to connect with the audience. He highlighted that Zee was the first organisation to employ 'missed call' strategy over SMS mode to connect with the audience. He also said that in rural areas many use mobile phones as television.
Alok was of the opinion that that when companies start using location based services and have a targeted mobile strategy in place only then they will they be able reap the benefits of mobile.