After failing to live up to its promise of updating its smartphones on-time, Vivo seems to have readied up one of its devices to receive the latest Android 9 Pie OS and that device could most likely be the Vivo V11i or simply Vivo V11 in India. If true, the Vivo V11 will be the first Vivo-branded smartphone to receive an update to Google's latest mobile OS.
The device has now appeared on Geekbench running the newest Android 9 Pie interface and reveals the device ID as the V11i. The V11i is what Vivo sells in India as the Vivo V11 smartphone, the younger sibling to the V11 Pro, both of which launched in the country in September last year.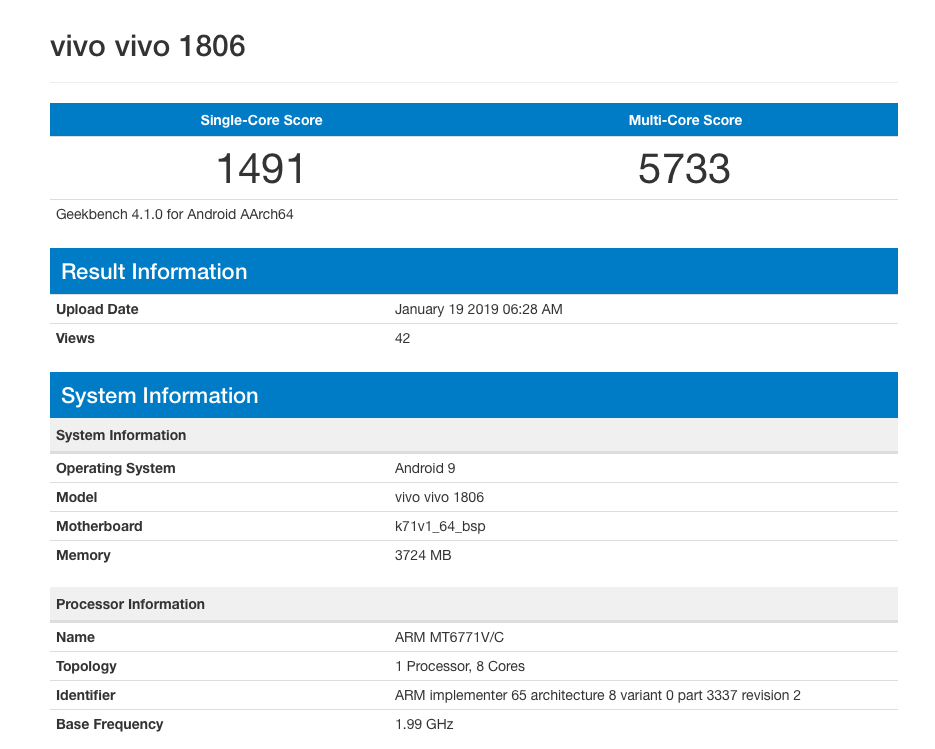 The latest development brings up the question of whether the Vivo V11 will be the first Vivo phone to be updated to Android 9 Pie and it's true. While the Vivo NEX Dual Screen already ran on Android Pie upon its launch, the V11 will be Vivo's first attempt into providing the latest software update to its devices, arriving much later than other players in the market.
Samsung, LG, Xiaomi, Huawei and OnePlus have all seeded Android Pie to their latest smartphones and considering this is Vivo's first development regarding the matter, it begs the question why Vivo isn't stressing on its software updates over its rather high rate of product launches.
Google announced Android Pie during the month of August and since then Vivo has launched 17 smartphones (globally), that's 3 smartphones a month on an average. Out of the 17 smartphones listed, only one of them is running Android 9 Pie and that's the Vivo NEX Dual Screen which ran the newest Google OS out of the box.
With a Geekbench spotting to give some hope to its loyal users, will Vivo start working on the software side of things as it rolls out the Android Pie update to the Vivo V11? We'll know more in the coming weeks.