TikTok has risen the ranks of social media through its video-sharing platform as it gained 88.6 million new users in India in Q1 2019 alone. With its increasing popularity, there has been an increase in scams too. The platform appears to be yet another source of scams, most of which force users to sign up for adult dating to manipulate it for personal gains.
The latest research from Tenable has pointed out that scammers on TikTok trick users in three different ways for reaping benefits.
1. Boost likes and follower count to increase account popularity
2. Trick users into signing up for adult dating sites for monetary gains
3. Force third-party app installs for more money
A Senior Research Engineer at Tenable, Satnam Narang points out that promoting adult dating on TikTok is a prominent scamming tactic. Scammers create profiles that feature videos of women dancing, working out or going about their normal day-to-day lives, most of which are stolen from accounts on Instagram and Snapchat.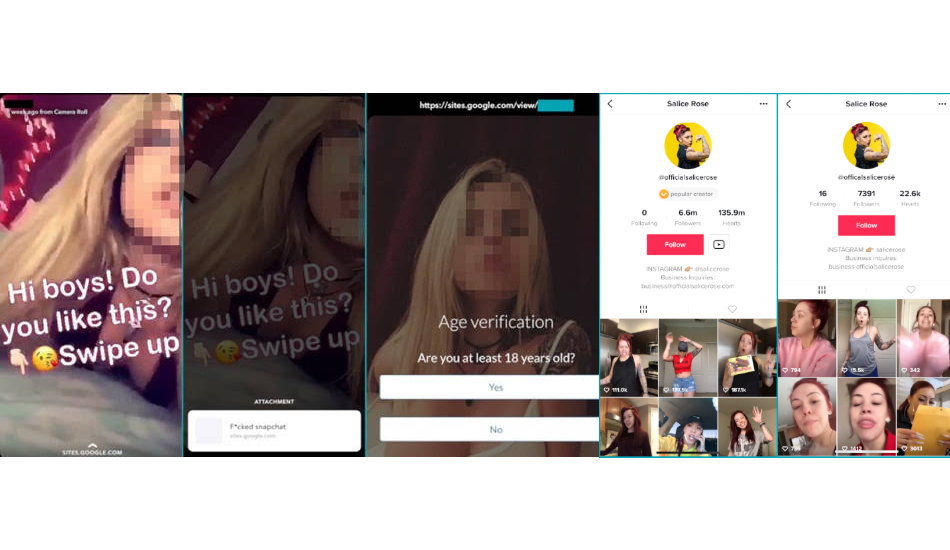 The profiles are displayed under TikTok's "For You" page which is originally designed to show videos based on views and likes. The report explains that scammers use a separate Snapchat account to move its followers to promote their adult-themed dating websites. To avoid TikTok from detecting spam content, posts are sometimes captioned with the letters "n.u.d.e" and "k.i.ss".
Users who follow these accounts barely realise that they're fake which is evident from the comments posted on the videos. As for those scam accounts which trick users into moving to Snapchat, the profiles generally will have a story presented to them which will also contain a link that directs users to an external page.
While the site comes with age verification, regardless of what the user chooses, they'll be redirected to an intermediary page hosted by the scammers. When a user completes the survey, they are redirected to the real adult dating site, thus letting the scammers earn their revenue through a cost-per-action (CPA) network.
The report also notes that some scammers use a "premium" Snapchat account to earn money by posting Not-Safe-For-Work (NSFW) Snaps from a more private account. Users are asked to make a payment of around $10 through PayPal to offer their so-called "premium Snapchat" which, unsurprisingly wouldn't yield anything in return.
Tenable notes that it has informed TikTok and Snapchat of the existence of such scams. While Snapchat didn't exactly give a word, TikTok disclosed that it is in the process of removing the identified accounts and other accounts of similar nature.