Samsung is working on two Windows 8 operating system based smartphones, according to documents submitted by the South Korean mobile phone manufacturer. The documents were submitted by Samsung in a court as part of the ongoing trial in the patent case filed against it by Apple.
Verge, which reported this, said that the two phones are named Odyssey and Marco and are expected to be launched following the launch of Windows 8 operating system later this year.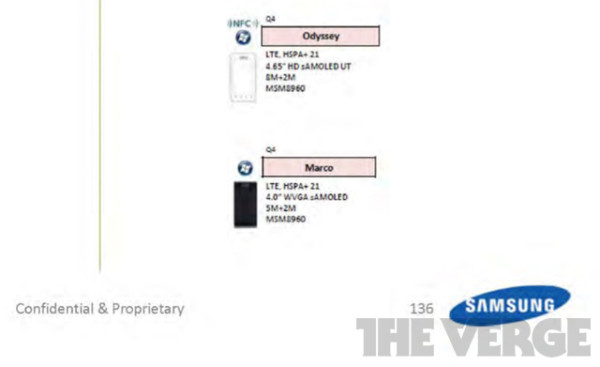 According to the report, both the Odyssey and Marco will be running on the Qualcomm MSM8960 chipset and dual-core 1.5GHz system-on-chip that Microsoft has been using to test Windows Phone 8.
The devices will be almost identical in terms of hardware specifications as well with a similar processors but the Odyssey will have a bigger 4.6 inch display with an HD resolution. The Marco will have a slightly smaller 4 inch display with a WVGA resolution. In terms of cameras, the Odyssey will again get the bigger 8 megapixel camera while the Marco will have a smaller 5 megapixel main camera. Both the devices will feature a 2 megapixel front camera capable of doing high definition 720p video calling just like the Samsung galaxy SIII.
Samsung also marks the Odyssey as an NFC device, suggesting it will support Microsoft's upcoming Wallet Hub and Tap + Send features in Windows Phone 8.
Both handsets will be LTE /HSPA+ capable and going by the documents the devices appear to be launching in Q4 of 2012.