Netflix is currently testing new long-term subscription plans in India. The company has reportedly started offering 3 months, 6 months and 12 months subscription plans to its users in the country.
A Twitter user posted a screen shot of the long-term subscription plans. The screen shot reveals that the company is also offering up to 50 per cent off on long-term subscription plans. Interestingly, the long-term plans are based on the Premium plan that cost Rs 799.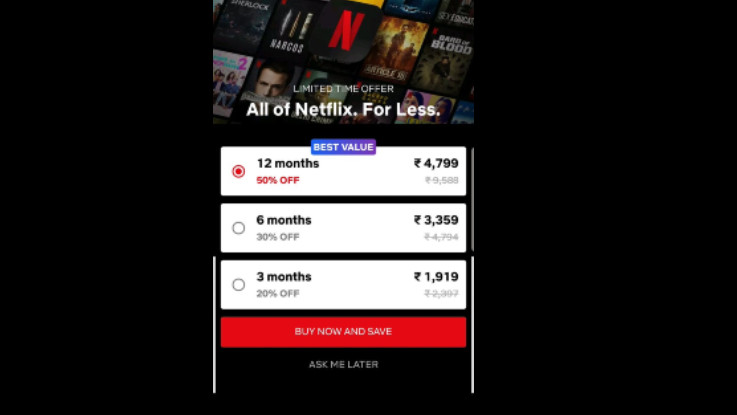 To start with, customers can opt for a 3 months plan that comes with a price tag of Rs 2,397, however, the company is offering a 20 per cent off, which brings down its price to Rs 1,919. Then there is 6 months plan that comes with a discounted price of Rs 3,359 after a 30 per cent off. The 3 months plan with the discount will cost Rs 4,794. Lastly, the 12 months plan comes with a 50 per cent discount and one can opt it for Rs 4,799 with a limited offer.
Previously, the streaming giant was testing a referral program for users in India which will provide existing users with rewards every time they refer a new subscriber to Netflix. The company is testing a referral play option which will provide current Netflix members with new rewards when they refer friends and family to the streaming service. Upon referral, the new subscribers will be able to acquire a month of access to Netflix for free as has been mentioned in the company's microsite.