A Danish company, Henneberg Consult, has developed a keyboard app, MaxiKeys, that the company claims is as simple and easy to use as a PC keyboard.
A number of keyboard apps for Android smartphones are already available. Like the standard Android keyboard these keyboards have small keys and layouts, which necessitate toggling between layouts to access numbers and special characters.
MaxiKeys keyboard is available from Google Play now. The MaxiKeys app has the same layout as a PC keyboard. Same keys at the same places, 'arrow keys' for cursor movement, control-c control-v for copy/paste, etc. There is no swype functionality, word prediction, etc. it just writes what you key in.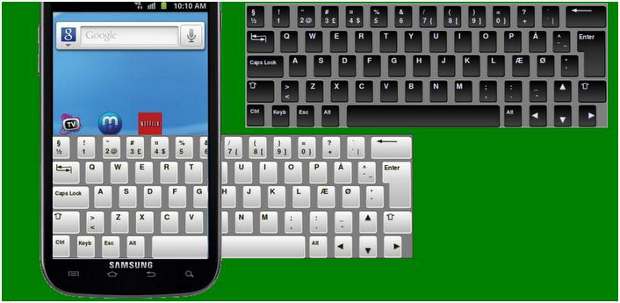 Big keys and a full keyboard is displayed at the same time because only a part of the keyboard is displayed and when you tilt the mobile, the keyboard moves, so another part is displayed.
The movements are controlled by sensors in the mobile the accelerometer and eventually also a gyroscope. The gyroscope makes movements faster and more precise. The developer warns that if you don't own a phone with Gyroscope your keyboard will work slow.
Developer has also included some shortcuts which is not available on the computer keyboard. Called slide to shift, it allows you to generate the Shift , the Alt, and the Shift-Alt- characters by sliding your finger on the key instead of using the Shift- and the Alt- keys. Holding your finger on the display after sliding repeats the same character – or repeats deleting. Sliding upwards means Shift, while sliding right means Alt, similarly slide right-upwards means Shift-Alt and slide left means Backspace (delete to the left).
"We don't see the other keyboard apps as competitors, because MaxiKeys has been designed from the ground-up as an alternative for users, who are not happy with conventional keyboards. If you are a fan of SwiftKey or Swype, or you can write very fast on the standard Android keyboard – MaxiKeys is probably not for you," said Hardy Henneberg from Henneberg Consult, who is the developer of the new keyboard app.
The MaxiKeys app comes with an international layout built-in. Other layouts – including US, UK, German, Spanish and Scandinavian languages – are available as separate apps. Henneberg Consult is currently working on keyboard layouts for many more languages.
The keyboard costs Rs 191 on the Google play, and is compatible with all Android phones.