Karbonn's first Android tablet is a 7.1 inch budget device with 1.2 GHz processor and Android 4.0 operating system. But how is it to use? Here we find out
Pros
Good build quality
Good battery life
Good price for performance
Cons
Apps take longer time to open
No physical volume rocker
Not all apps are supported
Karbonn SmartTab 1 is the first tablet from Karbonn Mobile and has been launched under their new Karbonn Smart label. It is priced attractively at Rs 6,999 and yet has decent specifications which include a 7 inch 5 point touchscreen with 800 x 480 pixel resolution, a 1.2 GHz Xburst processor, 3700 mAh battery and a 2 megapixel front facing camera. These specifications are not very different from what is being offered by several other tablets priced in this range.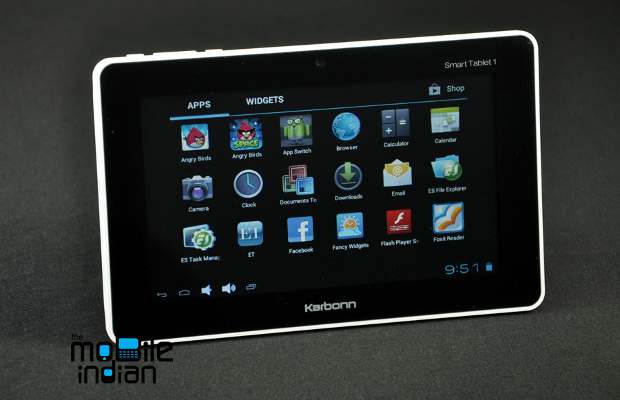 So, is the tablet unique in terms of performance? Let's find out.
The tablet is white and the front is all black with glass covering it edge to edge. The ports, which include a 3.5 mm jack, HDMI, mini USB, microSD and charging socket, are all on the left side of the tablet while the front camera is on the middle right on top of the device. There are also physical keys for power, options, home and enter, on the top left corner. The back panel is flat and curves along the edges.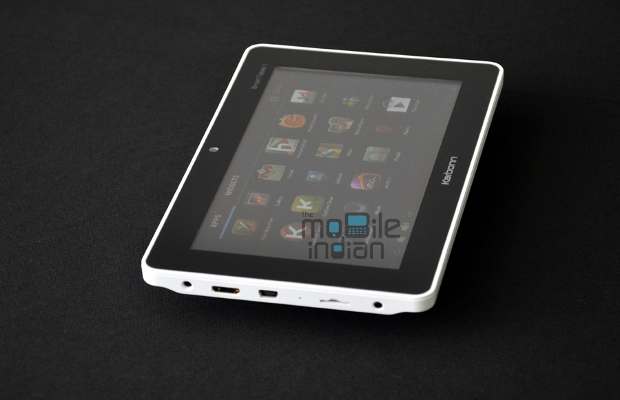 The placement of ports and buttons is fine; the only problem is the lack of a volume rocker. One has to rely on a screen volume button, which means that you need to look at the tablet to tweak the volume (in case of a physical button you can get accustomed to toggling it without looking at it).
Overall the tablet has a nice feel to it in terms of quality of fit and finish and also in terms of ergonomics.
The tablet comes with Android 4.0.3 Ice Cream Sandwich operating system. While there is very little tweaking in terms of user interface, Karbonn has added some of its own apps like Karbonn Browser and Karbonn Games (powered by ibibo,) which are well designed and offer good options in terms of games that you can download for free.
Karbonn has also included some other apps like NexGTV and ingenic app market, which are useful but not unique.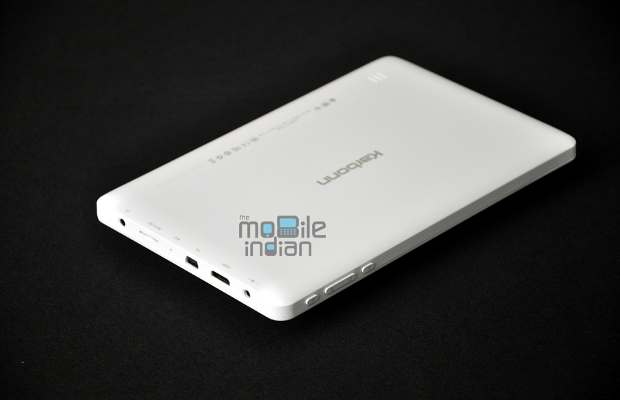 Other than that you can download Karbonn push mail client and Karbonn messenger client which are free for a year.
The keyboard is pretty straightforward and well designed and is easy to type on in both landscape and portrait modes. One sad thing is the lack of Indian language support, something we were looking forward to, especially in the low cost category.
The display of the tablet is good in terms of colour and depth but the resolution is very average and no different from what is being offered by others in this category. However, the display is not bad for what you are paying, and watching movies and photos is pleasant.
Touch sensitivity is good and works with multiple touches easily and without any tantrums. Playing games is also a pleasurable experience thanks to good touch response.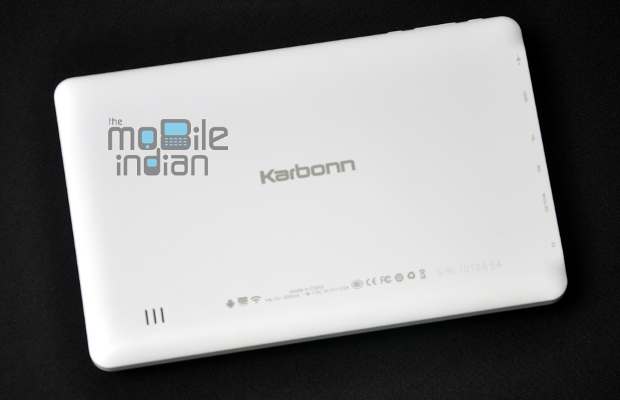 The tablet comes with a 1.2 GHz Xburst processor.